Get Directions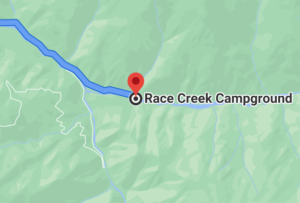 Difficulty: Easy to moderate
Best Seasons: Spring to Fall
Maps:
Fees: None
I love showing off, I mean, sharing the Selway River Trail with people. It's easily one of my favorite hikes, and for good reason. Numerous white sand beaches perfect for a lunch break or to pitch a tent dot the river banks every couple of miles, and with an elevation gain of only 200 feet over 4 miles, it's about as flat as it gets in this neck of the woods. Even in June, the Selway River is swollen with spring runoff. Butterflies fill the skies and flowers deck the trail, but watch out for those snakes warming themselves among the rocks!
The Clearwater Trekkers sauntered out a little over 4 miles to a stunningly gorgeous beach where we did lunch in the warm sun breaking free of the clouds before strolling back to our cars. But while that might have been the highlight of our day, it wasn't where our adventure began and it certainly isn't where it ended!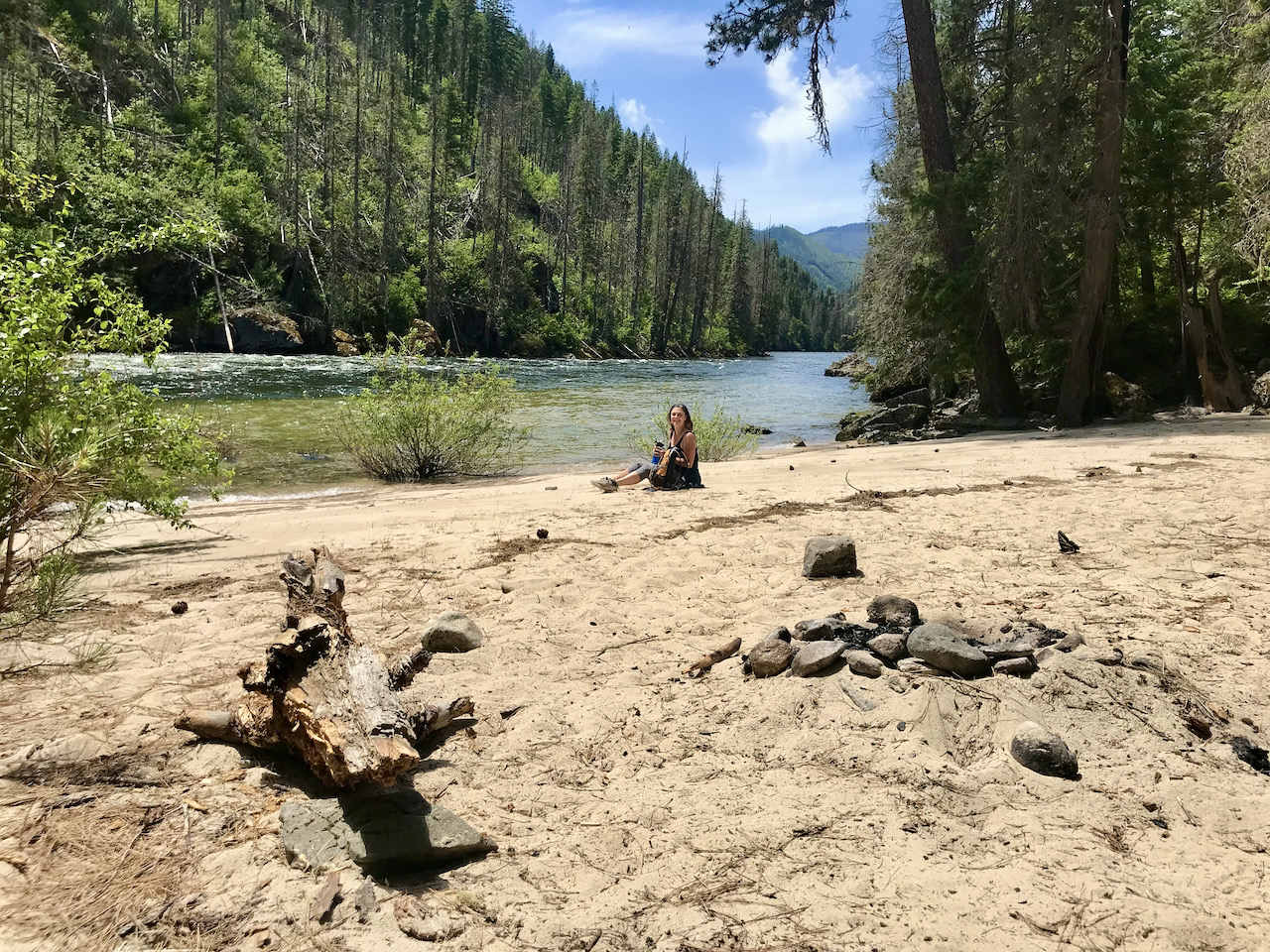 The day began with dark clouds thick among the mountains and light rain sweeping over the prairie. It was nothing a little rain gear couldn't handle, though, so we headed to our rendezvous point at the junction of highways 12 and 13 just outside Kooskia, Idaho. On the way, one of our crew blew a tire outside Lewiston and had to bail on the hike to get it replaced. When I got the text explaining the situation, I remembered my premonition earlier that morning about my tires possibly not holding up on the drive out to the Selway.
It's easy to tell myself I'm overthinking things when there isn't anything I can do about it in the moment anyway. At least not anything I happened to think about at the moment.
Six of us piled into two cars and began the second half of the journey from Kooskia to the Selway River Trailhead. We still had an hour and a half drive ahead of us.
We made good time, even stopping for a bit to get photos of the Selway Falls surging with the high waters of spring runoff. The Selway Falls may not be an actual waterfall, but it is still very impressive to see that much power rumbling over the massive rocks in that bottleneck of the river.
The trailhead at Race Creek Campground wasn't far down the road from the Falls, and when we got there we saw goats! A new member of The Clearwater Trekkers brought two pack-goats-in-training to help them get used to being around new people and dogs on the trail. I was happy to help with that latter part. Those goats did great, and they were fun to have on trail. It was a new experience for the Trekkers!
All together, we welcomed 4 new faces to The Clearwater Trekkers on our Selway River Trail day hike, and that's always a wonderful blessing.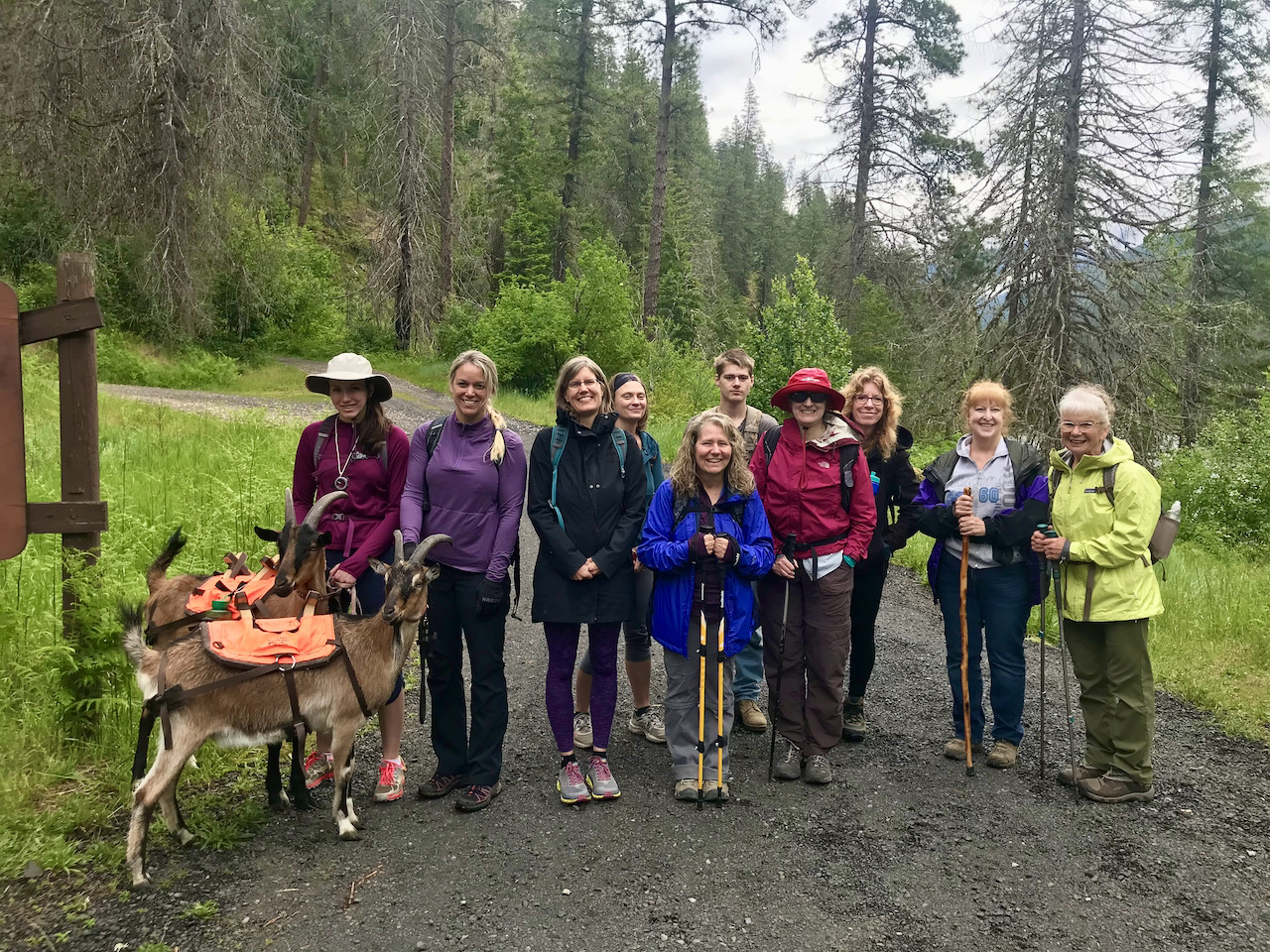 The hike itself was just gorgeous. The rains had passed before we even started, the sun was peaking out of the clouds and eventually emerged full force by lunch time, and it just doesn't get much better than the Selway River Trail. The trail is gentle and interesting. There is one creek crossing that you can literally do barefoot, and the whole scene with the creek spilling down a little waterfall and over the trail in the shade of low tree branches is so picturesque.
The trail leads you under a few rock overhangs and opens up to long vistas of the Selway River before turning back again into the shade of the trees. We passed a small cave along the way, too, that was fun to poke around in. We had the trail to ourselves, and it was a beautiful day for a hike.
For anyone who missed this hike, it's totally worth it to plan another outing. July can start to get warm at the lower elevation, but that just means there's more opportunity to go swimming!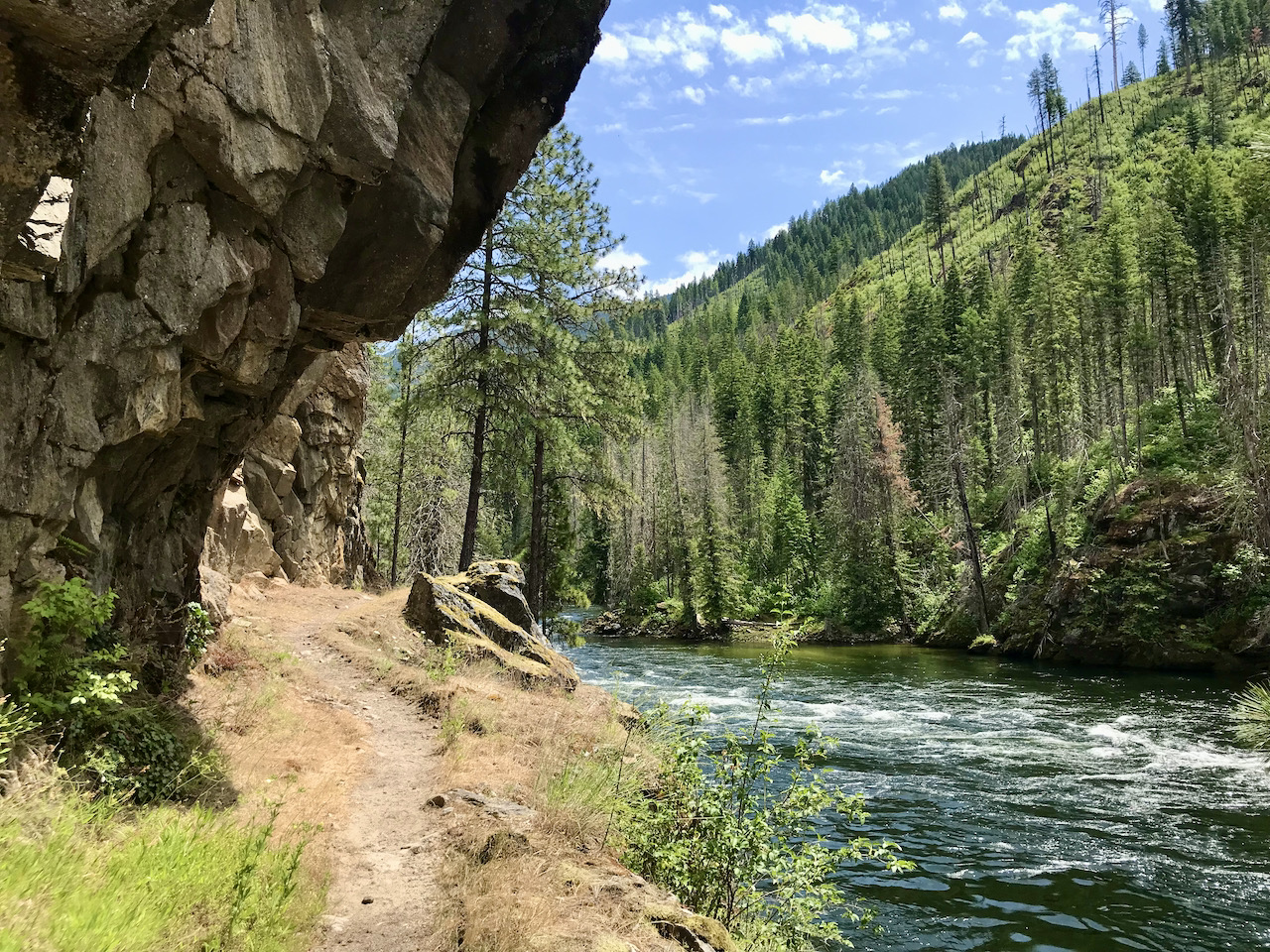 When we made it back to our cars, someone pointed out that I had a low tire. I knew that Three Rivers Resort and Three Rivers Rafting was at the junction of the Selway Road and Highway 12, so I limped my car there to see if they had a compressor I could refill my tire with.
Nope.
Not only was there no compressor, but there were exposed wires on my tire and, for some reason I could not recall in the midst of my utter embarrassment, I had removed all of my tire-changing tools from my car. Fortunately, between Jeff, a Three Rivers Rafting Guide, and Craig, the motel manager, we were able to gather together the necessary tools to jack up my rig and swap out my tires, but not before my Mountaineer managed to bend Jeff's jack. Yeah, I definitely gave him my contact info and promised him a new jack. 
My Trail Angels were all so helpful, so patient, and so encouraging! Thank you, guys.
Once everything was settled and we were back on the road, I remembered that I had pulled my tools out of the Mountaineer because I had intended on trading it in towards a new car. That trade never happened, and the tools were not replaced. Oh, but they are now! And since good tires are like good boots, I put some new tread on the Mountaineer.
Here's to more great adventures ahead!
As embarrassing as it was to be caught with a flat tire and no tools, the whole day was a good reminder to me about the community I find among fellow adventurers and trekkers. It's this community of support, embrace of adventure, and encouragement to trust the process that draws me back again and again to explore the edges of the map.
You guys do more than make it possible. You make it worth it. Thank you.