Get Directions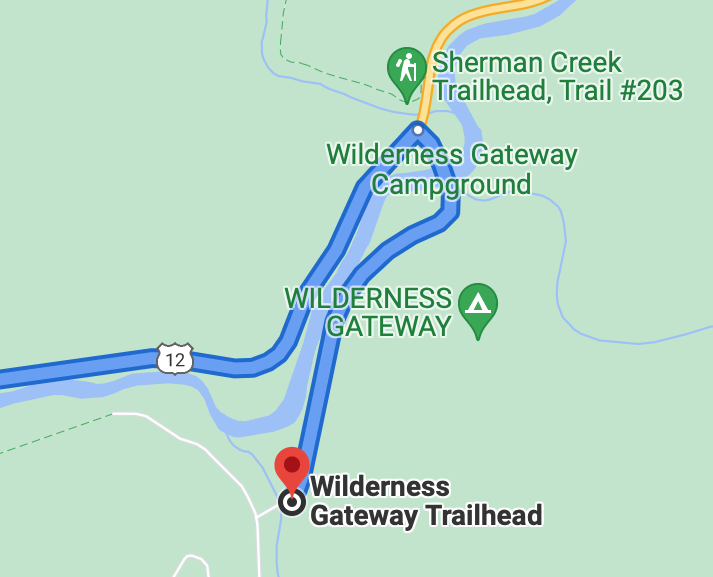 Difficulty: Moderate
Best Seasons: Spring through Fall
Fees: 

None

Downloadable USGS Topo Maps:
I came prepared for two days of rain and a bitter cold night. I even carried an old, self-inflating air pad for the dogs! I figured they would be wet come night fall and should have something to get them off the cold ground through the night.
Reports of a weekend of rain kept fellow hikers at bay for this trek, but I didn't mind. Part of me dared to hope that those same weather reports might score me a day at Stanley Hot Springs alone. Naturally, I wasn't the only one thinking that.
Saturday, September 18th started off looking pretty good in Craigmont, Idaho. There was a lot of blue in the sky over my house and the temperature was pleasantly warm for an early Fall morning. The dogs and I loaded up in the pickup and hit the road. We didn't expect to meet anyone at the Kooskia weigh station, but we wanted to be there on time just in case.
The fair weather stayed with us all the way to the trailhead and beyond. As we pulled into the Wilderness Gateway Campground, we passed the pavilion all set up for Jenn Renshaw's wedding, and boy, did that look nice! We wished them well and happy trails for their honeymoon.
When we reached the trailhead, we met a couple of ladies getting trail ready, also with a couple of dogs, so we gave them a little time to get ahead on the trail and we went down to the water's edge for a little bit first. Overall, there were quite a few dogs on the trail this weekend, all very well behaved and friendly with one another.
"Enough dawdling!" Sassy pleaded. So we got underway without further ado.
I absolutely love this trail, Boulder Creek Trail #211. I probably say that about most trails I hike out in the Nez Perce - Clearwater National Forests, but this one has a certain appeal to it, a combination of traits that make it especially pleasant.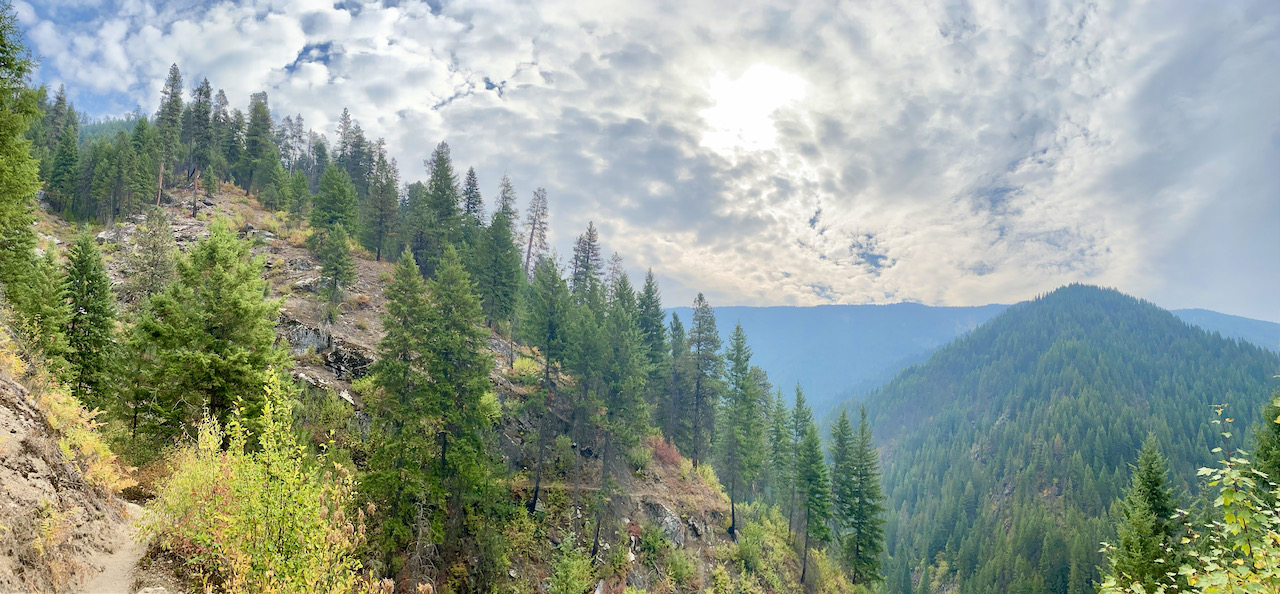 The beginning of the trail is a somewhat aggressive climb with maybe three switchbacks followed by a steady rise. I say somewhat aggressive because the trail isn't really that steep but it is definitely a steady rise over an extended period, so it will wear you out. Or warm you up, depending on your fitness level and stride.
It made a heaving, sweaty pig out of me, but I'm something of a glutton for this kind of punishment. I kinda like to feel the burn.
Boulder Creek Trail winds itself along the southwest-facing slope of Lone Knob. It dips into the trees for a while, but without too much underbrush, then cuts out around various rocky points providing wide views of the surrounding mountains. The terrain is steady without being grueling, and the surroundings are colorful and change frequently enough to keep me interested. I can challenge myself on this trail without wearing myself out, and there is enough variety to keep me from getting too far lost in thought. It's a really good mix for helping me be more fully present in my body and to what's happening here and now. This is a fun trail.
About 4 miles in, Trail #211 meets up with Rock Creek Trail #221. There is a sign at the fork. Take a right here to head toward Stanley Hot Springs. Staying on Boulder Creek Trail gives you the option of climbing up Lone Knob or continuing on through Boulder Pass and eventually out to Fish Creek Lake where there is an airstrip marked on the map. (Maybe one day?)
There is a rocky eminence just past the trail junction that makes for a great place to stop for a bite to eat. It offers good views of the surround hillsides and plenty of places to drop your pack and kick your feet up. If you need water, though, just take a photo and continue on down to Boulder Creek for lunch. You're not far.
On the way, you'll come to an unmarked fork in the trail. To the left is a horse camp. Stay right to reach the creek crossing and continue on toward the hot springs.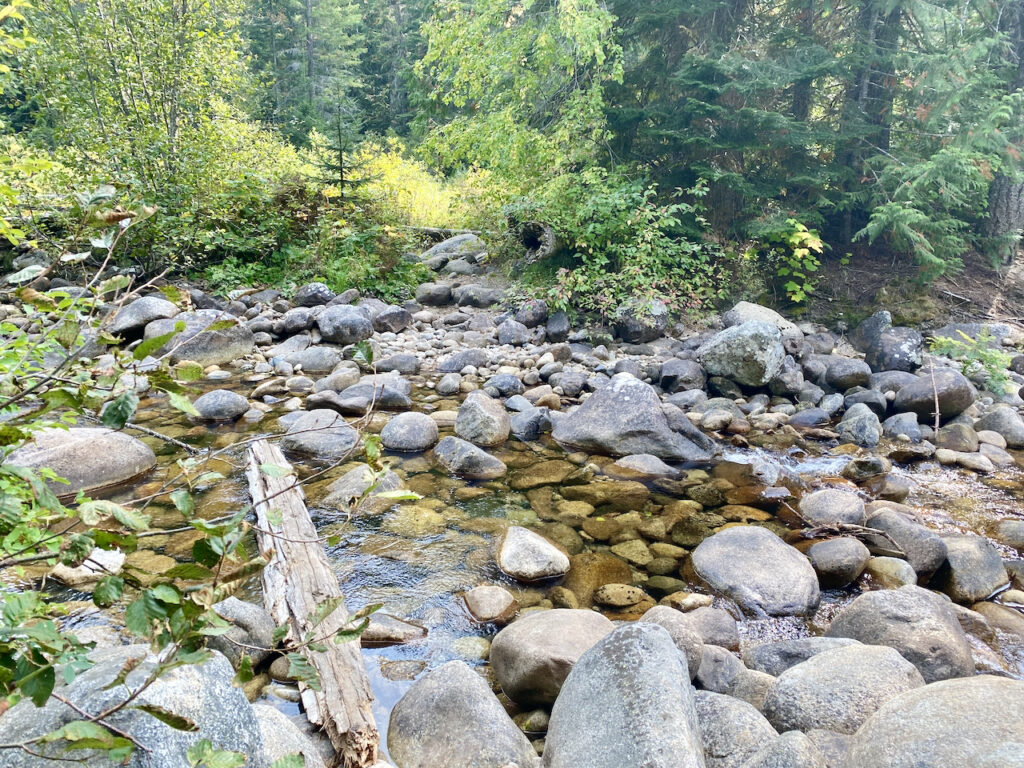 This time of year, the creek crossing really wasn't much. It would be nothing to cross straight through with some water shoes, but we managed with a little rock hopping. Take note, though, that there are actually TWO creek crossings. The creek splits just above the crossing and then merges back together a little further down. The far side was a little bit longer of a crossing, but just as easy on the rock hopping.
Once you reach the far side of Boulder Creek, you're now on the northwest slope of Greenside Butte, so you'll notice a drastic change in vegetation, shade, and moisture. Don't be surprised if the trail is really muddy if it's been raining at all recently. It's maybe half a mile from the creek to the hot springs, but it'll feel like more because the trail is rising again.
There were several downed trees that the dogs and I had to scramble over or around. Nothing too challenging, but the dogs do like to show off when they get the chance. 
When we finally reached the hot springs, the gals we met at the trailhead were already there. Seeing them made me notice that we hadn't seen anyone else on the trail today. These gals were only day hiking, so maybe we'd get the springs to ourselves after all?
Nope. While we went to set up camp, another hiker rolled in with his black lab, too. It happened to be Kyle, a member of the 118North Hiking Club out of Spokane. Throughout the afternoon, we shared the pools with a couple of trail runners out for the day, another young couple staying the night, and some other hikers who showed up much later after I'd already left the pools.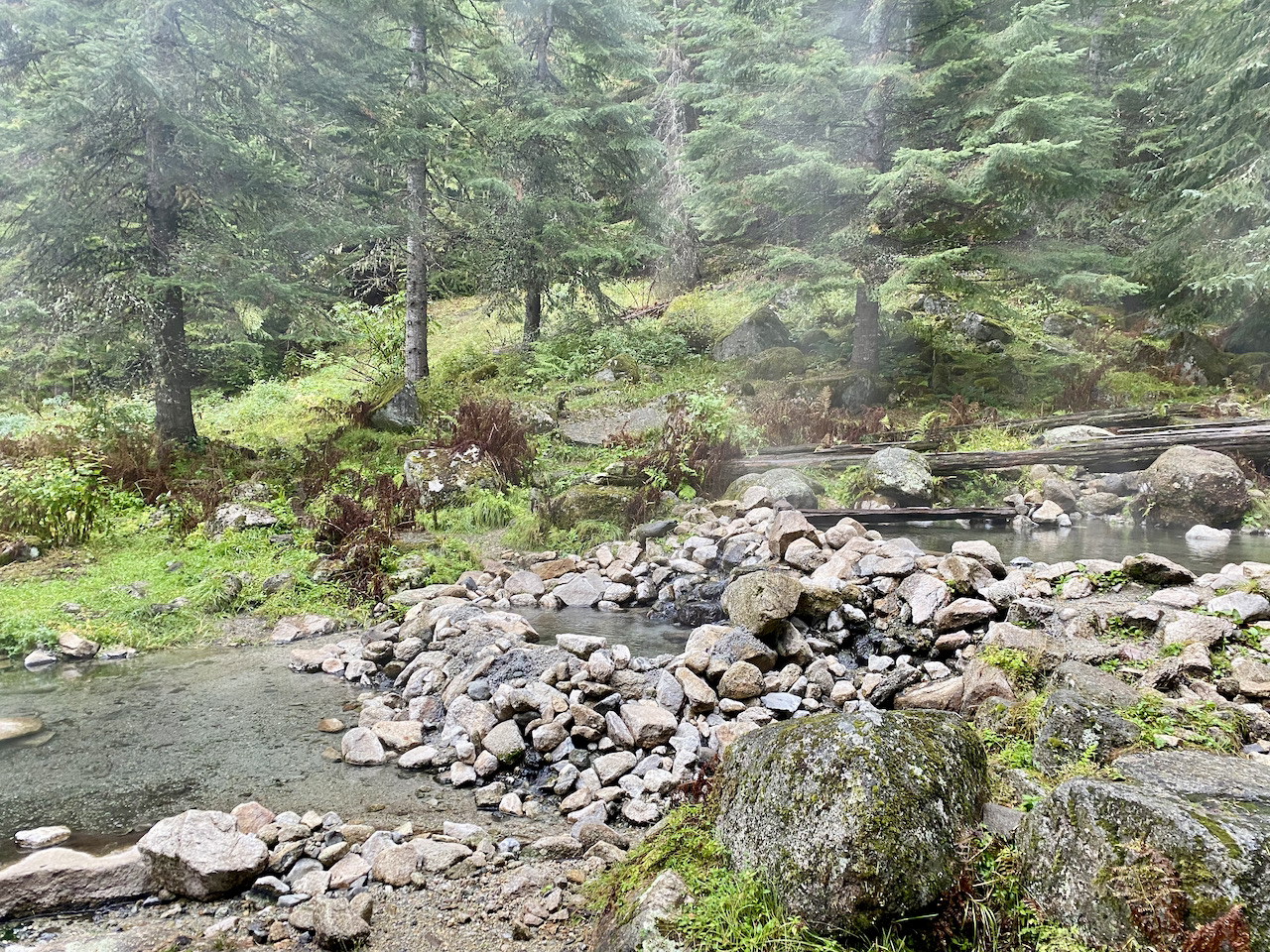 Everything was very congenial and mellow. It was good weather for soaking in hot water, good company, and good vibes all around. Sassy and Kyle's dog, Kaley (sorry if I spelled that wrong, Friend!) both got in the warm water, too. The rain finally caught up with us once we were properly soaking, so it was very welcome. It let up while I cooked dinner, then settled in through the night. It couldn't have been better, unless more Clearwater Trekkers had been there, of course.
We took the morning easy, leaving pretty late. It was cloudy but dry when we started out, but the rains caught us good as we neared the trailhead. I stopped under the cover of a tree to put on my rain coat and pack cover, but I was soaked from the waist down on the front side of my legs, and my boots were full of water by the time we reached the truck again. Fortunately, I had enough dry clothes to change into (PJ's count as clothes, right?), and I'd thought ahead enough to bring fresh socks and shoes to change into. We didn't waste a lot of time getting changed and loaded up and on the road home.
After being stuck inside and canceling two hikes due to the fires and smoke, this hike was just what I needed. It was...cleansing, shall we say. Fall is such a beautiful time to be in the woods. I can't wait for our next trek!
#SeektheClearwater