I really expected the worst.
The weather report said it was going to be cold and wet all weekend. Nobody else wanted to get out in the mess, either, and even Jacob was trying to talk me out of going! At least a little. Thankfully, Little Man is up for trying just about anything with his Ol' Man. And his Ol' Man needed to get out of the house, rain or shine.
Turns out, Isabella Landing is a long and windy drive from our house. It was fun to make our way through my old stomping grounds of Orofino, though. We took Grangemont Road up to Highway 11 just north of Pierce, Idaho. We followed Highway 11 up past Headquarters and out to the Aquarius Campground on the North Fork of the Clearwater River. When we crossed the bridge at Aquarius, we went left like we were headed for Smith Ridge.
That whole drive goes through PotlatchDeltic land and much of it was clearcut. I couldn't help but wonder if harvesting was more aggressive this year in an attempt to salvage the wood from the raging forest fires. As it was, we passed some smoldering hillsides, though I'm not sure if they were remnants of the fires or controlled burns for cleaning up the area. I didn't see any vehicles or workers, so I couldn't tell. 
Either way, I figured the rainy weekend would keep things under control. I just hoped the rain would hold off long enough for Jacob and I to make some headway on this new trail.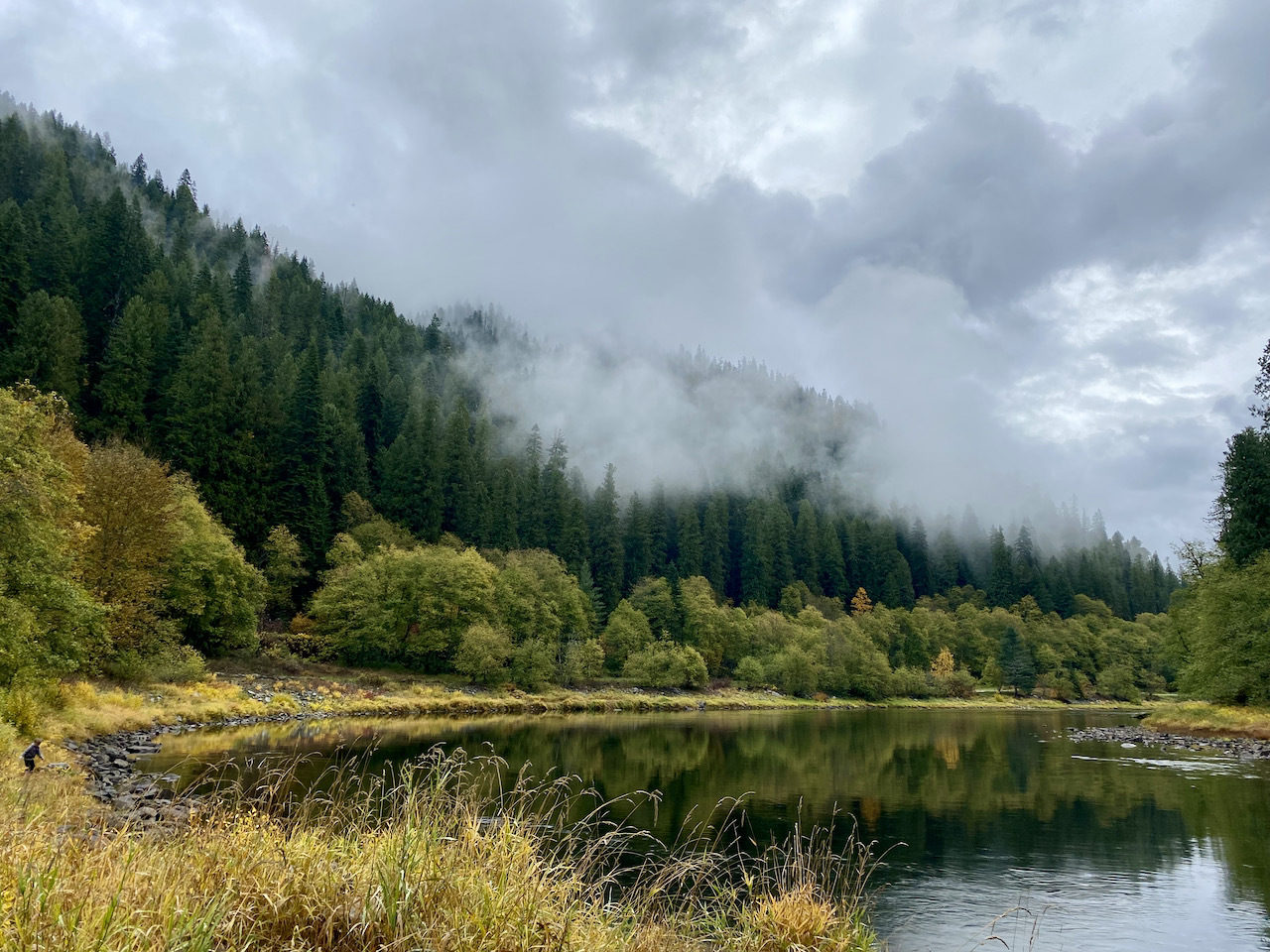 There is a stretch of RV camp sites along the river's edge as you come up to the trailhead. To get to the trail, you park down among the RV campsites and walk back up to the road where a sign and wooden bridge mark the trailhead. Jacob and I took a little time to explore down by the water before getting on the trail. We got to see a small salmon and get a few shots of the misty mountains, then we were off.
The Isabella Landing Trail starts meandering through the trees on level ground, but pretty soon we found ourselves ascending the hillside. I had hoped the trail would follow closer to the river bank, but like most river trails, this one climbs up the hillside and follows the river from above. There were some pretty neat places where the trail dips back down by the water, though. There were some beach areas that would make for good campsites, and plenty of great fishing spots.
Jacob and I walked with Isabella for about 2 miles. I stopped for pictures of the river and a small waterfall we encountered. Jacob stopped to eat some fruit snacks. We were hoping to find somewhere down by the river to break for lunch, but it started to rain about the time we got into some foliage that was already soaking wet and taller than Jacob, so we decided to call it there and turn around.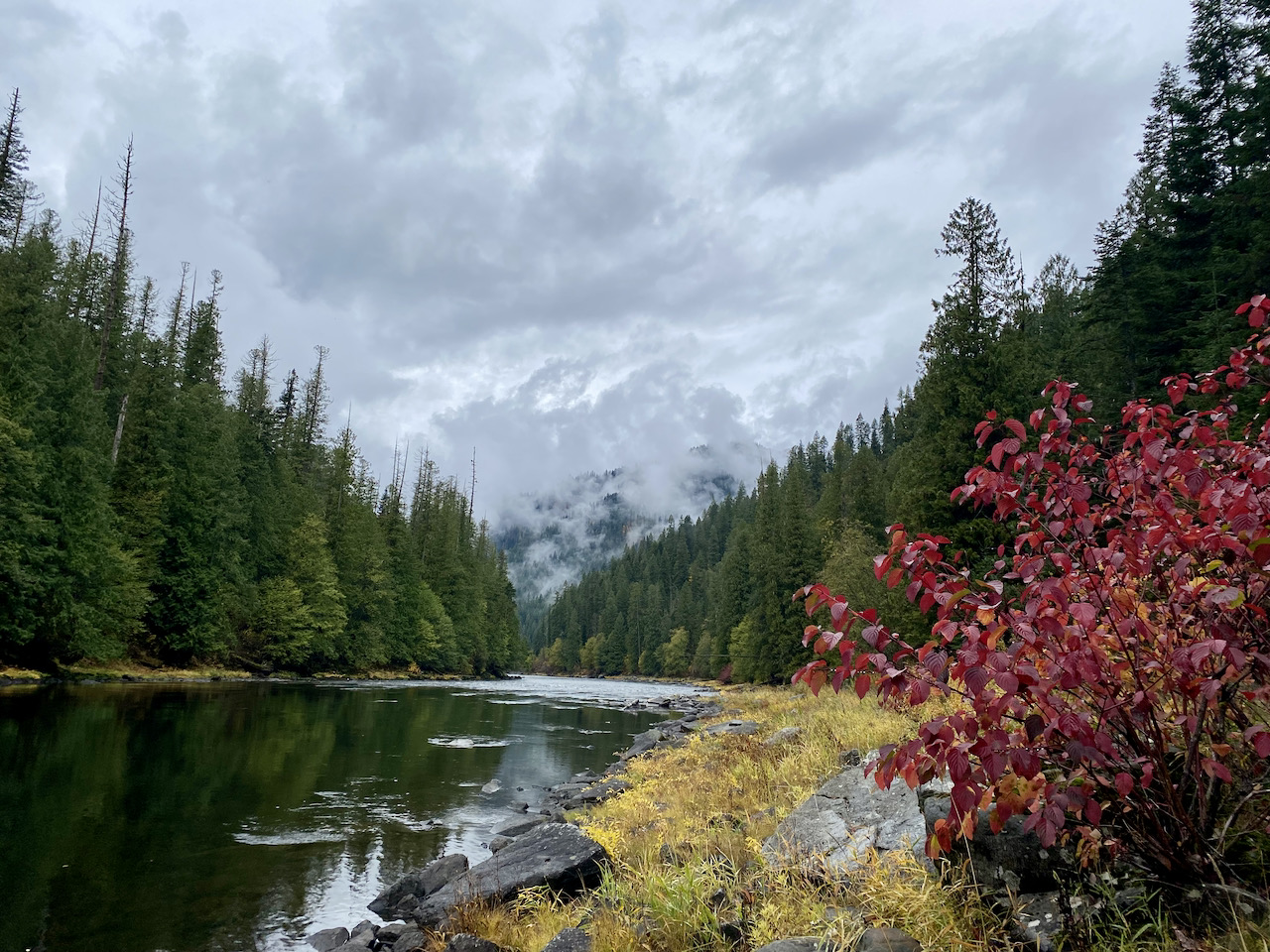 Jacob was such a trooper. He was too excited to get to use his new raincoat he got from his Uncle Tony to complain about the rain, and he was happy to munch on his PB&J while we hiked back to the truck. Thankfully, the rain wasn't heavy or consistent enough to be an issue. We made quick work of returning to the truck and getting back on the road towards home.
The whole thing was a lot of work for a 4.5-mile hike, but it was still worth it. The dark, heavy clouds offered an ambiance we don't normally get out on the trail, as it's typically one we would avoid, and Jacob handled it all really well. I truly appreciate all the miles he has put in with me. The kid's a trooper.
Isabella Landing Trail is a beautiful stretch of woodland. I would love to see it again on a bright Fall day. The colors out there were amazing. My photos absolutely do not do it justice. There was brilliant yellow Larch everywhere and flaming red and maroon shrubs along the river banks. We saw Bald Eagles flying above the trees and a line of gray birds flying low and fast over the water. I don't know what they were. They were mostly gray with some brown and white on their backs. Their wings would slap the water as they flew. It was pretty cool.
I would also like to explore this trail more on a warm summer day that invites a dip in the river, or 5. It's a well-shaded trail with ferns and vegetation growing thickly that would make for a pleasant hike in the summer. You could step out of the trees and onto the river bank to enjoy the sun and water.
Until next time, Isabella. Until next time.
#SeekTheClearwater