Ten years ago to the month, I went for a drive with Amanda and Grace through the old town of Florence (mostly just an empty field with signs and few outbuildings left) and came out through Slate Creek onto Highway 95. It was a fantastically beautiful drive with so many interesting features, and I knew I wanted to return to explore it more one day.
This past Father's Day weekend turned out to be that time.
My original plan was to put in at Rocky Bluff Campground, trailhead to Rocky Bluff Trail #331. I had hopes of camping out the night before, but a rescheduled baseball game for Jacob prevented that. Trail 331 intersects with trail 313 about a mile-and-a-half in, and my goal was to follow trail 313 all the way up to Slate Lake and then back again. Gaia Maps told me it would be an 11-mile hike with 2,300 feet of overall ascent. That's a lot of PUDs (Pointless Ups and Downs) considering the actual elevation change was only about 1,600 feet, but it was just the challenge I was looking for.
The word from fellow Trekkers was that trail #313 into Slate Lake was an old wagon road that was well maintained each year, while trail #331 out of Rocky Bluff Campground had been abandoned and was becoming overgrown. So, when we all gathered together at the Lion's Park in Grangeville, we made a group decision to simply put in at the 313 trailhead located on Forest Service Road 444, about 11 miles away from Rocky Bluff C.G.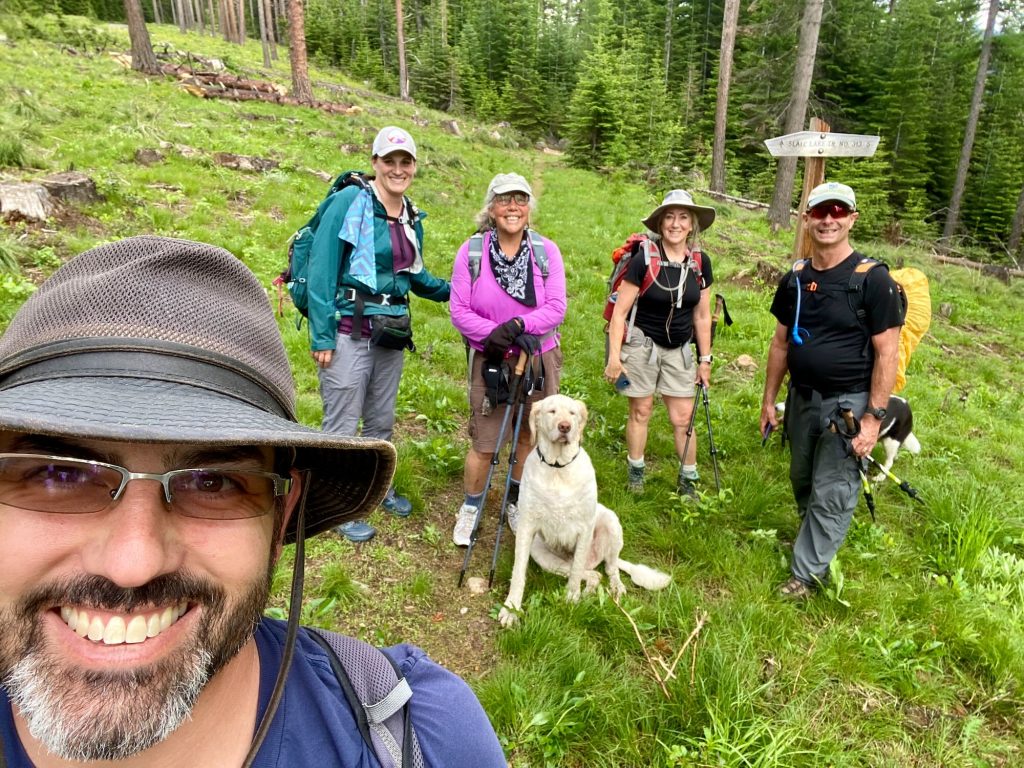 Trail 313 goes by many names. On the Forest Service topo maps (and Google Maps), it is merely NF-313. On Gaia Maps and in Forest Service documents, it is labeled as Hump Trail 313. A forest service sign near the trailhead parking area says Trailhead Ragg Station. And finally, the actual trailhead sign reads, "Slate Lake Trail No. 313." Whatever you call it, this old wagon road is a blast to hike.
5 dogs and 5 humans set out on this adventure and it's debatable which pack enjoyed the trail more. After so many years of rain and snow, the old wagon road was not smooth or flat by any means, but the wide girth of the trail and overall pitch made for some groovy hiking. There were a few downed trees that barred the way, but nothing that couldn't be scrambled over or around. There was one scramble, however, that inspired us to bust out Joe's saw and clear some branches under a fallen tree to make our return progress much easier. 
One thing to say about this trail is that there is plenty of water. There are several runoff streams to cross, which pose no real problem for anyone in waterproof/quick dry shoes or sandals. Be more careful around the deep mud pits that'll suck your shoe right off!
There is one serious creek crossing about 2.5 miles in that does require wading through the water. We did find a log crossing a little further downstream, but accessing this required some extensive bushwhacking not for the feint of heart. Honestly, if I was to do this trail again, I would go a little bit later in the season, maybe August or late July, and I'd wear my Chacos the whole way through.
This trail is just fantastic, though. It's smooth going with interesting features like huge boulders and old growth forests. There has been a ton of excellent work done on the trail. Aside from the one major creek crossing, there are ample foot bridges and culverts to help navigate all the water, and there are quite a few stone steps and water guides built in. This is wilderness area, so no motor vehicles allowed, but a lot of effort has been put into making the trail ideal for foot traffic and pack animals.
Walking beneath Gospel Peak was downright majestic, complete with a cascading waterfall on that far mountain slope. Somewhere around 6 miles in, we made it to Slate Lake, relying on Gaia Maps, Joe's observational skills, and Leslie's intuition. We nailed it.

Naturally, the rain that had been threatening us all day finally opened up on us as soon as we sat down to eat lunch. So, as beautiful as Slate Lake is, and as satisfying as it was to reach its banks, we made relatively quick work of lunch and began the long trek back.
This was a good day of hiking. We hit the trail at 9:00am, which was refreshing, and we got back to our cars about a quarter after 5:00pm. I really expected to be hurting after so many miles because I just haven't been hiking like that in quite a while, but this was the ideal trail for stretching our legs over so much terrain. So, after our farewells, I couldn't resist the urge to drive down to Rocky Bluff Campground and check things out at that end of the trail.
When we encountered the intersection of trails 313 and 331, it was marked with a few orange ribbons and some noticeable stone work, but it did seem to confirm the information we had about the trail being abandoned and overgrown. However, I crossed paths with a ranger at Rocky Bluff C.G. who told me trail 331 was regularly maintained and he enjoys taking the horse out on it. I had to see it for myself, so I drove to the trailhead, got the dogs out again, and went exploring a short ways. And I must say, Rocky Bluff Campground and the west end of trail 331 look great!
It gets better. When I finally returned home, I discovered that both kids were spending the night with friends and Amanda was not feeling too well. So, I settled in for a quiet Father's Day of Minecraft and blogging. But then, I had an idea.
I had Monday off for Juneteenth, and it's summer time for the kids, so why not hike Rocky Bluff Trail 331 today! Yeah, baby! Jacob loved the idea, and Grace, who had just come home from camping with her friend, was happy to stay home with Amanda. Jacob and I packed in a flurry and beelined it for Rocky Bluff Campground.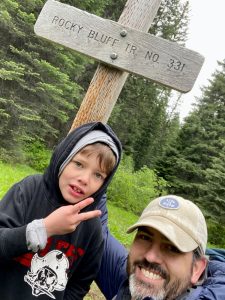 We drove in and out of the rain the whole way,  but it cleared up once we got to camp. We were able to set up our tent, light a fire, and enjoy some hot chocolate and cookies before bed. I could not have asked for a better Father's Day gift.
In the morning, Jacob and I hit the trail early. We made a good go of it, but it was simply too wet and cold to get very far. Jacob only had tennis shoes on, so even the wet plants were soaking his socks and chilling his feet. I carried him around standing water on the trail, and we even managed a larger stream crossing on a make-shift log bridge, but roughly half a mile in we knew we had to turn back. We simply couldn't wait for Jacob to reach his limit with cold feet before turning around. By then it would be too late.
They say there is no bad weather, only bad clothing, and Jacob had bad clothing. I want hiking to stay fun for him so he'll want to keep coming with me. I can't ask him to go so far beyond his comfort (and possibly safety) without even the proper gear. And I'm so proud of how willing he was to jump at the chance for an adventure and push himself as he did.
Maybe, when we go back, Grace and Amanda will be able to join us. I think they would enjoy it a lot. Rocky Bluff is a sweet little spot for camping, fishing, and hiking. Just, don't tell anyone, ok?
As always, thanks for reading and for being part of the adventure on and off the trail. Until next time…Seek the Clearwater!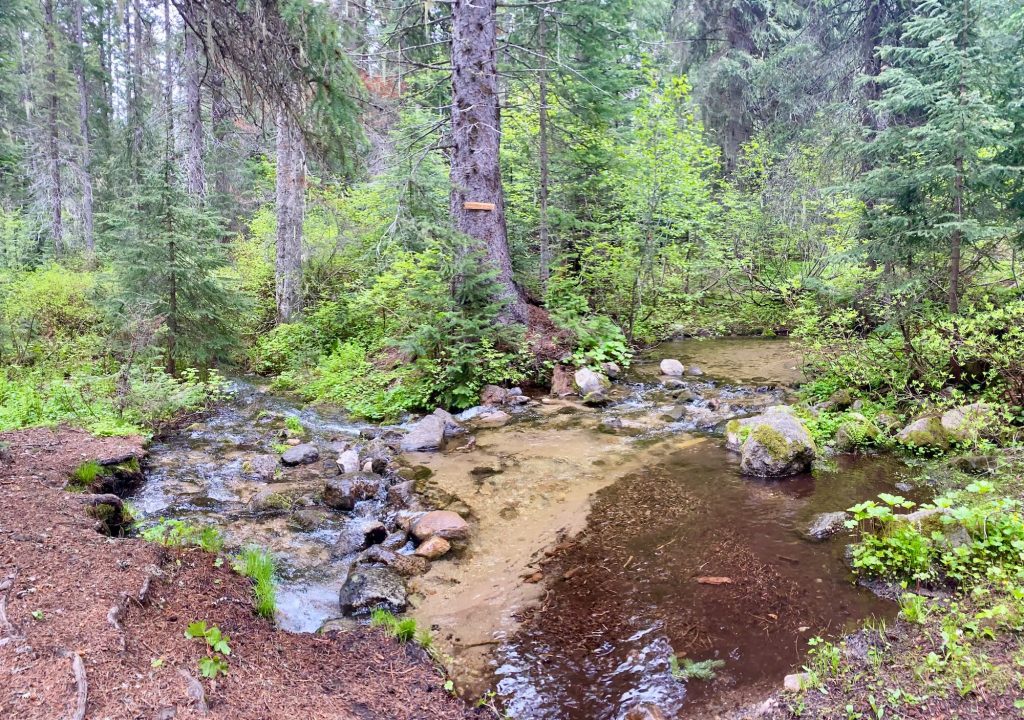 ---
Extra Credit: While researching for this post, I found this Forest Service document from July 2022 detailing trail maintenance. According to this document, trail 313 was last maintained in 2017 while trail 331 was actually maintained in 2020. So, there's that.