Trailhead Coordinates: 45.352411, -116.398703
Elevation: 2200 ft
Overall elevation gain is minimal within the first 4 miles, but the trail does rise a fall along the hillside quite a bit.
Distance: 7.5 miles (out and back)
Difficulty: Easy to Moderate
Best Seasons: Spring through Fall
Maps

USGS Topo Map Quadrangle: Heaven's Gate


Fees: $0.00
Directions: From Highway 95, turn west onto Rapid River Rd just south of Riggins, Idaho. Follow Rapid River Rd to the Fish Hatchery at the end. The trailhead is opposite the hatchery up a steep drive. There is parking, a turn around loop big enough for horse trailers, and a vault toilet at the trailhead parking lot.
Notes: As this trail is abundant in wildlife, watch out for ticks, poison ivy, and snakes in the warm summer months.
Once in a while, The Clearwater Trekkers like to head south a bit into the Hell's Canyon area for some stellar hiking, especially while we are waiting for Spring to climb the mountains in our normal playground. This time we were drawn back to the steep canyon walls of Rapid River Trail #113 which we did about this same time last year. The trailhead can be found across from the Rapid River Fish Hatchery in a little corner of the Nez Perce-Clearwater National Forest a few miles south of Riggins, Idaho. Trail #113 follows the West Fork of the Rapid River past the McCrea Place Cabin while trail #59 splits off about four miles in and follows the Main Fork of the Rapid River south into the Payette National Forest. The Hiking Project offers a great mapping tool for planning a trip on this trail.
We came prepared for a 99% chance of rain, but we were pleasantly surprised with a dry day that only warmed up as we went along. It was a great turn out, too! What a joy to see familiar faces, new members, and old friends. It was quite the mix of hikers with four dogs, two kids, and an array of hikers among us, but we set out as a group and generally set our own paces, waiting for each other at bridges and scenic viewpoints.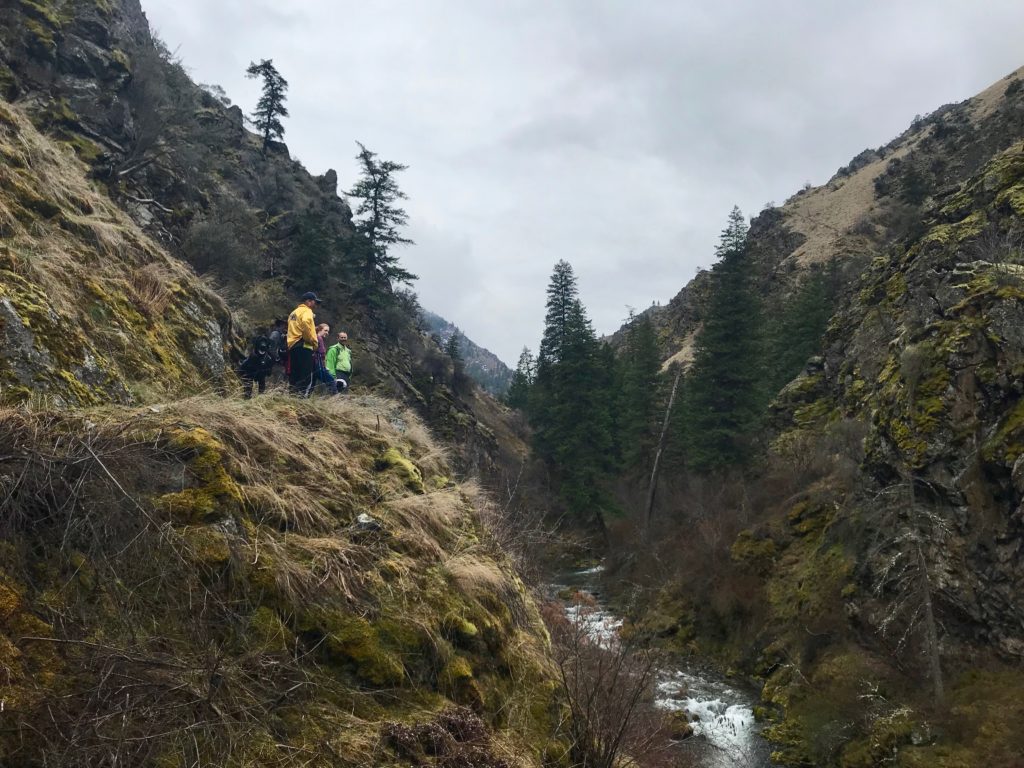 The Rapid River Trail is often listed as being easy to moderate, but don't let that fool you into complacency. There are plenty of PUDs (Pointless Ups and Downs) to keep your heart beating steadily, and the climb past the river fork becomes quite aggressive. The trail starts out on a hillside above the river, passing opposite massive cliff faces full of weathered holes and small caves. The geologic structures stand like gateways to a land preserved in time, many thanks to its Wild and Scenic River designation. We were fortunate to have a local guide and fellow Trekker with us who could point out some of the historical and geological wonders of the place, like rock shelters blackened from years of fire smoke.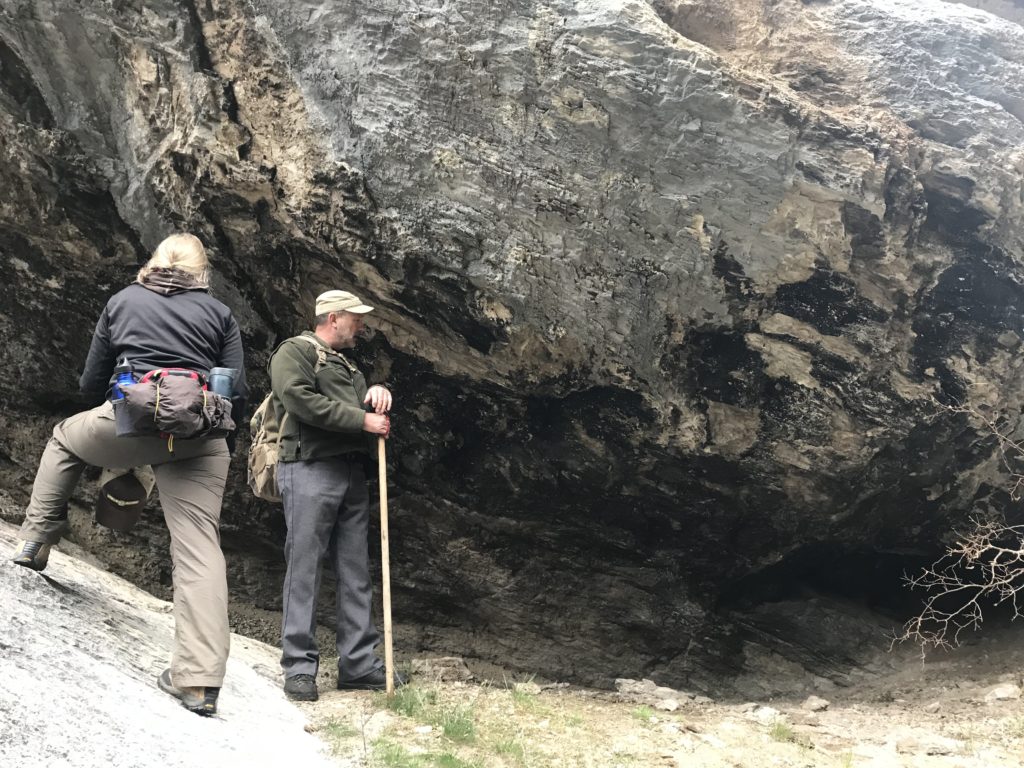 Grace even found one of her own!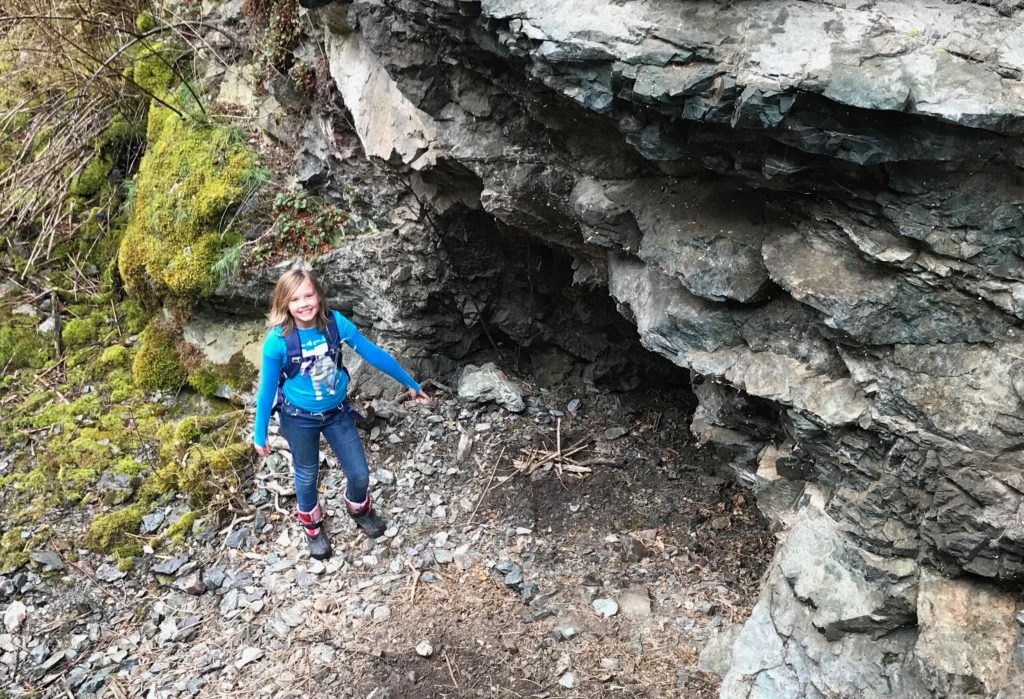 The trail dips down to the river's edge and follows it up through the slot canyon. This early in Spring, the river carries a pleasant sound of fast water tumbling over rocks and fallen logs, but I imagine it becomes quite a roar later in the season as all the snow melts off the high mountains.
This little river canyon was on the verge of exploding with wildlife. Give it a few weeks and the trail will be resplendent with wildflowers and butterflies. The game trails reveal the river to be a popular watering hole for the animals, too. One of my favorite things is the red yew trees that spot the river banks, standing proudly among the pines and firs.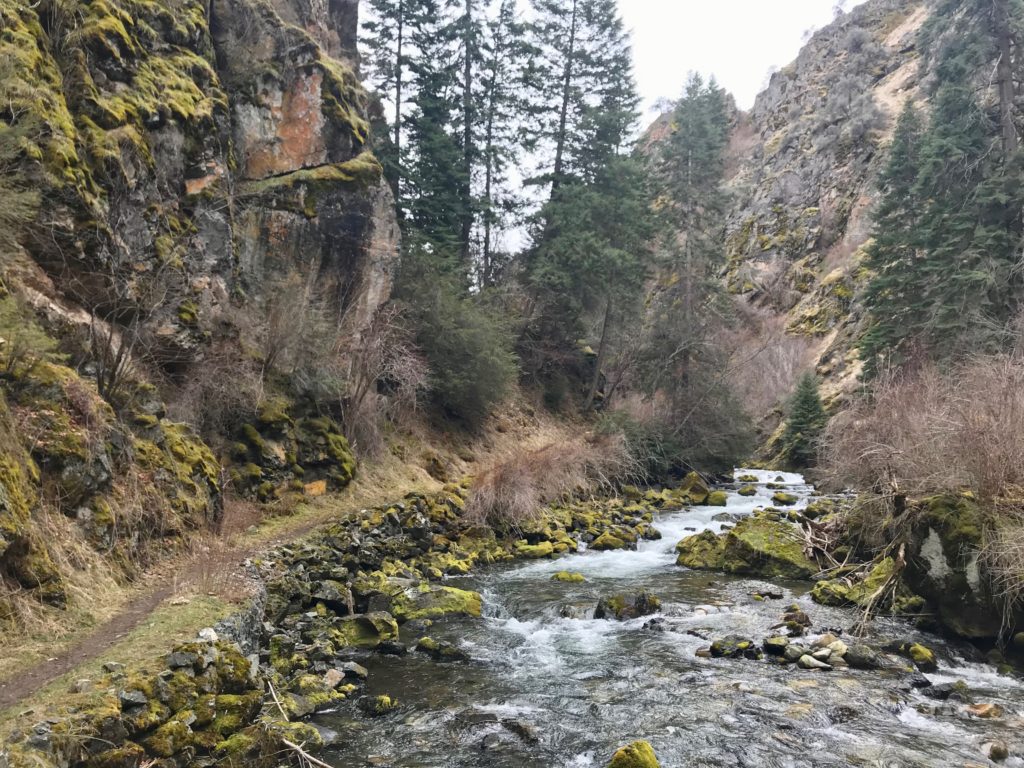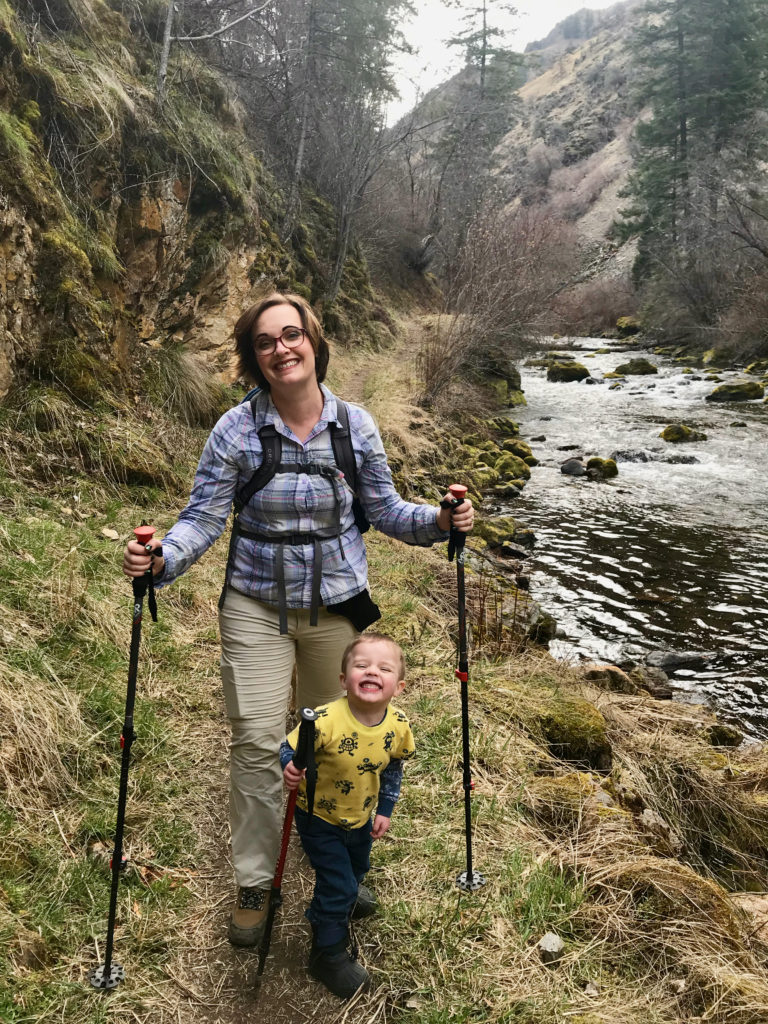 Our little group made it to the second bridge just below the fork. We paused for a bite to eat before heading back. Jacob was thrilled to get out of his carrier and hike along the trail for a while wielding one of Dad's poles. But eventually, he ended up on Dad's shoulders so we could cover ground a little faster.
All in all, we did about 7 and a half miles out and back, which is pretty good for our first Spring hike. Someday, though, I'd like to do the full 18-mile loop and see the McCrea Cabin. Guess we'll see where the trail takes us, eh? Thanks to all who joined us on this hike! And for those who couldn't make it this time, we look forward to seeing you on our next adventure!
If you're just discovering us for the first time, or you've been following along for a while are ready to get in on the action, connect with us on Facebook at The Clearwater Trekkers, sign up for our newsletter below, and subscribe to our Calendar to receive notices of upcoming events. We're glad you're here and look forward to sharing the trail with you!