Earth Day in April found The Clearwater Trekkers on an old favorite, the Rapid River Trail near Riggins, Idaho. The trailhead is right across from the Rapid River Fish Hatchery at the end of Rapid River Road, just in case there's any confusion about where you are. So, it goes without saying that the trail follows Rapid River up the steep walled canyon towards the south, splitting off to follow various creeks and even climbing up to the slopes of the 7 Devils.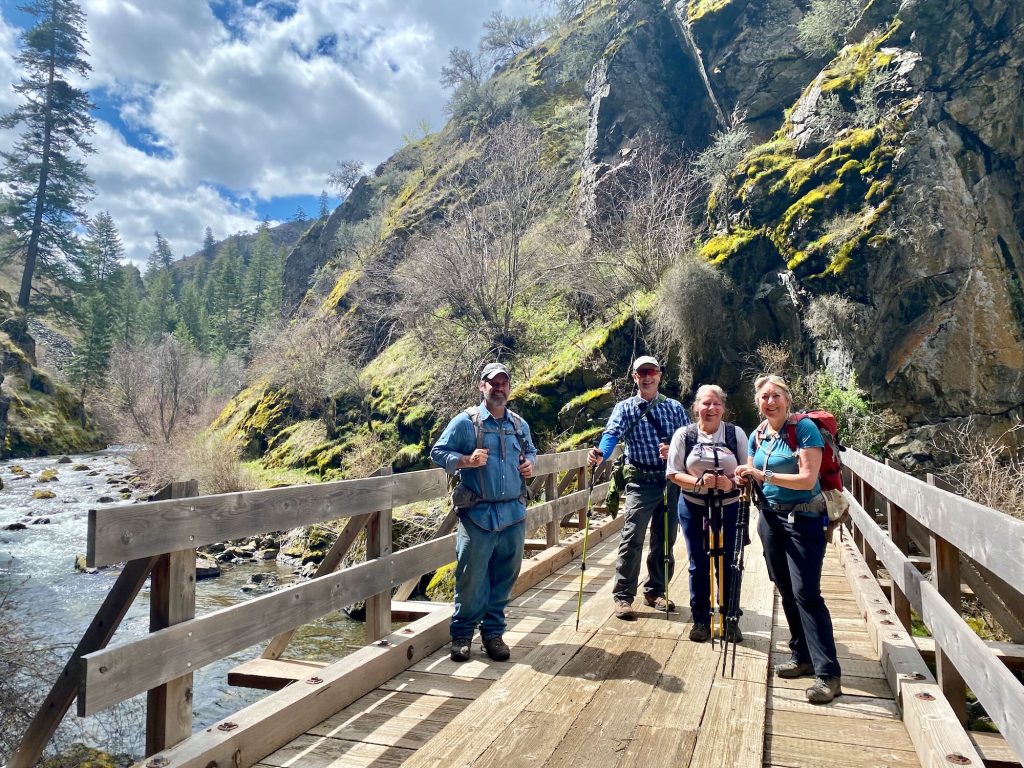 We didn't go that far, but we did go farther than our normal stopping point at the second bridge. After pausing for a quick pic, we continued on to the third bridge that straddles the West Fork of the Rapid River. We did lunch on the ridge that overlooks the confluence and then explored a little past the third bridge before heading back. We were rewarded with the discovery of a neat campsite that opened up along the rivers edge and offered a couple of different fire rings. At about 4 miles in, it could make for a gentle overnight hike.
Rapid River is one of our favorite trails because it's so accessible and it expresses the land so well. There are old (possibly filled in) cave structures with char marks from ancient fires. There are fascinating geological structures, an imposing landscape, and remnants of a pioneering past. It was fun to see quite a few folks enjoying the trail, too. From hunters and hikers to trail runners and families, there was a fair bit of activity out on the trail this Earth Day.
Check out our photo album from the day, and join us on Facebook to let us know if you make it out on the Rapid River Trail one day. Thanks for reading, and we'll see you on the trail!