I never win anything in raffle drawings, so after the water bottles were given away during our last dinner at the Transcend '22 gathering in Slovenia for the Transformational Travel Council, I figured I was out of the running. It took me a moment to register it when they actually called my name for the grand prize of a trip for two to Bodhi Surf & Yoga in Costa Rica!
We decided to go during Spring Break so we could take the kids. And that miracle only happened because we'd set money aside from the sale of our house for taxes, then learned we didn't have to pay taxes since we had been living in our old house for more than two years before selling it. Jackpot, baby! The kids are going to Costa Rica!
Click here to see the Photo Album
It took us two days of traveling, with a 10-hour layover in Dallas, Texas to get there. Delays, canceled flights, and uncoordinated responses seem to be the name of the game with airlines these days. We were just happy to make it to Costa Rica on time, though it wouldn't be so easy on our way home.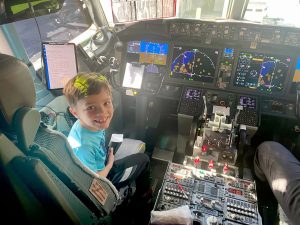 Jacob got to sit in the cockpit for a moment before our final flight from Miami to San Jose, Costa Rica. It reminded me of the time I was invited to sit in the cockpit while landing in La Paz, Bolivia while on a mission trip back in high school. It made me happy to be sharing memories like this with my son.
Bodhi sent a driver to meet us at the San Jose airport and drive us the 4 hours or so south to their resort in Uvita. Along the way we stopped at a little tourist spot for fruit smoothies and to take pictures of alligators. It was dark by the time we reached Bodhi Surf & Yoga, and missed much of the journey because everyone on the van was slipping in and out sleep.
Once we arrived and settled in, Bodhi took us out for dinner at a little place just down the street called Carlito's. We were assured they had the best taco salads and margaritas in town, and I believe it. After dinner, it was off to bed because breakfast was coming fast at 7 in the morning.
Our schedule with Bodhi started off heavy but settled down throughout the week just when we needed it. After breakfast on Sunday, we took a community tour of Uvita, which was a great way to get to know where we were and the people who were welcoming us to their home. Along the way, we got to eat ice cream out of a bag, eat mangos right from the tree, and meet some local wildlife, including a sloth, some ducks, and a couple of parrots.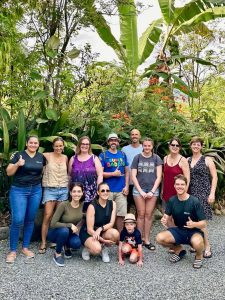 As the tour wrapped up, Jacob hit his limit in the sun and started to complain about hot feet. One of our fellow guests, Saba, didn't hesitate to scoop him up and carry him as we walked back to Bodhi. And that was how Saba and her friend, "Auntie" Tamar, became Jacob's new best friends for the week.
The whole crew at Bodhi was fantastic, guests and staff alike. We had a great balance of camaraderie and autonomy, truly sharing each other's individual vacations. The staff were extremely helpful, courteous, and genuinely happy to be there. It didn't seem like they "served" us nearly so much as they simply participated with us as guides.
Travis Bays, co-founder and visionary of Bodhi Surf & Yoga, was our lead instructor. He was great at meeting us where we were with our skill levels, physical condition, and mental condition, especially around potential fears of the unknown in the ocean. Travis taught us just enough theory and science to understand what he was teaching us on the surf board itself. Travis and his team didn't concentrate on a specific outcome, but rather focused on helping us progress through the journey. It made for a pleasurable experience and helped us all achieve more than we thought we could. 
We were all riding the white water by the end of the week. I love the pictures of my kids standing up on their surf boards with looks of amazement on their faces. As mountain-dwelling land-lubbers, this was truly a unique opportunity for us that may very well not come around again for a long time, if at all. So, we soaked it in!
At one point, I happened to glance behind myself as I stood up on my board. I was thrilled to see my daughter, Grace, standing up on her board, too, on the same wave! That was probably the grooviest moment of the week for me.
There was also one day when I put my surf board away a little early to play with Jacob in the ocean for a while. I grew up near Pismo Beach in California, fighting the waves like Daniel LaRusso in the Karate Kid, so it was a delight to see Jacob doing the same thing, minus the crane pose.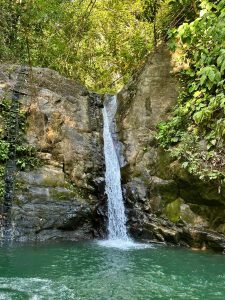 On Monday, our second day at Bodhi, we followed up surfing with a short hike up to a local waterfall and swimming hole. We were supposed to be dropped off higher up the trail where metal boardwalks had been put in place for tourists, but instead we were dropped off down below where the trail scrambles up along the rocks of the creek, marked with red arrows. I enjoyed that route, but it was pretty difficult for others who were trying to navigate the wet rocks and boulders in flip flops. It also gave us a chance to visit a butterfly garden before setting out.
In the end, we made it and enjoyed a dip in the jungle pool. We passed on riding the waterfall like a slide, though we watched several other people do it. Once back at the trailhead and waiting for our taxi, Jacob and I found a couple of hammocks hanging among palm trees to lounge in. That evening, we did dinner with the Bodhi staff and got to learn more about how Bodhi came to be. You can check out their story and learn more about their operation here: https://www.bodhisurfyoga.com/about.
On Wednesday, we had a free day. Rather than sign up for another local tourist activity, we rented a car and just drove around the local area finding good places to eat and visiting local shops. One of our favorite places was La French Cafe, where we did breakfast. Their food was amazing and their selection was huge. We spent the afternoon shopping and playing in the small pool at Bodhi. For dinner, we drove out to El Fuego, a brewery in the nearby town of Dominica. The restaurant was built on top of the brewery and was surrounded by trees, so it felt like we were climbing up into a tree house to eat!
Friday came all too soon with our final surfing lesson. Bodhi gave us a chance to translate everything we had experienced this week into a personal commitment that we could take home with us. Jacob committed to coming back to Bodhi, and man, I hope he does! Grace committed to smile, and Amanda committed to "try the new." I was so proud of Amanda. She overcame a deep fear to even get in the water, and she didn't stop there. She pushed herself so far and never gave up. She also embraced rest when she needed it and simply enjoyed being in the water with her kids.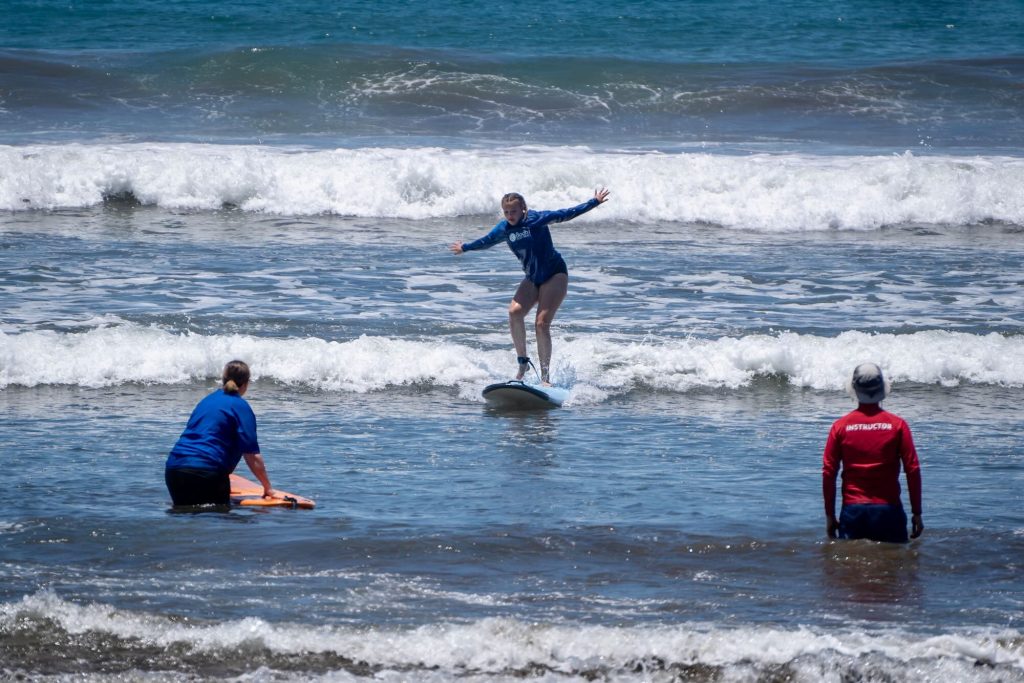 I kind of struggled to find the words that could translate my experience into a meaningful and useful commitment. We were traveling, encountering the Other, experiencing new things, eating healthy and staying active. There was so much I wanted to take home with me. Also, I was returning home to take on a new position at work as the Director of the Area 2 Agency on Aging with Community Action Partnership. That was kind of an overwhelming thought, and I wanted to take much of what I was gleaning from Bodhi home with me to embrace this new role.
In the end, I committed to "Brave the Wave." For me, this encapsulated the energy and mindset that I found pushing my limits on the water. I wanted to take this energy home and apply it at my new position with CAP.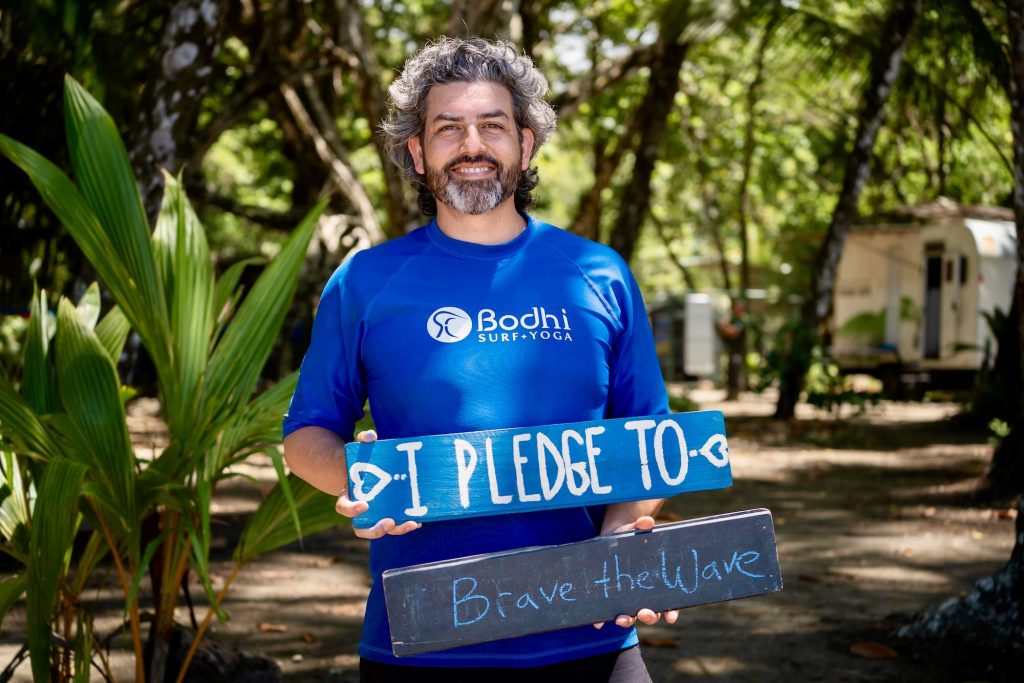 With my new commitment in mind, I decided to try and ride a blue wave on my last day. That meant paddling out past the surf and then dropping in on a blue wave before it broke and became the white water we had been riding all week.
I was stoked, and I gave it my best effort, but I didn't make it. I just couldn't get past the final wave of the surf. Every time I tried to roll under the wave, called "turtling," I would get spun around and tangled up in my leash. It would take me too long to get settled back on my board and start paddling again, so I would get caught up in a new wave and do it all over again. Eventually, I was just too worn out to continue, and my chest hurt really bad. I didn't realize how hard I was working and straining myself. The pain is only just now diminishing, two weeks on.
It was a humbling experience to fail. Hopefully, it was not indicative of how things will go as the new AAA Director at CAP! But risking and facing failure is part of Braving the Wave, isn't it? Pressing faith up against fear and stepping into the unknown has power because it carries great risk and great reward together. And in reflection, perhaps it is better that I step into my new role with the humility of failure rather than the arrogance of victory. How will I let this experience shape my approach to leadership?
Bodhi Surf & Yoga is an Ally with the Transformational Travel Council. It was an honor to participate in their program and learn from them. I hope our paths cross again. In the meantime, I look forward to seeing how the seeds of transformation planted within me will bear fruit in their season.
Click here to see the Photo Album
How about you? How will you Brave the Wave? If you are hearing the call to adventure or change in your life, check out our Discover and Transform pages for ways Clearwater Trekking might help you answer that call. We'd love to hear from you. 
Thank you for reading, and we'll see you on the trail!
#SeektheClearwater