Get Directions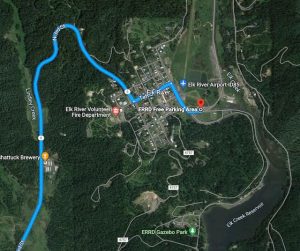 We weren't technically lost because we had cell service so we could see exactly where we were, but we had no idea where the snowshoe trail was. In a way, it was the trail that was lost because, as we were to learn after our hike, the trail marked on our map was an old rail grade track that has since been sold off to private parties. So, the Old Milwaukee Dr trail is no longer accessible to the public.
But I'm getting ahead of myself.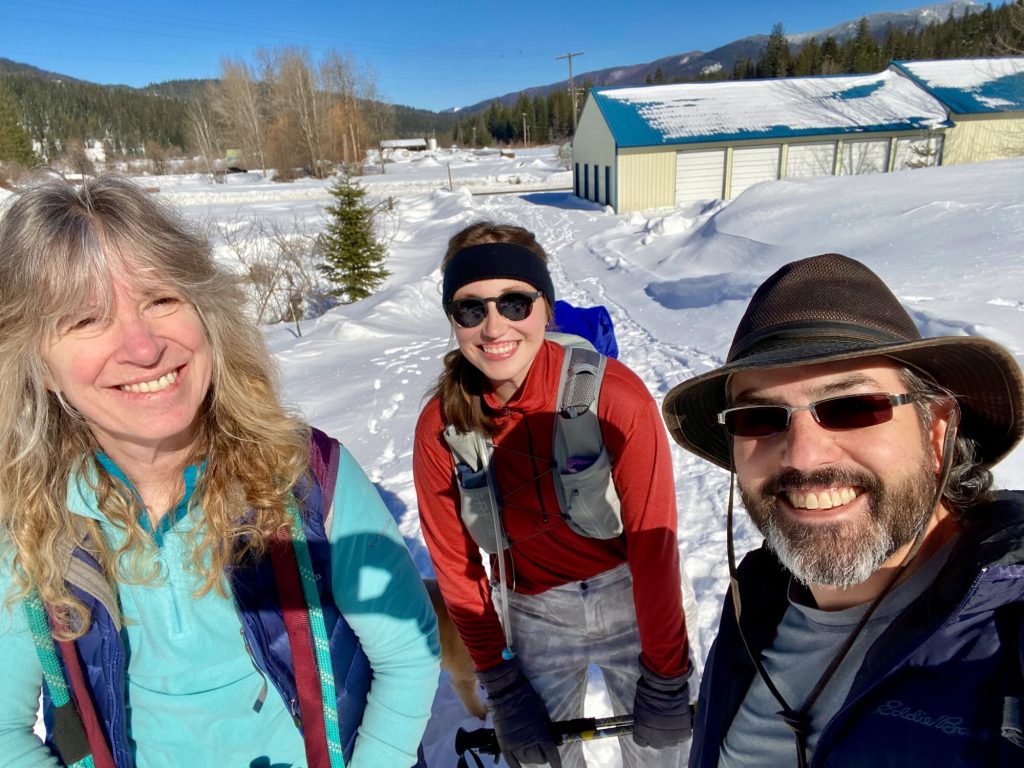 It was a beautiful day for snowshoeing. Sunny and warm for a winter day. Elk River droned with the sound of snowmobiles roaming the tracks in and around town. It was Jacob's first time on snowshoes, so our plan was to hike a small loop just outside town and come back for hot chocolate. It kind of worked, but Jacob was a trooper the whole way!
The outdated brochure we were following said our parking area was on Front Street, but it only made sense to park in the Elk River Recreational District (ERRD) parking area used by the snowmobilers. The brochure map showed the trailhead starting right across from the parking area on Front St, but there is no such trailhead. Whispering Pines RV Park is immediately across from the parking area.
Our first effort was to walk down Dent Bridge Road toward the ERRD office looking for the trailhead, or at least a half-buried sign showing us the way. No such luck. However, we did find a private property sing on Old Milwaukee Dr, which made us think we had simply missed the trailhead somewhere. So, right out of the gate, things got interesting. 
With the help of a friendly local, we managed to get ourselves started out on Forest Road 4757, also known as Whisperwood Lane. This is a plowed, dirt road that winds its way out of town and down to the rock pit. It's Elk River, so we were still tromping through the snowy woods on a sunny day, but there was no need for snowshoes at this point.
We did try following a gated trail through the woods, thinking we might be on the return portion of the loop we were seeking, but that trail only took us to a gravel pit clearing and eventually back to FS RD 4757. So, we just followed this down to the rock pit.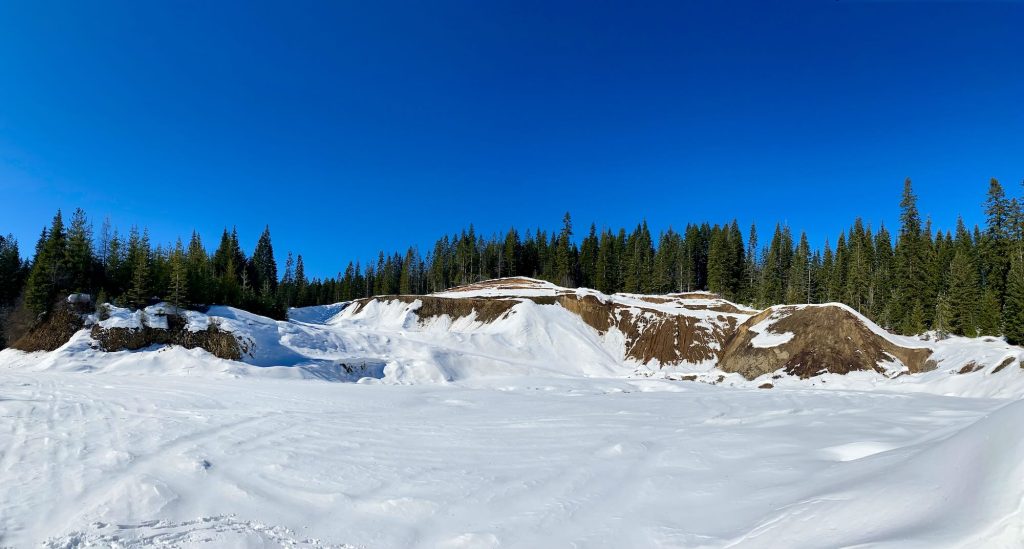 From the Rock Pit, 4757 continues southwest and would take us all the way to the gazebos 2 miles outside of town where Elk Creek Falls Rd meets Highway 8. That stretch of Rd 4757 is actually the designated Nordic Trails, and we saw signs of cross-country skiing along this track. Unfortunately, we were all to aware of the fact that at this point in the game we were not up to wandering down this trail for who-knows-how-far and then finding our way back. Plus, we still wanted to see if we could find the original loop we had set out to hike. (We didn't know yet that it was closed off.)
So, we turned around and headed back past the rock pit seeking the end of the Old Milwaukee Dr trail. We gave it a valiant effort, but in the end, found ourselves down on Dent Bridge Rd carrying our snowshoes back up and around to the parking area. We ran into a gentleman from the Clearwater-Potlatch Timber Protective Association (CPTPA) who was finally able to explain to us that the old rail grade trail had been sold off to private land owners and was no longer accessible.
Our adventure was less a bright day of glorious snowshoeing and more of a brilliant day of adventurous curiosity. At least, that's what we're telling ourselves.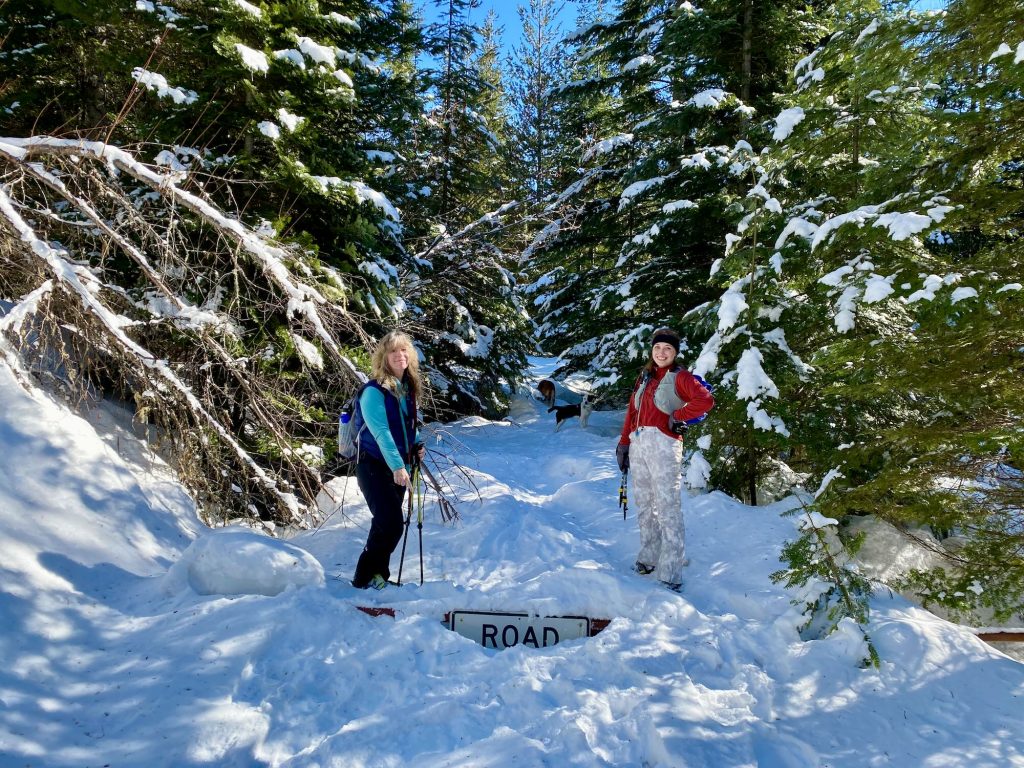 We had a new Trekker with us for this adventure, and I certainly hope we didn't scare her off! It would be fun to head back out this way in the summer and see the falls and the big cedars north of town.
After getting all packed up again, a few of us headed into town for a coffee. Elkspresso B&B was closed, so we headed to the Elk River Lodge & General Store for some huckleberry pie and a hamburger. Dixie was super friendly and helpful. She talked to us about the trails and gave us an updated map. She was a delight.
From Dixie's map, I can see how the old rail grade became Front St, Wapiti Dr, Old Milwaukee Dr, and FS RD 4757.
On our way out of town, Jacob and I swung into the parking area by the gazebos on Elk Creek Falls Rd. The parking there was very minimal, and there were no trail signs or upkeep that I could see. So, if we did snowshoe here, we'd probably be breaking trail. Elk Creek Falls Rd was plowed for about half a mile, up to a gravel pit clearing but no where near the Elk Creek Falls Trailhead. This parking area is the southern tip if the Elk River Nordic Trails area.
The actual Nordic Trails loop is 2.7 miles with three main legs in the shape of a triangle. From the gazebos near Highway 8, the trails follow FS RD 4757 northeast up to the rock pit. Maybe 1,500 feet, or a third of a mile, southwest of the rock pit, Rd 4757 connects to FS RD 4769. If you head back south (take a right) on 4769, it'll take you down to the gravel parking area on Elk Creek Falls Rd. From there, you follow Elk Creek Falls Rd northwest (take another right) for about half a mile back to the gazebos. This section of the trail will be a plowed, dirt road, so you may not need your snowshoes here. The whole loop from the gazebos to the crossroads to the parking area and back is 2.7 miles according to Google Maps.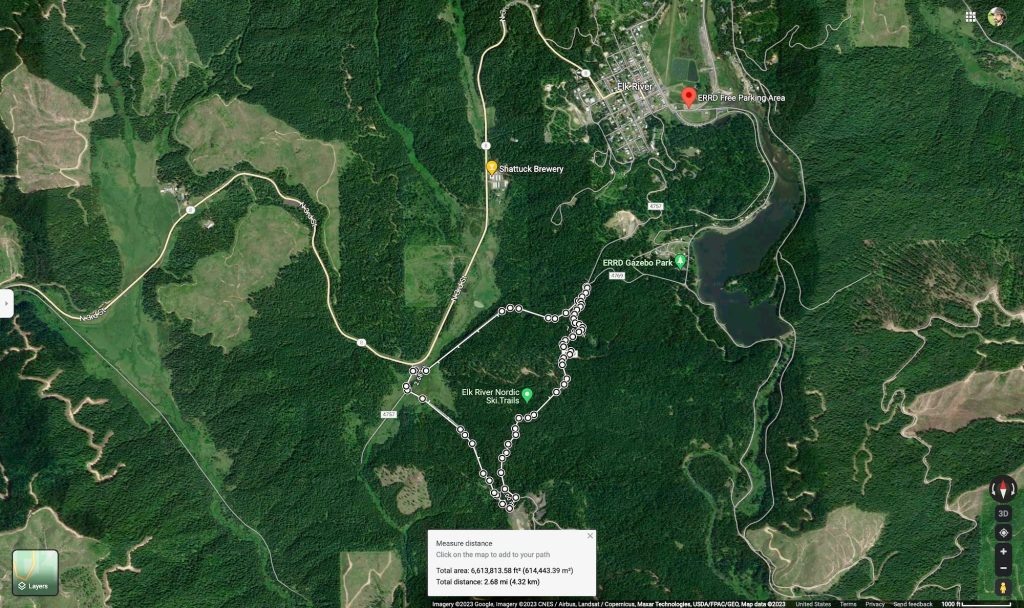 I reckon this is the way to go next time we find ourselves snowshoeing in Elk River, Idaho. Thanks to everyone who came this time around. You made it a fun, adventure-filled day!
#SeektheClearwater