The Clearwater Trekkers began in Orofino, Idaho, with our first hike on the Big Eddy Trail back in 2014. The North Fork of the Clearwater River feeds the Dworshak Reservoir, so it was only natural that early excursions would take us up to the North Fork area. Since then, we've explored further south around the Lochsa and Selway a bit, but we haven't gone further south than that (save for a couple of failed attempts to reach Crystal Lake in the Buffalo-Hump Wilderness Area.)
I'd love to change all that by exploring these 9 trails in the Nez Perce National Forest.
1. Lost Horse Trail #430

Named for the Lost Horse Creek on the Montana side of the Bitterroot Mountains, Lost Horse Trail #430 looks like an amazing trek from the Moose Creek Air Strip on the Selway River to Twin Lakes in Montana just on the other side of Wahoo Pass. Along the way, you'll pass Freeman Peak at 7,298 feet, Indian Lake near Trail #631, and follow Wahoo Creek up to Wahoo Pass. Once you're over the Pass, you can drop down to Twin Lakes and a stay at Schumaker Campground.
2. Bear Creek Trail #516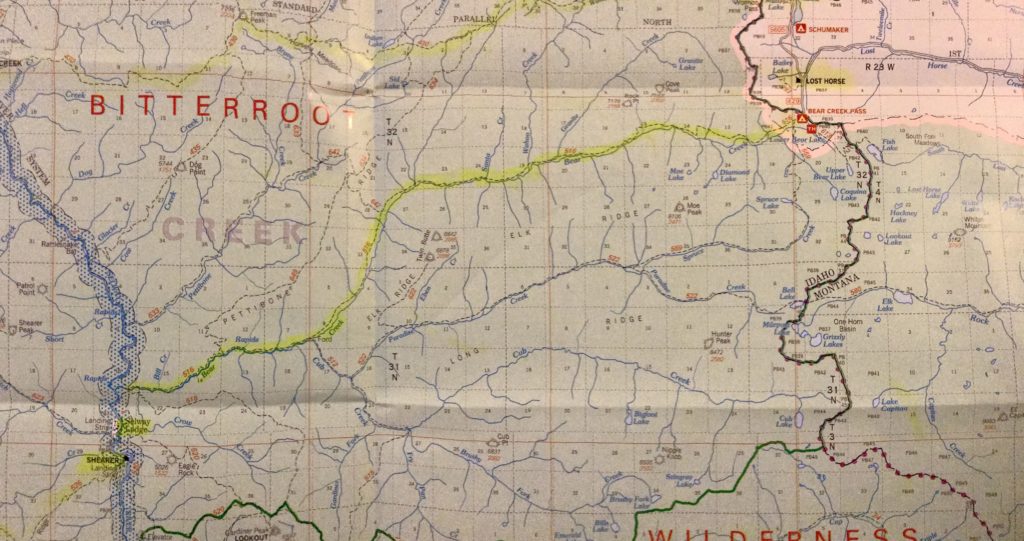 Bear Creak Trail #516 parallels Lost Horse Trail on my map, but while Lost Horse climbs Freeman Peak, Trail #516 stays low, following Bear Creek from where it connects to the Selway River just north of the Selway Lodge and Shearer Landing Strip and entering Montana through the Bear Creek Pass on the south side of Lost Horse Creek. This route would miss the stunning views that Lost Horse Trail would offer, but the more moderate terrain and regular access to water would make for a good long-distance hike through this area.
3. Moose Ridge Trail #562
On the southeast side of the Selway River from the Moose Creek Airstrip, Moose Ridge Trail #562 climbs up onto Moose Ridge and heads south. Keep an eye out for Trail #436 cutting in from the west. You can follow it for a short ways before dropping down to Marten Hot Springs on Marten Creek. I don't know if it's worth the effort as I can only find vague references to it online as being secluded and seasonal at best. Either way, Trail #562 makes its way down to Long Prairie Creek then back up to Windy Saddle on Forest Road 285.
Alternatively, you could cut east on Goat Ridge Trail #526 at Wylies Peak and make your way across to Shearer Landing Strip back on the Selway River. Which, if you're following along on the Nez Perce National Forest Map, makes a wonderful loop with Long Horse Trail and Bear Creek Trail.
4. Meadow Creek National Recreation Trail #726
Setting off from the Slims Campground near Selway Falls, the Meadow Creek National Recreation Trail #726 follows its namesake creek 15 miles south to the Meadow Creek Cabin, which you can rent for $40 during the summer. With 6 beds and a wood cook stove, this might be a great opportunity for The Clearwater Trekkers in 2020!
The first 3 miles of the trail is shared with mountain bikes and motorcycles, but motorized vehicles are not allowed past the Little Creek crossing. Here, the trail climbs up the side of Indian Hill for a while, before reconnecting to Meadow Creek at the Indian Hill Creek junction. From there, it follows Meadow Creek all the way to the cabin.
5. White Cap Creek Trail #24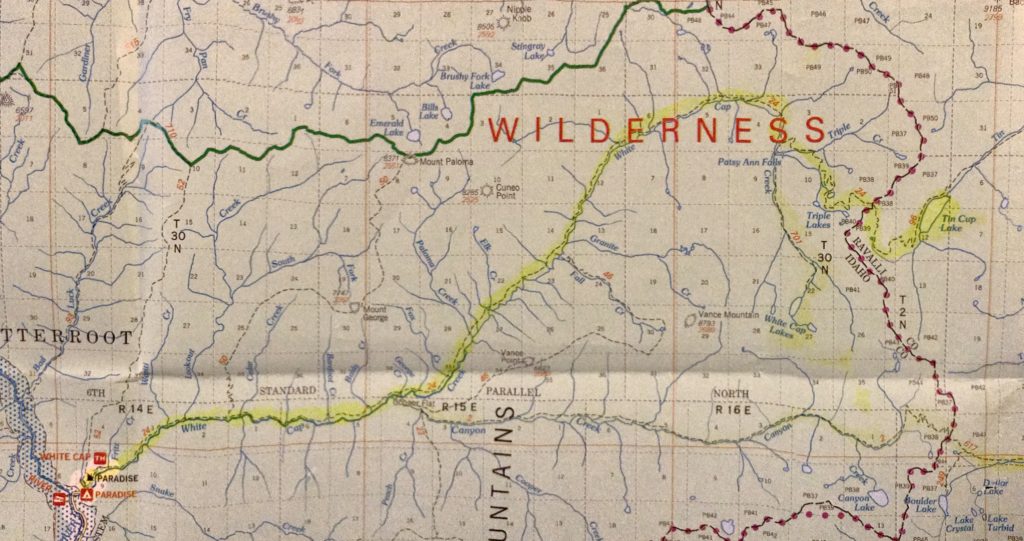 The word, "Paradise," always seems to jump out at me on a map, which is how I found White Cap Creek Trail #24. Paradise Campground is listed in bold, red letters on my map and it sits just below the White Cap Creek Trailhead. Trail #24 follows its namesake creek east away from the Selway River and deep into the Bitterroot Wilderness. At Copper Flat, trail and river turn northwest, wandering between Cuneo Point and Vance Mountain. The tail curves around Patsy Ann Falls and climbs up to Triple Lakes. It crosses the Montana border and drops down to Tin Cup Lake as Trail #96, which follows Tin Cup Creek to the outskirts of Darby, MT. This seriously looks like a sweet journey.
6. Salamander Ridge Trail #27
I've long wanted to explore the Magruder Corridor, also known as Forest Road 468 or the Nez Perce Road, which runs from Highway 14 in Idaho to Highway 93 in Montana. It cuts between The Selway Bitterroot Wilderness and the Frank Church River of No Return Wilderness. Right in the middle, just west of the Selway River, the road passes Salamander Ridge and Trail #27. From the Magruder Corridor Road, Trail #27 climbs maybe 5 miles north up to Salamander Butte at 6,054 feet. This would be a fantastic day hike if you were camped at Base Camp Campground.
7. Sheep Hill Trail #575
If you're headed west on the Magruder Corridor Road, towards Grangeville from the Salamander Ridge, you'll run into Sheep Hill Trail #575 at Dry Saddle.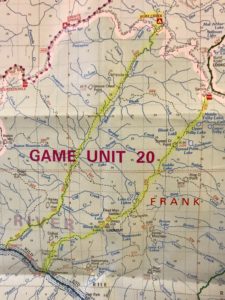 Apparently, this is a popular trail because it passes several mountain lakes which are hot fishing spots. It caught my attention because it traverses Spread Creek Point at 8,190 feet, and takes you to the Sheep Hill Lookout 10 miles in. There's a pretty good description of this trail in "The Go-To Guide for Popular Hiking Trails in the Nez Perce-Clearwater National Forests." Follow the link and search for "Sheep Hill" or "575".
8. Bargamin Creek Trail #502
Beginning on Forest Road 285 near Green Mountain Lookout, Bargamin Creek Trail #502 runs south to Bargamin Creek and follows it across the Magruder Corridor at Poet Creek Campground, where it enters the Frank Church River of No Return Wilderness. The trail follows Bargamin Creek all the way down to the Salmon River, but I don't see how you're getting out of their without a boat or a plane that can pick you up downriver at Allison Ranch. Who am I kidding, though? That's the seclusion that draws me in.
9. Gospel-Hump Wilderness Trail #312
Beginning just outside the Gospel-Hump Wilderness area at Sourdough Saddle, Trail #312 makes its way through amazing watershed off of Dome Hill, following Moores Creek down to Moores Guard Station on Forest Road 444 and Square Mountain Historic Lookout. From there, it works its way south up to Marble Butte at 8,077 feet, an adventure Mary Aegerter writes about on her site. Now you're headed down towards the Salmon River. A little ways past Black Butte Lookout at 6,731 feet, you'll start heading west as you descend to the Wind River Bridge and County Road 1614, which will take you out to Riggins, Idaho on Highway 95. The various access points make Trail #312 an excellent option for multiple trips, but man, what a thru hike that would be!
So many trails, so little time
It's easy to sit here in the comfort of my home and look at these trails on my nice, flat map and imagine a 15-mile jaunt every other weekend, but as I get perusing over terrain maps and introduced to the history of these trails, I am ever more amazed at the landscape spread out before us. I'm amazed at the structures we've built on top of precipitous mountains in the middle of literally nowhere. I'm amazed at the sense of adventure and curiosity that carved out all these many, many miles of trails. And I am abundantly grateful for the wilderness areas preserving these lands for us to explore.
Have you been on any of these trails? Have I named any that are on your bucket list? Share your stories in the comments below, or join us on Facebook to share your pictures and join us for our next wilderness adventure. Thanks for being here. See you on the trail!
*Seek the Clearwater