With snow piling up on the mountains and temps plummeting across the prairie and the Palouse, it won't be long before we're strapping on our snowshoes and looking for a new winter adventure. The Forest Service provides a helpful list of cross-country skiing and snowshoeing trails in the Nez Perce-Clearwater National Forests on their website, so I thought I'd have a look at a few of them that might be good trips for The Clearwater Trekkers this season.
Some of the best spots I found are part of the Idaho State Park N' Ski Program* which does require a separate permit to help pay for the snow plowing and trail grooming. Annual Passes are $25, or you can buy a three-day pass for $7.50. The first three trails in this article are part of the Park N' Ski Program and do require the permit for access.
The Park N' Ski Pass is separate from, or in addition to, the Idaho State Park Passport that residents can buy with their vehicle registration for $10/year.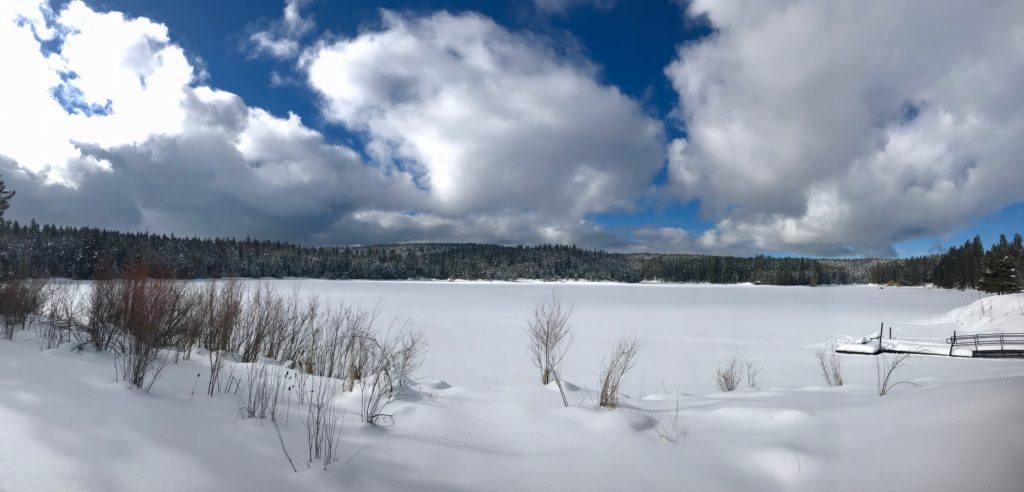 It's when we all chip in that we can enjoy fantastic locations for winter sports like these.
We don't get up on the Palouse much as a club, but snowshoeing this winter could be the thing that takes us there. It would be a great chance to meet up with our friends at The Palouse Sauntering and Hiking Adventurers, too.
The Palouse Divide Nordic Ski Area is about 16 miles north of Moscow on Highway 95, then 23 miles east on Highway 6. You can download a map of the trails here. The description mentions 18 miles of groomed trails for all skill levels running through forests and along hillsides, offering a little something for everyone. The Palouse Divide Nordic Ski Club helps maintain the trails and offers helpful events for recreationists, too.
Highway 8 heads east out of Moscow, Idaho for some 34 miles to Bovill where it takes a sharp turn to the south and winds its way for another 29 miles to Elk River. Just before you reach town, take a right on Elk Creek Falls Road to reach the south end of the Elk River Nordic Ski Trails. The main loop is 2.6 miles of groomed trail with one spur leading into town and a second spur leading to Elk Creek Reservoir. Weather permitting, it's also possible to snowshoe all the way down to Elk Creek Falls, if you're up for the challenge.
This Palouse Winter Recreation Brochure offers helpful maps and information for both Elk River and the Palouse Divide.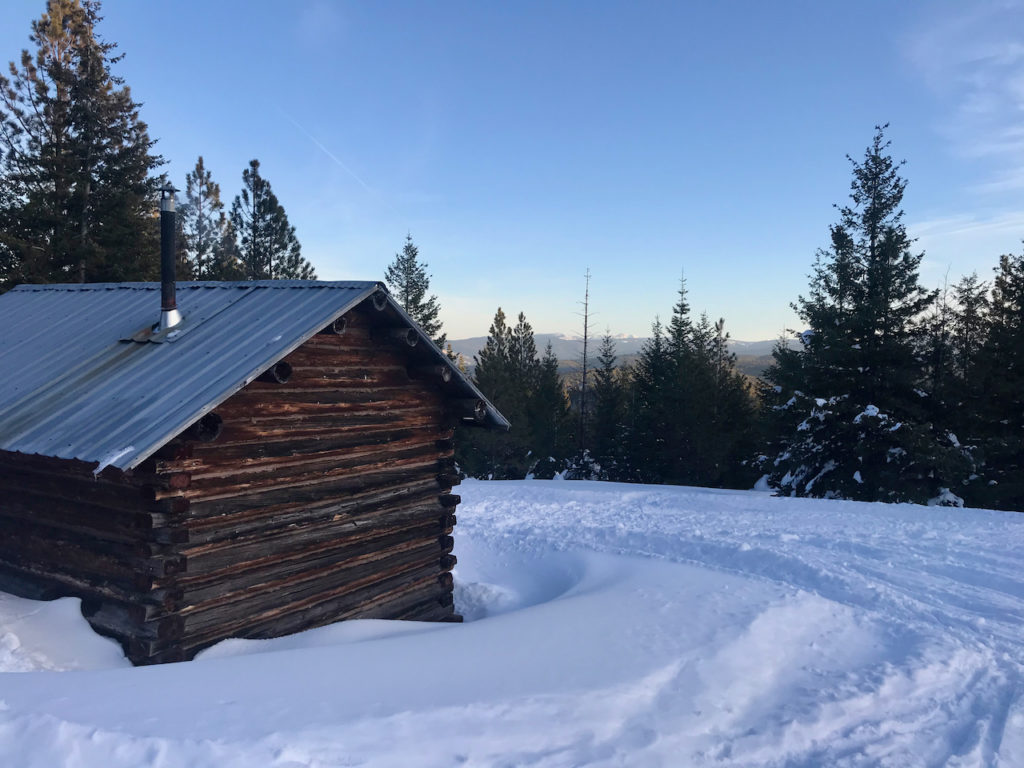 Another snowshoe trail system within the Park N' Ski Program is Fish Creek Cross-Country Ski Trail just south of Grangeville, Idaho. To get there, head south out of Grangeville on Mt. Idaho Grange Road, but don't take the hard left turn around the drive-in theatre; instead, stay to the right to go straight onto Grangeville Salmon Road, also known as Forest Road 221. Follow this road up into the mountains for about 8 miles until you come to Fish Creek Campground.
You'll find several loops of groomed trails offering hikes from 1.2 miles to 8.3 miles in length. A fun one is the 4.5-mile loop that takes you out to the warming cabin. The dogs and I enjoyed doing lunch there back in 2018. Our adventure was "A Wet and Soggy Delight at Fish Creek Meadows." Check out the post for some pictures of the cabin and trails.
Located south of Pierce and east of Weippe, Idaho, Musselshell Meadows is a popular place for viewing wildlife in the spring and snowmobiling in the winter. The meadow is bordered by Musselshell Creek to the north and west and by Lolo Creek to the east. This handy trail map shows Forest Road 100 bordering the east side of the trail system, offering 3 different trailheads and multiple loops to choose from.
Musselshell Meadows is not part of the Park N' Ski Program, so there are no fees to access this area. That being said, access may be limited by the very thing we've come to enjoy – the snow. Forest Road 100 is groomed for snowmobile use, but not all access areas are plowed. It's a good idea to call the Lochsa/Powell Ranger District at 208-926-4274 for current information before heading out.
If the way is clear, you can get to Musselshell Meadows by taking Highway 12 east of Orofino, then turning north on Highway 11 at Greer. Follow Highway 11 into Weippe, but instead of following the highway north towards Pierce, stay going east on Musselshell Road which will take you all the way into Musselshell Meadows.
If you're coming from Pierce, then you'll be heading south on Highway 11. Take a left onto French Mountain Road just outside of town followed by a right onto Browns Creek Road. Stay on Browns Creek Road until it intersects with Musselshell Road. Take a left onto Musselshell Road and follow it to the Meadows.
While not actually part of the Nez Perce-Clearwater National Forests, the Craig Mountain WMA deserves a mention because of its ideal location and offerings for winter activities. Consisting of 124,224 acres tucked up against the Snake River, the WMA reaches from Waha Lake in the north to the Salmon River in the south. This map details the numerous trail options, warming cabins, and cornucopia of land ownership involved.
I'm not sure how much of this terrain becomes snowmobile access only in the thick of winter, but ever since hiking here with the Lewiston-Clarkston Valley Hikers (formerly the Lewiston Park and Rec Hiking Club) back in 2016, I've thought it would be a fun place to return to. Snowshoeing to a warming cabin with views of the Snake River sounds like fun. 
Another worthy mention outside our National Forest stomping grounds is Winchester Lake State Park, offering a 3-mile loop around Winchester Lake with several spurs for extra challenge and fun. The Highway 95 Business Loop offers easy access, entering town from the north and passing the lake to the south.
Whether snowshoeing along Lakeshore Trail or simply tromping through the woods with the dogs, the kids and I enjoy playing here. It's normally $5 to park your vehicle, but we opt for the $10 annual Idaho State Park Passport since we do come here fairly often. It's a great place to meet up and go for a stroll.
Dashing through the snow
I'm still new to the sport of snowshoeing, but I absolutely love the rhythm and flow of it. Most of the trails on this list are new to me, too. How fun would it be to share a new sport on a new trail with new friends and fellow Clearwater Trekkers? Keep an eye on our Calendar Page for just such an opportunity. We'd love to hear from you if you've been out on any of these trails in the winter, or if you are interested in joining us for a snowshoe hike. Just leave a comment below or find us on Facebook here. Thanks for reading. See you on the trail!
#Seektheclearwater