While, "All of them," would be an honest answer, it didn't seem to be quite adequate to the task of sharing my thoughts on some of the trails I'd love to explore in the Clearwater National Forest. So here is a modest list of 7 trails specifically in the Clearwater National Forest that are calling my name. 
Lost Ridge #283 to St Joe Divide #233
Our hike to Heart Lake back in 2016 got me browsing this northwest corner of the Clearwater National Forest map, which is where I discovered the Lost Ridge Trail #283 and the St. Joe Divide Trail #233.
The Lost Ridge Trailhead appears to be easily accessible from Forest Service Road 252, which branches off from FR-247 on the North Fork Clearwater River. It starts off following Collins Creek north for a short distance before turning east and ascending some switchbacks that resemble something like a heart rate monitor on the map. (Maybe that's to let you know what your heart's gonna do when you climb this thing.) Shortly before the borderline with the St. Joe National Forest (8-10 miles in), Trail #283 intersects with Trails #59 and #233. Take a right going east to get onto the St. Joe Divide Trail #233, and follow that along the Clearwater and St. Joe National Forest Border before dipping back down past a cluster of small lakes to reach FR-715 somewhere in the middle of nowhere, Idaho. The whole hike appears to be about 20 miles long.
If you don't have anyone brave enough to meet you at the St. Joe Divide Trailhead, you can turn the excursion into a 15 to 20-mile loop hike by veering off of Lost Ridge Trail a little early onto Trail #285. This will take you down Snow Creek and back to FR-252. Follow FR-252 west to get back to the Lost Ridge Trailhead where you started.
Kelly Creek #567
I've wanted to hike Kelly Creek Trail #567 ever since The Clearwater Trekkers began. The trailhead is located deep in the North Fork territory of the Clearwater National Forest where FR-255 takes a sharp turn to the north at the Old Kelly Creek Ranger Station. The trail follows Kelly Creek for something like 23 miles all the way into Montana where it meets up with Forest Road 7734 just south of Schley Mountain.
I really enjoy hiking along river trails because I like seeing how the land and water shape each other. Plus, it makes for easier access to drinking water and a cool dip on a hot summer day. Hansen Meadows sits about 9 miles in on the trail, according to Mary Aegerter, and is a popular place to turn around or camp out.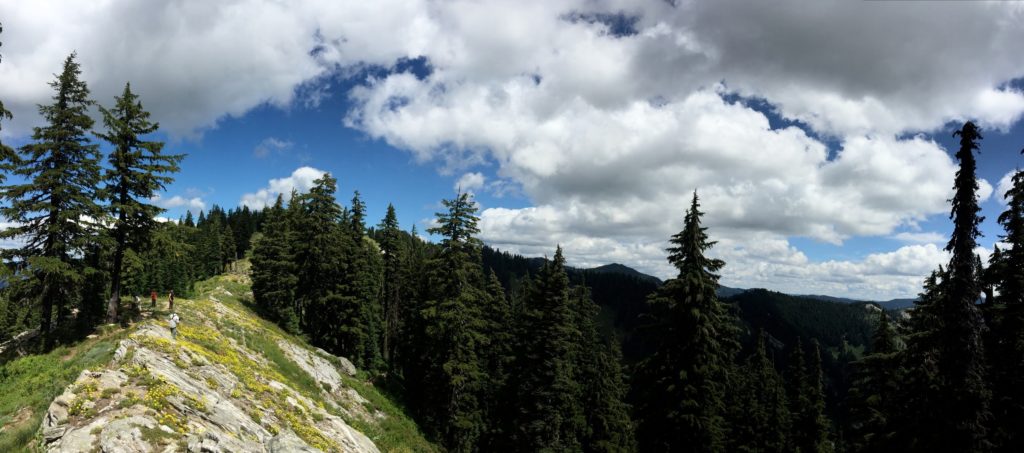 Pollock Ridge #478 or Little Moose Ridge #760 to Fish Lake
I've heard that Fish Lake on the border of Idaho and Montana is a beautiful sight to behold and aptly named for the quality of fishing to be had. Of course, you can access Fish Lake "fairly easily" along the 6-mile motorized Fish Lake Trail #419, but where's the fun in that? I mean, who wouldn't want to hike 13 miles along Pollock Ridge or 20 miles across Little Moose Ridge to get there, instead?
Little Moose Ridge Trail actually forks off of Kelly Creek Trail #567 at Pileup Creek. It climbs up onto the ridge and wanders past Bruin Hill on its way to Fish Lake.
Pollock Ridge Trail can be found further along FR-255 where the Pollock Creek pours into Moose Creek. Along this route, you get to pass Pollock Hill and Wapito Point before dropping into Fish Lake.
For a really grand adventure, you could connect Pollock Ridge Trail #478 to Kelly Creek Trail #567 via Trail #738 to create a 45-mile loop with Little Moose Ridge splicing it down the middle.
Lochsa Peak-Idaho Centennial Trail #220
The Lochsa River is a great place to look for hiking trails because Highway 12 gives such fantastic access to this wild area. Our forays along the Lochsa River National Recreation Trail and out to Stanley Hot Springs got me looking for more adventures to be had out of the Wilderness Gateway Campground area. That's how I found Lochsa Peak Trail #220, which happens to be part of the Idaho Centennial Trail, a 900-mile scenic route stretching from the deserts of southern Idaho to the forested mountains of northern Idaho.
This does not appear to be an easy trail at all as it's essentially a steady climb up four different mountain peaks. Starting down by the Lochsa River in the Wilderness Gateway Campground, Trail #220 climbs up past Lochsa Peak, which stands at 4,885 feet. Then it makes its way past Cantaloupe Peak (6,133 feet), Huckleberry Butte (6,710 feet), and finally reaches Stanley Butte at 7,362 feet.
Can you imagine what the views would be like standing on top of Stanley Butte? Neither can I. But I can imagine what they would be like lying on Stanley Butte waiting for feeling to return to my legs after that 12-mile assault. Wouldn't that be wonderful?
Warm Springs Trail #49
Farther east along Highway 12, just past the Jerry Johnson campground, is Warm Springs Trail #49. A short hike along this trail will bring you to the Jerry Johnson Hot Springs, which were really popular for their close proximity to the Highway until heavy runoff in the spring of 2017 filled the upper pool with silt and debris. The lower pool sits right on the edge of Springs Creek and gets washed out once in a while.
I've actually hiked out to the Jerry Johnson Hot Springs, years ago, and enjoyed my visit there. I'd love to see how they are doing now (2019), and to hike the 10 miles or so to Warm Springs Pass where Trail #49 meets Trails #89 and #60. I wonder if Warm Springs Pass would be a good place to camp?

Colt Creek #50
Keep going east on Highway 12 (What can I say? It's easy access.) and take a right onto FR-102 at the Lochsa Lodge. Continue on past the Powell Ranger District Office to White Sand Campground and the northern terminus of Colt Creek Trail #50. The trail is named after Colt Killed Creek, which it follows for 12 miles to Colt Creek Camp and the designated trailhead according to my map.
Alternatively, you could drive to the actual trailhead along a series of unmaintained Forest Service Roads and hike back to the White Sand Campground. This appears to be how the Forest Service website describes accessing the trail, along with its very enticing description:
"…this moderately strenuous 12-mile hike along the stunning Colt Killed Creek, adjacent to the Selway Bitterroot Wilderness, offers ups and downs, mountain views, river fishing and the sound of rushing water through steep canyons. Backpackers, day hikers and horse riders alike will be delighted with the bountiful views and serene environment."
Who can say no to that?
Hidden Creek Ridge Loop: #10, #906, #4, #1, (#9 Hidden Lake Loop)
While you're in the neighborhood, continue on past Colt Creek Camp until Trail #50 meets up with Trail #71. Head south on Trail #71 until you reach Trail #10 running east and west. Go east to reach Hidden Peak. You now have panoramic views of what I'm calling the Hidden Creek Ridge Loop, a series of trails that connect to surround Hidden Lake.
At Hidden Peak, Trail #10 runs into Trail #906. Follow #906 south to Big Sand Lake where it intersects with Elk Summit Trail #4. You could follow this trail all the way out to Elk Summit Campground and trailhead (accessible via unmaintained Forest Service Road 360), but to continue the loop turn north onto Trail #1. This will reconnect with Trail #10, which will take you along the north side of the loop to Trail #9. Trail #9 will take you for a "walk" down and around Hidden Lake in the center of the Hidden Creek Ridge Loop.
The terrain out here is no joke, however. The north side of the loop is up on the ridge, offering stunning views and a steep climb down to Hidden Lake. Hidden Peak Lookout stands at 7,826 feet and is open to public use, probably because most of the public will never make it out here. The south side of the loop follows Big Sand Creek below the looming peaks, so not so much with the views, but still all that a river trail deep in the Selway Bitterroot Wilderness has to offer.
I want to hike this even more than I do the Seven Devils Loop in Hells Canyon! (Well, at least as much.)
When the snows melt…
Which trail would you want to hit first? Or have you been on any of these trails? If so, we'd love to hear your story in the comments below. Join us at The Clearwater Trekkers on Facebook to share your photos and join us on our next hike. Thanks for reading. See you on the trail!
*Seek the Clearwater