I love exploring new trails in the Nez Perce-Clearwater National Forests with The Clearwater Trekkers, but sometimes I feel like our forays only serve to whet my appetite. My list of trails to hike always seems to be longer when I get home than it was when I started out! I'd love to return to these 5 trails in the Nez Perce-Clearwater National Forests and see what's around that next bend.

1. Pot Mountain Trail #144 – up and over
Standing at 7,139 feet, Pot Mountain dominates the North Fork of the Clearwater. The trailhead is near the Bungalow Ranger Station, where Forest Roads 247 and 250 meet on the south side of the mountain. I had ambitions of watching the sunrise from the top of Pot Mountain for a vision quest in August of 2017, but I only made it as far as Chateau Rock, about 3,000 feet up and 5 miles in. The steep climb up the southern slope through dense forest fire smoke and hot summer heat simply did me in.
From Chateau Rock, Trail #144 climbs up and around Buckingham Point, pauses to take in the views from just below Pot Mountain peak, and then drops steeply past 3 small lakes and through dense, wet forest to Mush Point and Forest Road 711, which cuts back to FR-250.
Part of me wants to take Mary Aegerter's advice and start in the north, summiting early and taking my time to descend the southern slope. But another part of me wants to start in the south, finish what I began in 2017, and then press on to Pot Mountain Ridge Trail #169 (via the 711) for an epic thru-hike across Pot Mountain Ridge all the way to Forest Road 720 at Fry Hill.
2. Pot Mountain Ridge Trail #169 thru-hike
Pot Mountain Ridge came onto my radar when I was scouting out our hike to Pete Ott Lake in 2017. We took Forest Road 250 to FR-711, then old FR-5295 (essentially a wide ATV track) up to the Flat Mountain Trailhead. Trail #176 will take you from Flat Mountain to Cold Springs Peak along a fairly well used ATV trail.
For a less motorized option, you can put in at the Pot Mountain Ridge Trailhead at Mush Saddle, back down on the 711. Mush Campground is there, too, so you could drive in the night before you set out. According to the Forest Service page, it's about 6 miles from Mush Saddle to the Cold Springs Cabin, which you can rent out for $25 a night.
It would be fun to get dropped off at the north end of Pot Mountain Ridge, by Fly Hill, and hike down to Mush Saddle with a stay at the Cold Springs Peak Cabin. Maybe that's the ideal thru-hike, to start at Fly Hill and hike all the way down to Bungalow! I'm not sure exactly how long of a hike that would be, but, according to SummitPost.org, Pot Mountain Ridge is 27 miles "from the south point of the U in the North Fork Clearwater River northeast to the Five Lakes Butte region."
That's doable, right? Absolutely.

3. Eagle Mountain Trail #206 to the Crags
In August of 2018, The Clearwater Trekkers took a stroll along Coolwater Ridge to the Coolwater Mountain Lookout. The Fire Tower Watchman, Tom, was a gracious host who told us stories about hiking along the ridge all the way to the Crags. As I listened to him, I gazed off into the smokey distance and mentally added yet another adventure to my list.
A little ways past the Lookout, Eagle Mountain Trail #206 splits off from the Coolwater Road and heads toward Glover Saddle and Ghost Mountain beyond. Around Chimney Peak, the trail turns sharply to the north, but according to Tom, it's possible to make your way along the ridges to reach Fenn Mountain on the far side of the Crags. That would be fun.
Coolwater Road is actually the end of Eagle Mountain Trail. It begins at the Eagle Mountain Pack Bridge near mile marker 135 on Highway 12, Idaho's Northwest Passage Scenic Byway. According to bivy.com, the whole trail is 42 miles long. A worthy adventure.
4. Boulder Creek Trail #211 to Fish Lake Cabin
Boulder Creek Trail #211 starts in the Wilderness Gateway Campground and follows Boulder Creek eastward. It's probably most popular for being the route into Stanley Hot Springs, which is why The Clearwater Trekkers were hiking it in October of 2018. The hot springs were nice (and I'd definitely return), but I just fell in love with this trail, it's rocky outcroppings and the fall colors. When we turned off onto Trail #222 to reach the hot springs, I couldn't help but look longingly down Trail #211 and wonder what it would be like to hike all the way out to Fish Lake.
Trail #211 doesn't stop at Fish Lake, though. Funny enough, it crosses Trail #206 a few miles before the lake (making Eagle Mountain Trail another access point for Fish Lake), and continues on to Lost Knife Meadows where it intersects with trails #213 and #60. Hmmm…I wonder where they go?
But my eye is on Fish Lake. There's an airstrip there. How cool would it be to fly out to Fish Lake and hike back to the Wilderness Gateway Campground with a little stop off at Stanley Hot Springs along the way?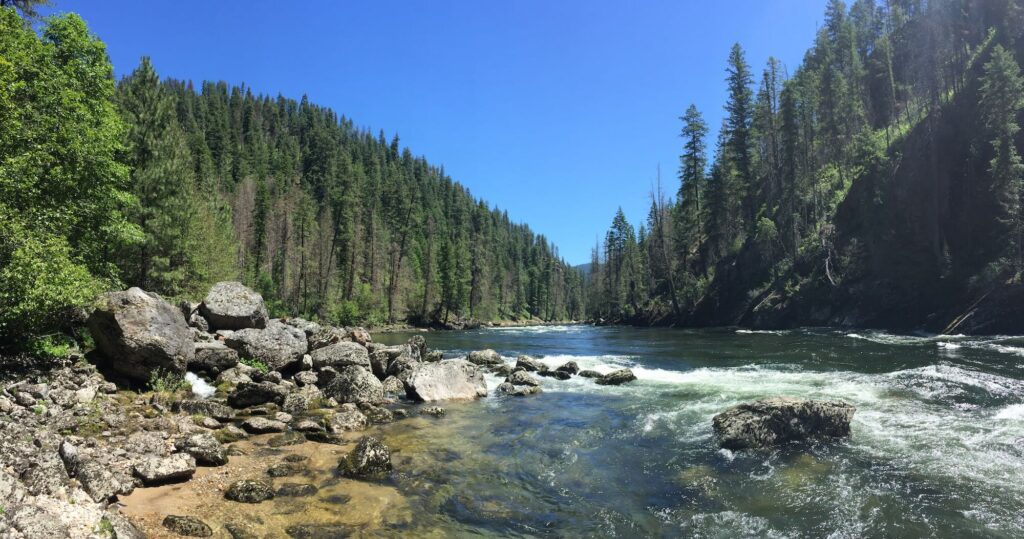 5. The Selway River Trail #4
What I love most about the Selway River Trail #4 is that it's a river trail that actually follows along next to the river. There are many places where you can walk down to the river and take a swim, even set up camp. That's surprisingly rare as most river trails follow the course of the river but from farther up the hillside, making river access difficult or even precarious.
The Selway River Trail also holds a warm spot in my heart because the first time I got to hike it was with fellow Trekker, Beth Davis, who was amazing company. She's a former Forest Service Agent, too, so I learned so much from our conversations about this new trail we were exploring together. (You can read about our adventure and how we ended up on the Selway River at all here.) Today, "thatBethchick" is a Self-Love Mastery Life Coach holding with the Health Coach Institute. You can find her on Facebook and LinkedIn and, hopefully, on trail with us again soon.
Just getting to this trail is fun, as you turn south off Highway 12 at Lowell and take the Selway River Road past the Selway Falls (stop for pictures; it's pretty cool), and wind around the base of Coolwater Mountain until you reach Race Creek Campground at the end of the road. Beth and I had so much fun hiking along this beautiful trail, exploring down by the water and talking about everything from forest fires to the anomalies of life, that I set up the next Clearwater Trekker hike on the same trail so others could experience it, too.
Extending 50 miles deep into the Selway Bitterroot Wilderness, and with an airstrip at Moose Creek, to boot, the Selway River Trail #4 is high on my list of trails to explore further.
I could go on like this for days. Almost every trail I hike with The Clearwater Trekkers begs to be explored further. And exploring new trails feeds my soul. 
Do you have any trails you'd like to explore further or favorite hikes you enjoy returning to for new experiences? We'd love to hear your story in the comments below. Thanks for reading. See you on the trail!
*Seek the Clearwater.