Difficulty: Easy to moderate
Best Seasons: Early spring or early fall
Fees: 

None

Downloadable USGS Topo Maps:
The Nez Perce Indians called the area of Kirkwood Bar home long before Kirkwood Ranch was established by Dr. Jay W. Kirkwood, with wife and child, in 1855. If you make the walk from the ranch up to the Carter Mansion (built in 1920), you'll pass by impressions in the land that once were Nez Perce pit houses. Petroglyphs and other artifacts speak to their way of life in this river canyon.
The Kirkwood family moved to Lewiston in 1885 and the Ranch went through a series of owners, eventually being purchased by Leonard Johnson and his son Kenneth who raised sheep there and built the white framed house in the 1920's. They sold the property to Len Jordan and Dick Maxwell in 1932, but Dick eventually moved on, leaving the ranch to the Jordan family. Len would go on to become the Governor of Idaho and a US Senator, and the Ranch would become part of the Hells Canyon National Recreation Area designated by Congress in 1975. (History buffs may enjoy this longer synopsis of Kirkwood Ranch History.)
A lot of ranching still goes on in Hells Canyon, but protected historical sites and land features bring a lot of visitors now, too. Jet boats and river rafts are a common site on the Snake River which flows past Kirkwood Ranch on its way to the confluence with the Clearwater River in the Lewiston-Clarkston Valley, picking up the Salmon River along the way.
Hells Canyon is North America's deepest river canyon at 7,993 feet deep, nearly 2,000 feet deeper than the majestic Grand Canyon in Arizona. The landscape was formed out of lava flows and floods and continues to be shaped by human and geological forces today. The scope of this rugged canyon is hard to capture in photographs, it is something that needs to be experienced.
So The Clearwater Trekkers set out to do just that.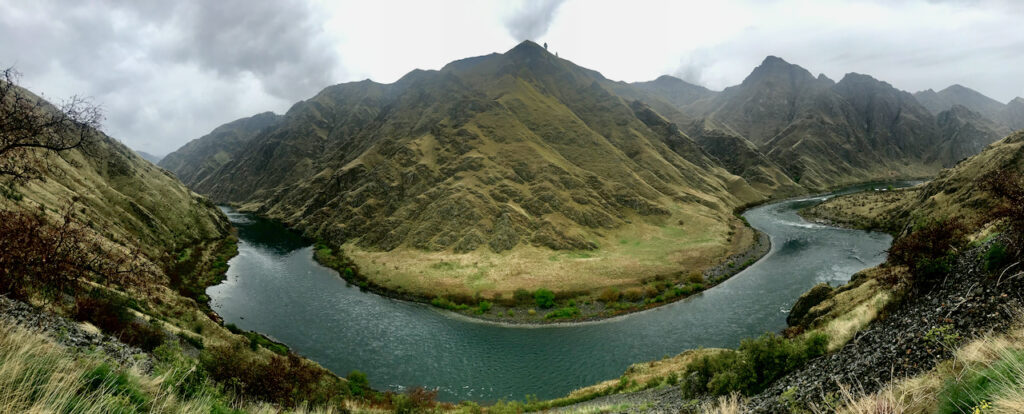 Dark clouds loomed over mountain peaks as we gathered at the trailhead at Upper Pittsburg Landing, but we were undeterred. I was excited to see familiar faces from our previous hike down Redbird Creek in April, as well as a new recruit to our entourage. My friend, Braedyn, was also joining me for this excursion, and I'm pretty sure he was more excited than he was letting on.
New friends from the UYLC Recovery group in Kamiah, Idaho began showing up just as we were donning pack covers and rain coats and setting out on the trail, so we took a quick trailhead photo and agreed to meet up again at lunch. An overnight backpacking trip into Kirkwood Ranch was a hefty way to introduce the Recovery Group to hiking with The Clearwater Trekkers, but April and May are simply the best times to get into the Ranch before the rattlesnakes and heat take over.
Spatterings of rain came and went, but the hike warmed us out of our rain coats soon enough. The canvas of dark storm clouds was a vivid backdrop against the steep, rocky slopes of the canyon walls. The immensity of the terrain we were moving through was simply stunning. I would look up to the tops the mountains across the river from me and feel their overwhelm, only to walk forward and see another, higher peak looming up behind them.
The trail was narrow and often traced the sheer edge of a rock wall or precariously steep slope. It was hard not to stop and take a picture at every corner. There is a creek crossing to navigate within the first mile or so, and one area in particular with a steep climb, but other than that, the trail basically follows along the hillside at a slight incline for about 5 miles from trailhead to arrival at Kirkwood Ranch. The descent down to the ranch is a steep series of switchbacks that laughs at any notion of an easy start to your return trip.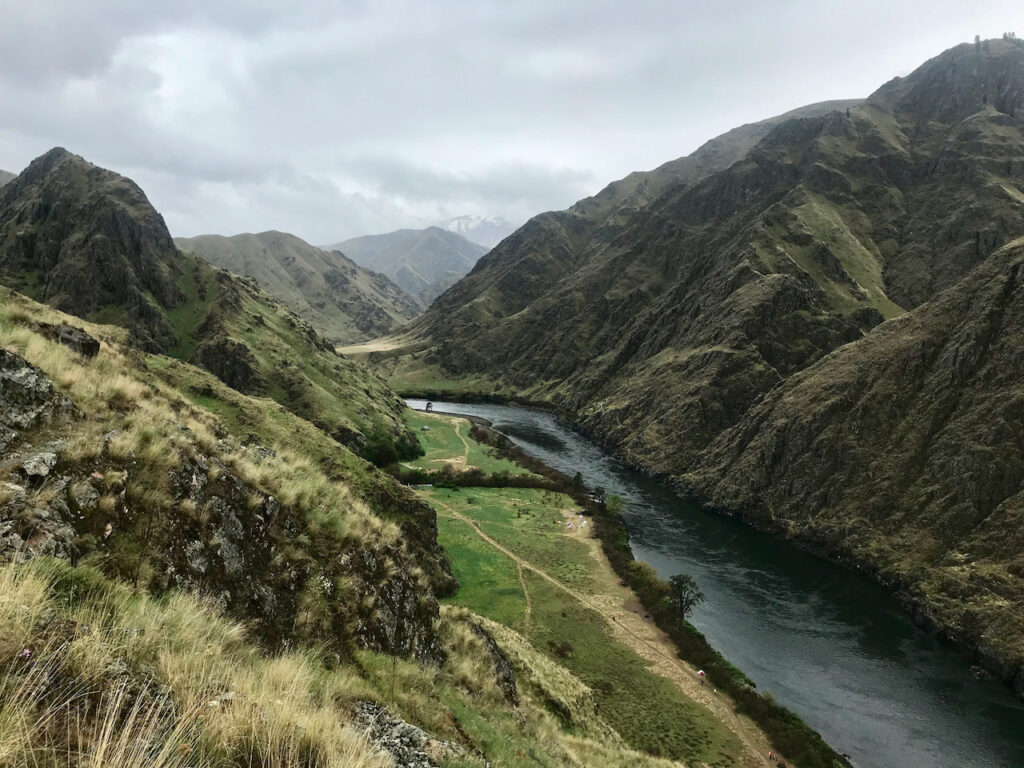 Camping at Kirkwood Ranch is spread out in the old sheep pasture, mostly along the river bank. Paths have been worn into the field, and while it is not required to stay on them, doing so prevents unnecessary wear on the terrain and prevents picking up tics that may be in the tall grass. There is no potable water available, but there is plenty of access to the river for filterable water. There are, however, two flush toilets at the far end of the pasture, near the ranch house.
We all took turns looking around the historic Kirkwood Ranch upon arrival, then set to making camp. There were enough of us to spread out over a few sites. A few more Trekkers caught up with us at the ranch, and a couple of other hikers only day hiked the trail, so I think 14 of us camped out for the night and maybe 17 made it out on the trail all together. We shared the field with another large group of teens from Cocolalla Lake Bible Camp. They were a good group of kids.
We hit the trail around 9:30 AM PST in the morning, and we arrived at Kirkwood a little after 1:00 PM PST. By then, the clouds were breaking up and the sun was drying things out. A few of us decided to continue another two-and-a-half miles down trail to Suicide Point, an overlook where it's said a body was found below. Or, as legend would have it, a Native couple threw themselves to their deaths because they were forbidden to marry. From Suicide Point you can look upriver to Big Bar and across to Brockman Ranch on the Oregon side of Snake River. It certainly is a beautiful view.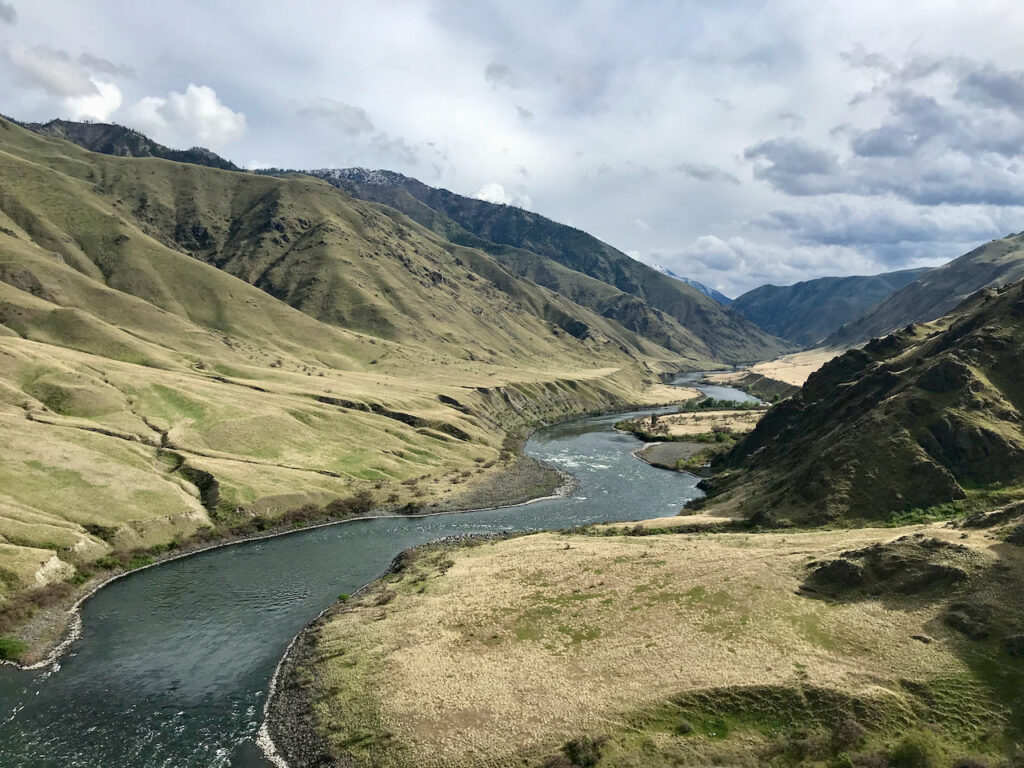 On the way back to Kirkwood Ranch, we were stopped in our tracks by a rattlesnake who decided to defend the trail rather than simply cross it. We obligingly went around.
More rain clouds greeted us back at camp and convinced us to make an early night of it. Braedyn and I had to cook in the rain, but we were hungry enough to make it happen. We retired to the shelter of our tent to enjoy a warm meal and settle in for the night. 
A fire would have been nice, but the Ranch requires that you use a fire dish and collect wood a quarter-mile up from the river. What we didn't know till later was that the Ranch provides fire dishes free of charge. Something to keep in mind for next time.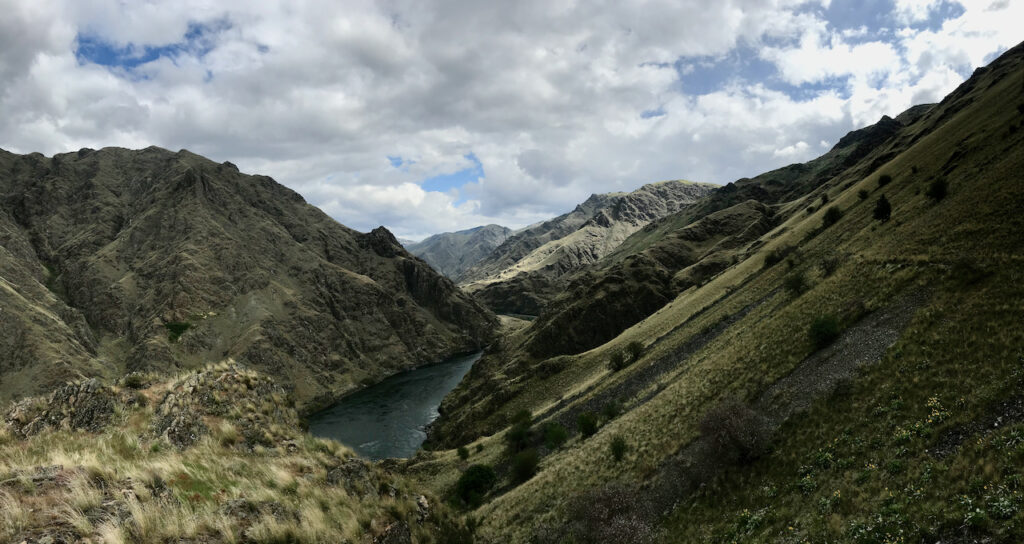 Sunday, we walked out under a sky of patchy clouds that hinted at rain. The lower temps and cool breeze were welcome, though. We made decent time getting back to our cars, which was good because some hail and heavy rain was sweeping down upon us. Braedyn and I were able to get some pictures of the petroglyphs just up from the trailhead before the rain reached us. On the road leading to the trailhead there is a little parking area and a path with interpretive signs. Totally worth checking out, especially if you bring the kids with you.
On a whim, a bunch of us decided to head to Palenque, the Mexican restaurant in Grangeville, for lunch. I don't know, this dining after a hike might become a habit. Sitting there, mowing down on my enchiladas, I was overcome with gratitude for everything Clearwater Trekker has become. Braedyn is an Idaho Youth ChalleNGe Academy graduate, and I have the honor of being his mentor through this season of his life. Our friends from UYLC Recovery have joined us as part of their initiative to bring healing to and support recovery in Kamiah Idaho. My friend, Carrie, who brought UYLC Recovery to our hike is one of our Free2Succeed mentors. And The Clearwater Trekkers have grown into a thriving hiking community together with fellow hikers from the LCV Hikers and The Palouse Sauntering and Hiking Adventurers.
It is truly a privilege to stand at the confluence of all these stories. This is the kind of space I have always hoped Clearwater Trekker could become. Thank you all for being a part of it.
#SeektheClearwater