The easiest way to access the Clearwater National Forest is along its rivers, but climbing a trail up and out of the river bed is grueling work. I'd heard from an old forester that you could actually drive all the way up Forest Road 5297 to the Flat Mountain trailhead, just a short two miles or so from Cold Springs Cabin. The cabin was already reserved for Labor Day Weekend, so I set my sites on Pete Ott Lake, which sat below the ridge about halfway to Cold Springs Peak.
Trail #176 follows the ridge between Flat Mountain and Cold Springs Peak. My hope was that this would make for a short, easy to moderate hike that would be good for an overnight trip with the kids. We were also introducing our nephew and foreign exchange student to the world of backpacking! I certainly didn't want to scare them off with a grueling hike up the side of a mountain.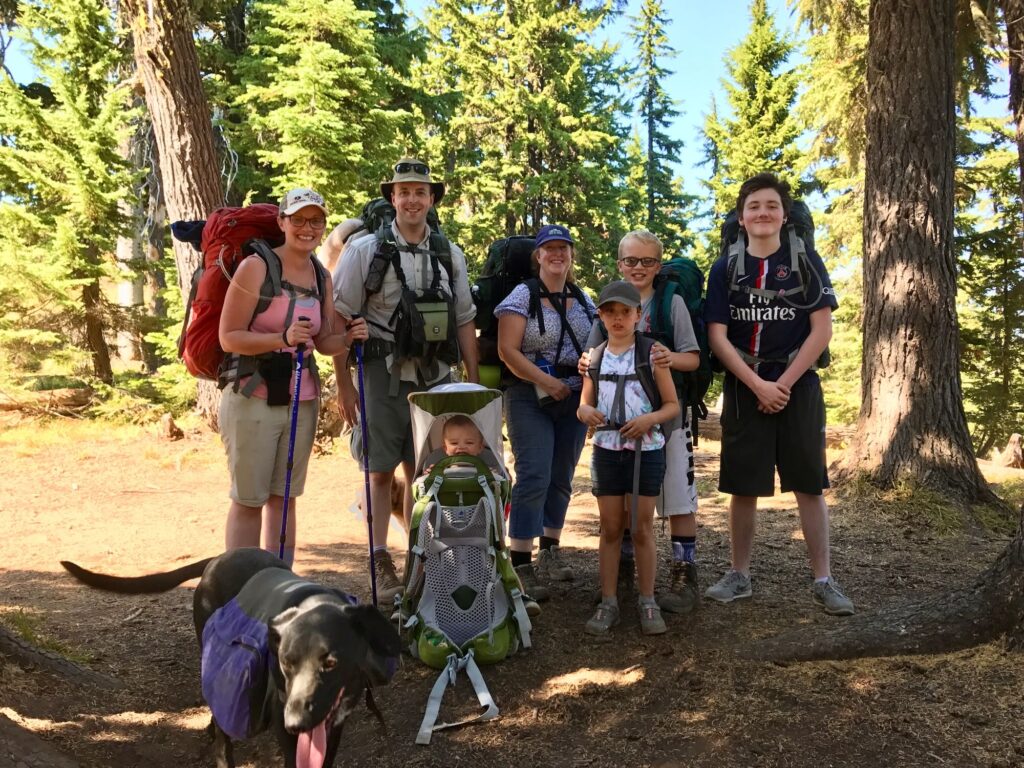 We met up in Orofino on Saturday, September 2nd and piled into a couple of Chevy Colorados for the three hour drive to the trailhead. We took Highway 12 to Greer, where we turned onto Highway 11 and drove up to Pierce. Just before entering town, we took a right onto Road 250, also known as French Mountain Rd. We followed Rd 250 to where it crossed the North Fork River at the Bungalow Ranger Station. Taking a right, we stayed on Rd 250 and followed the river as it wound around the base of Pot Mountain.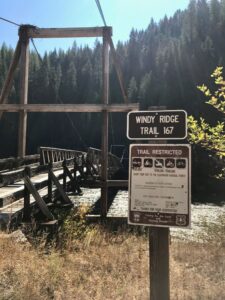 We made a pit stop at the Windy Ridge Trail #167, taking a moment to stretch our legs on the wooden suspension bridge arching over the river. There's a wonderful opportunity for a looped hike here if you take trail #167 south to Bear Butte where it meets trail #580, which heads west to Bugle Point and then descends to Weitas Creek and trail #20. Going north on trail #20 will take you back the North Fork River and Rd 250, which will bring you right back to where you started at the Fourth of July Pack Bridge and Trail #167.
We'll have to come back for that adventure another day.
We piled back into the trucks and continued on our way. It didn't take long for us to reach Rd 711 at Cold Springs Creek. We followed Rd 711 to Rd 5295 and began switchbacking our up the side of Flat Mountain. One of the many switchbacks turned us off of Rd 5295 and onto 5297, which we were indeed able to take all the way to the trailhead. Along the way, we were treated to impressive views of Pot Mountain to the west.
Road 5297 is definitely meant for an All Terrain Vehicle, but we just dropped it into low gear and took it slow. The ATV riders we met seemed surprised that we would attempt the drive in our trucks, but we weren't the only ones who did so. Some University of Idaho students had made the drive in a Ford Econo van, and on our way down on Sunday we passed two full size rigs headed up. Now that's an experience that will acquaint you with the specific dimensions of your truck.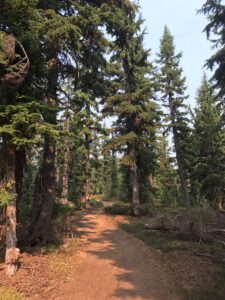 There's a couple of campsites and room for several vehicles to park right at the trailhead. The view to the east was expansive, and it was easy to think you could see all the way to Montana even with the haze from all the forest fires.
After a quick lunch of turkey wraps and cliff bars, we gathered our gear together and hit the trail.
The trail was wide and dusty from regular ATV use, allowing us to walk side by side through patches of sunlight and shade. There were a couple of areas where the terrain dropped down a hundred feet or so with somewhat of a steep climb back up, but it wasn't anything too strenuous. The kids all did well, even claiming to be enjoying themselves!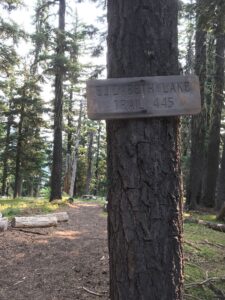 The intersection for trail #445 to Elizabeth Lake is well marked with a wooden sign, and we followed it down the east side of the ridge to an unmarked intersection of three trails. If we continued east, we would eventually pass over Elizabeth Lake on our way back to Road 250. To the north was a spur trail leading to Ice Lake, and to the south was Pete Ott Lake, our destination.
Huckleberry bushes were prolific in this area, but sadly, there weren't any berries. While the trail was still clear enough to follow, there were places where it had become overgrown with vegetation or moved by fallen debris. It proved helpful to stay grouped up as we made our way down to the lake.
Pete Ott Lake itself was small and littered with detritus from the surrounding forest, but it was also serene with plenty of space for setting up camp and enjoying the evening. The trail continued around the lake for a short distance to another campsite where the U of I students had settled in. Outside the camping areas, the vegetation grew thick and the slope rose up into a tree-lined walled on the opposite side of the lake, forming the ridge we had just hiked in on.
The kids took to the water immediately, climbing on logs, chasing frogs, and throwing sticks for the dogs. We gave them some time to play before conscripting them into service setting up camp and prepping for dinner, all the while chasing the two year old around who just wanted to play with the big kids, too!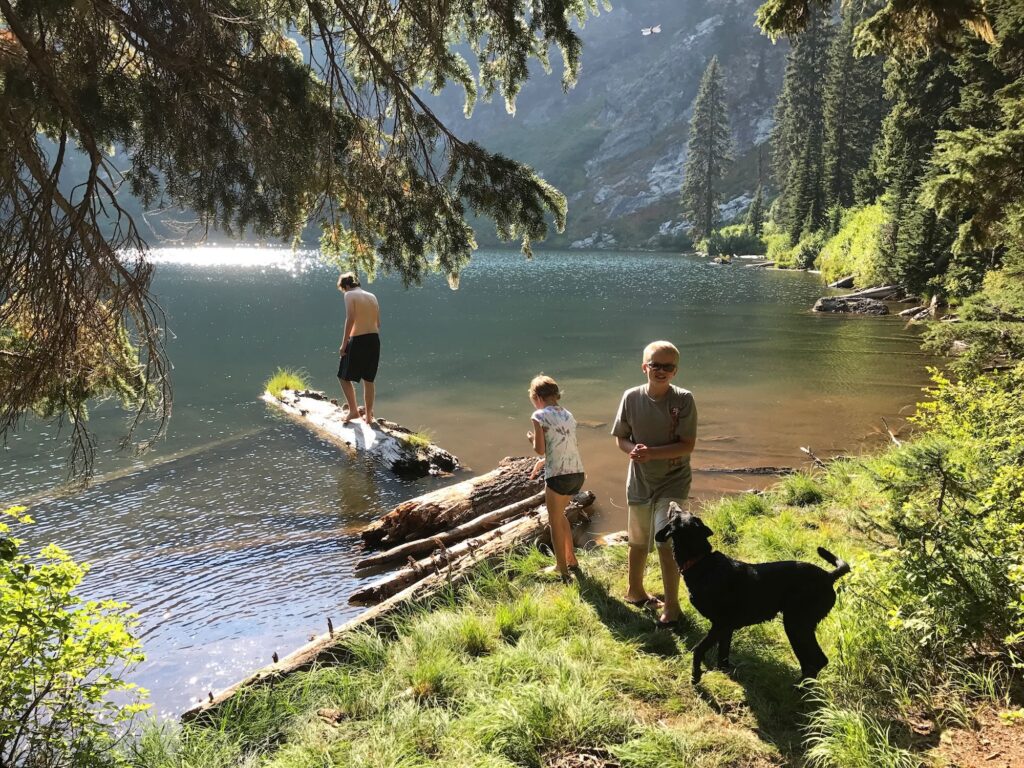 Eventually, we got the tent set up for the girls and the toddler, sleeping bags laid out for the boys, everyone fed, and the whole mess cleaned up again. It must have been quite an amusing show for our fellow Clearwater Trekkers to watch! Of course, Aaron and Shelli were both very helpful throughout it all.
In the morning, I had a chance to sneak off for a few minutes of reflection before the hustle of breakfast and packing up began. I took the chance to sit at the feet of a wise old elder….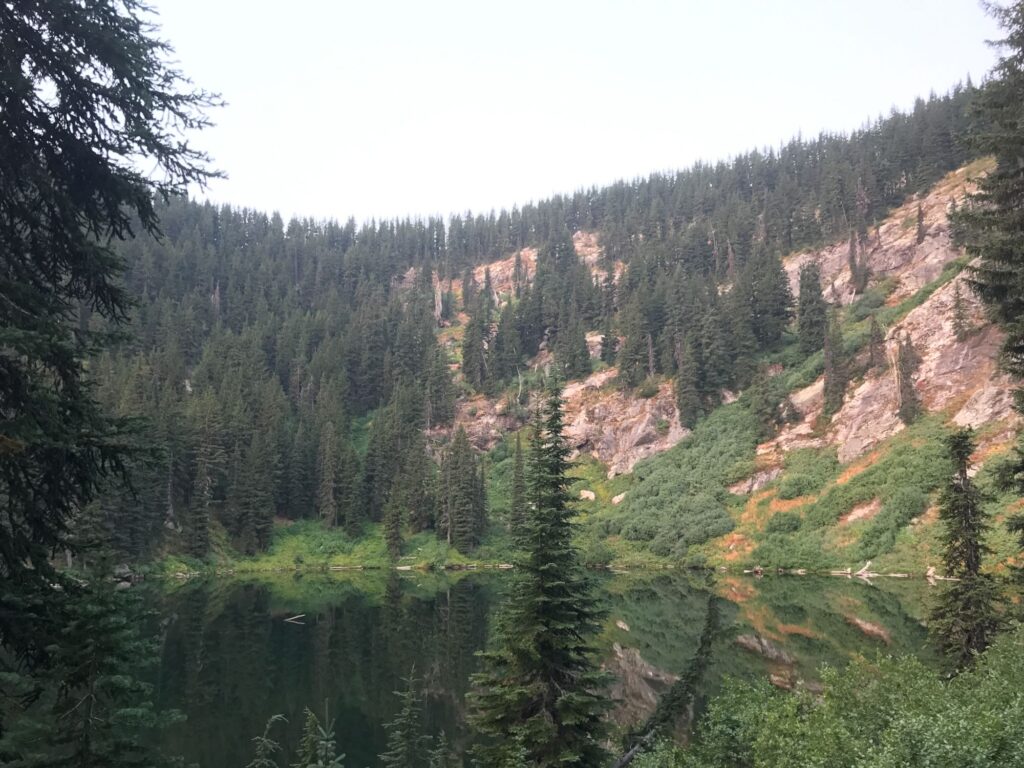 Cold Springs Cabin is only about a mile or so farther down trail #176 from the Elizabeth Lake Trail intersection, so we thought to make the summit before heading home. Unfortunately, when we came upon a wooden sign telling us the cabin was still three quarters of a mile out, we realized that we were not covering ground fast enough to make it there and back in the time we had left. So we left that adventure for another day.
Which opens up the possibility of The Clearwater Trekkers renting the cabin next season! We could drive in like we did this year and hike the two miles along trail #176, or the more adventurous among us could hike the six miles in on trail #169 from Mush Saddle. Check out the Cold Springs Cabin on the Recreation.gov website for more details, and share your thoughts in the comments below or on our Facebook Page.
If we want to do something like this as a group, we'll need to reserve the cabin almost a full year out, so let me know if this is something you'd like to do.
Thanks for following along on this adventure. See you on the trail!