A Sunny Start to 2019
It was a beautiful day for a hike. Sunny skies on a cool day, just warm enough to strip a layer while hiking but cool enough to layer up during lunch. The trail was clear and dry, too, which was great for our first hike of 2019. And we had some new faces with us! I always enjoy starting out a new season with new friends.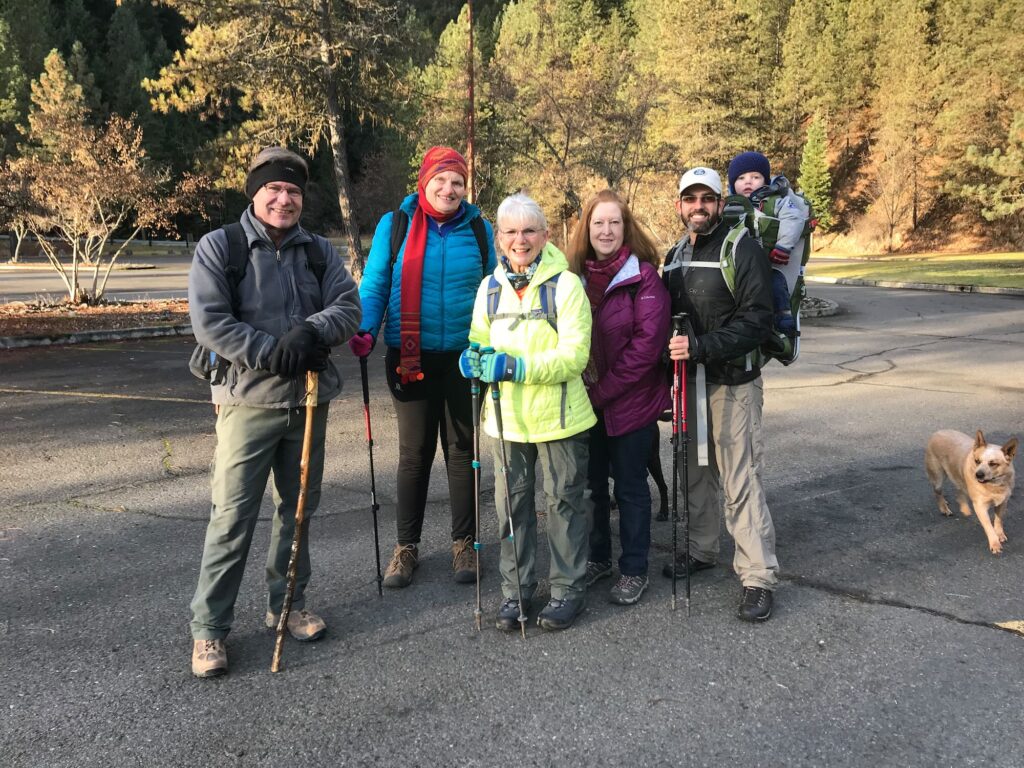 Jacob and I pulled into the Big Eddy Boat Launch parking lot a solid fifteen minutes late, which happens when the auger on your pellet stove stops working first thing in the morning. Fortunately, we were not the only ones running a bit behind, so our delay gave time for everyone to show up. Well, most everyone. On our way back out, we actually met four other hikers who were on the Big Eddy Trail because they saw The Clearwater Trekkers event. They weren't able to make it at 8:00 AM, but they decided to hike the trail on their own anyway. Which was fantastic because then we got to meet up with them along the way! Hopefully, they'll be able to join us for another hike soon.
Enjoying the Ups and Downs
The Big Eddy Trail starts out with an immediate steep climb up onto the first ridge. You kinda have to be ready for it, or you'll end mid-sentence gasping for breath between words wondering what you've gotten yourself into. There are a couple of picnic tables where you can stop for a rest, one near the top and the other just as you descend down the other side.
And so begins a series of PUDs (Pointless Ups and Downs) that take you from one inlet to the next. There are floating docks tucked into some of these inlets where boaters can stop and play. Jacob noticed the still water in the center of a square floating dock and promptly announced that the water had a hole in it!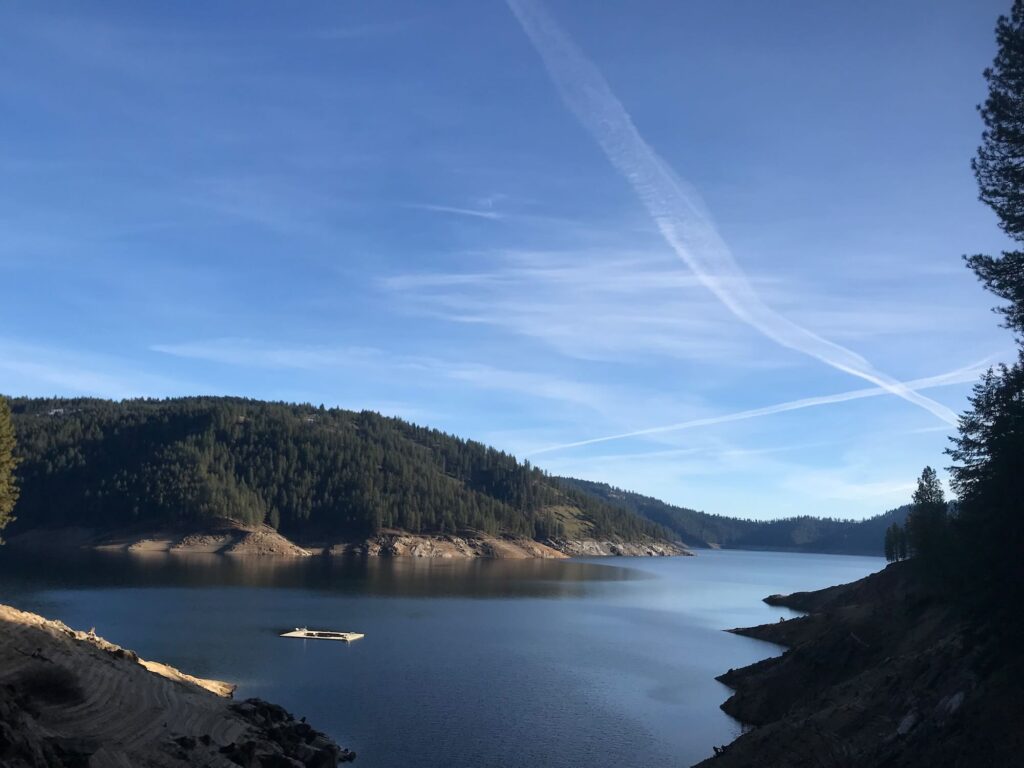 What a trooper. It was a bit too cold and shady for Jacob, who's pant legs kept riding up and exposing his legs. His feet got cold inside his snow boots, and his little hands did, too. One of our Trekkers passed along their hand warmers to Jacob, who accepted them with shy excitement. 
I seriously don't know how I would do these hikes with my son and dogs and group dynamics without all the help I get from my fellow Trekkers!
Are We There Yet?
We hiked out to campsite 4.7 where we enjoyed a sunny, but chilly, lunch. The campsite numbers do not correspond to the trail miles. That much was obvious since the trail miles are marked with posts along the way, but that left us a little confused as to exactly how the campsites were marked. So I called Paul Pence, the Resource Manager for the Dworshak Dam. He explained that the campsites are marked at what's called a "river mile".
In the Unites States, rivers are measured going upstream from the mouth along the middle of its course. So, river mile zero for the North Fork of the Clearwater is right where the North Fork pours into the Clearwater River, just past the Fish Hatchery. The Dworshak Dam sits at right about 1 river mile upstream. Campsite 4.7 is 4.7 river miles from the mouth of the North Fork, and it happens to be just past mile marker 4 on the Big Eddy Trail.
If you're looking at the Dworshak Dam & Reservoir Recreation Areas Map (downloadable here), you'll notice that some of the campsites are labeled with a letter, e.g., E0.2 and C0.3. That's because you are now counting river miles up another stream. E0.2 is 0.2 river miles up Elk Creek, and C0.3 is 0.3 river miles up Cranberry Creek.
I've been looking at this map for 4 years, and now I finally know how to read it! Thanks, Paul.
The Only Thing Missing is You
Dworshak is a favorite place for The Clearwater Trekkers. Our first hike as a club was on the Big Eddy Trail, and we have frequented several other trails over the years. They are well maintained, easily accessible, and abundant with pleasant views. You can find trails that will challenge you, as well as trails that will lure you into thinking you're ready for this whole hiking thing. We love them all, and hope you'll join us on one of them soon!
We also have some new friends local to the Orofino area, so maybe we can get some more weekend hikes planned around Dworshak for quick outings or afternoon hikes. (Hint, hint.)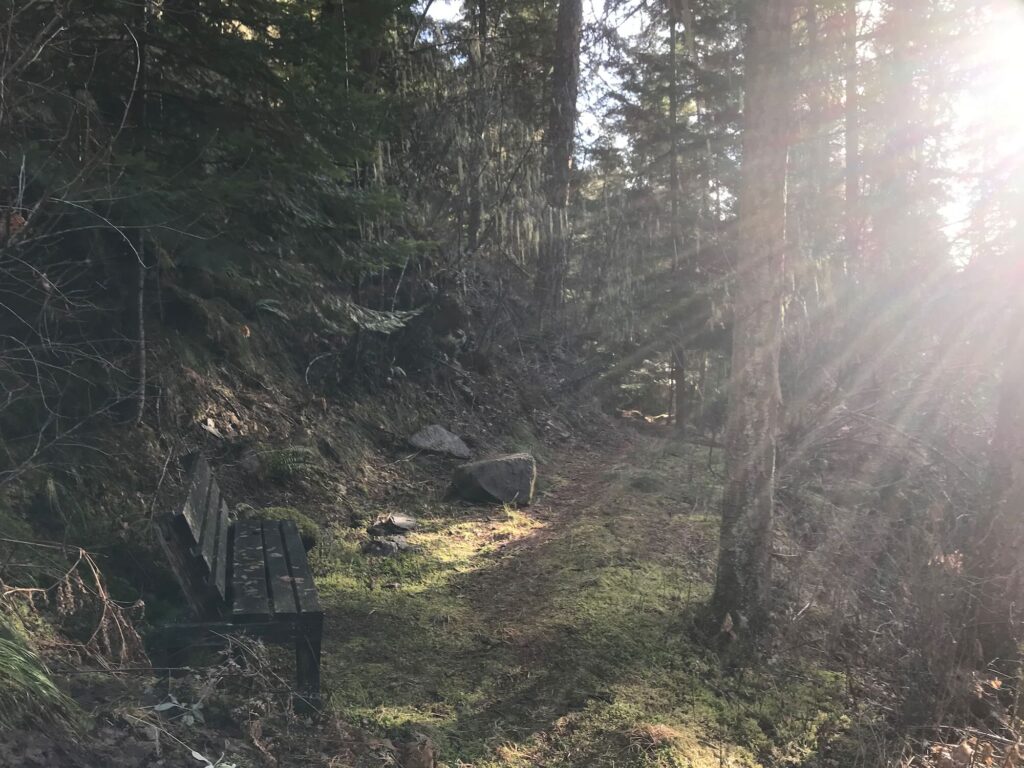 We had fun on the Big Eddy Trail. It was a great start to 2019, and we're looking forward to many more fun outings with The Clearwater Trekkers. Who knows? Maybe we'll still get to go snowshoeing before winter is over. Thank you to everyone who came!
If you've been following The Clearwater Trekker's activity, but haven't signed up yet, what are you waiting for? It's free and it's fun! You can find us on Facebook as The Clearwater Trekkers, and you can sign up for our newsletter below. We post our hikes as events on Facebook, here on our calendar, and send them out in our newsletter. See you on the trail!
Some helpful links to get to know the Dworshak Area better:
*Seek the Clearwater*