The Clearwater Trekkers have been on both the Westridge Trail and Merry's Bay Trail before, so it seemed a fitting way to open the 2017 hiking season by doing them both! It kept us down out of the snow, which was still lingering in the mountains, and allowed us to start the season off close to home.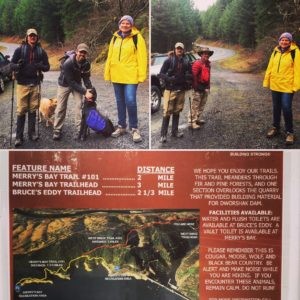 Unpredictable weather and the lack of a babysitter conspired to keep the wife and kids at home, which may have contributed to my actually being on time to meet everyone at the Orofino City Park. Or that's just an easy excuse. Either way, I was there to greet familiar faces and meet a new Clearwater Trekker.
We caravanned to the Westridge Trailhead, which is on the way up to Bruce's Eddy at the bottom end of the Dworshak Reservoir. The road to Bruce's Eddy is a right hand turn off of Ahsahka Rd, or Idaho Highway 7, just before you cross the bridge into Ahsahka. There's a small turnout at the trailhead that just fit our four cars.
Westridge Trail starts off easy enough, but soon turns into an aggressive assent. We just took our time, letting each other set our own paces. There are frequent flat areas, which I assume to be water runoff control, where you can stop and catch your breath. The views overlooking "Riverside" Orofino are pretty neat, and at the top of the ridge there is a large, flat clearing with a picnic table overlooking town.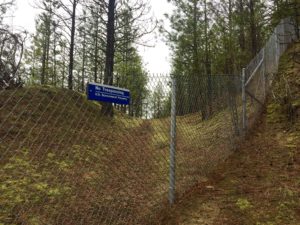 The trail used to cut across the top of the rock pit before dropping down to join up with the Merry's Bay Trail, but that route has been closed. We found a chain link fence blocking the path and a sign directing us to continue along the south side of the ridge. Even though I'd been up here a few times before, I'd never taken this trail before, so I was excited to what lay ahead. Of course, we were going to have to watch our time and pace because we had scheduled a meet up with any hikers who preferred to start at the Merry's Bay Trailhead at 10:00 AM. I had no idea how long it was going to take us on this new route.
This new route now connects the Westridge Trail to the Eastridge Trail (which I didn't even know was it's own thing!) before hooking back up and over the ridge to drop down to Bruce's Eddy and the Merry's Bay Trail. On a hunch, we went off track a little bit and found a spot overlooking the rock pit. The scenery was great, but watch your step!
We didn't realize how steep the decent was until we were on our way back up, but for now we were just happy to be going downhill. We connected to the Merry's Bay Trail about a half mile in from the trailhead, but just to make sure, we hiked down to the Bruce's Eddy parking lot to see if anyone was waiting for us there. No one was, but it was a fine time to take a break and munch some food.
The Merry's Bay Trail is only about a mile and a half long, following the edge of the Reservoir, so it made for a pleasant second phase to our hike. The water was low to mitigate the extreme runoff we had this season, so the trail was in good order. There was one spot right by the bay that had washed out, but it was in plain site and easy to avoid.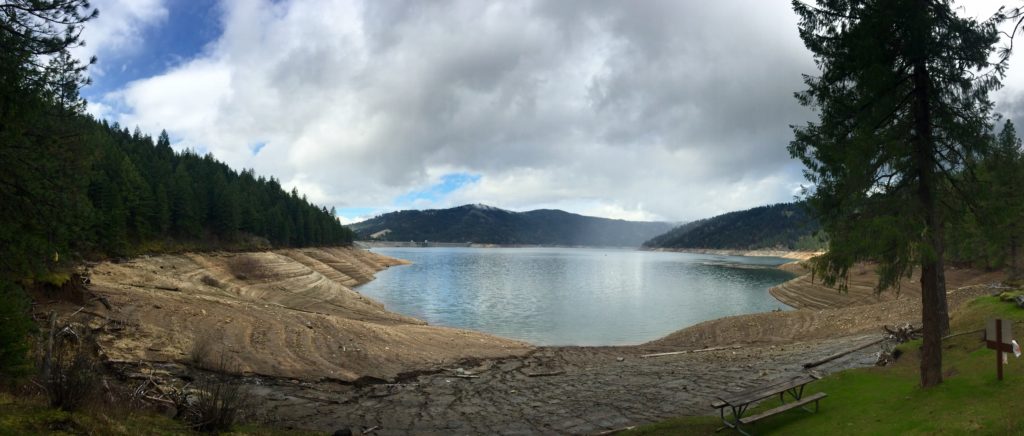 We did lunch at Merry's Bay, casually talking about life, death, and the meaning of the journey in between, but hey, that's what you get when two out of four of your group are in the medical field. It was a beautiful day but the wind was still cold, so when the chill began to set in, we got to hiking again.
We decided to follow Westridge Trail back to our cars rather than hike down the road, which would have made it a loop. It's a really steep climb to get back up on top of the ridge, but easy enough going once you're there. The weather was really moving in by this time and, at about a mile from the trailhead, it started hailing on us! We threw on our rain gear and hustled down the hill. But this is Idaho, so the deluge passed by the time we got to our cars.
All in all, it was a worthy first hike of the season. April steamrolled us with the Easter season, so we didn't make it out for a Clearwater Trekker hike that month. But hopefully, we'l be back on the trail in May. Stay tuned to our Calendar of Events for forthcoming hikes. We list the Lewiston Hiking Club events there, too. See you on the trail!
Buen Camino.