Get Directions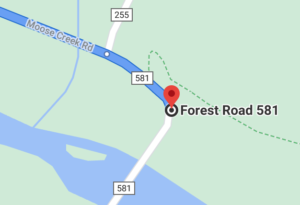 Difficulty: Easy to moderate
Best Seasons: Late spring to early fall
Fees: 

None

Downloadable USGS Topo Maps:
Kelly Creek Trail #567 has been highlighted on my map since The Clearwater Trekkers began six years ago. It did not disappoint.
The trail is so far out that I knew it was going to have to be an overnighter, but I did even better by scoring two nights out on this stunning trail over Labor Day Weekend. I hadn't been on trail in a couple of months, and even had to reschedule this trip a couple of times, so between that, quarantine, working from home, and Fair Week, I was ready for some alone time as deep in the woods as I could get.
Bright and early Saturday morning, I grabbed my bag, loaded up the dogs, and headed out. I knew it was going to be a long drive, so I prepared with a full tank of gas, an audiobook, and a tall coffee. We headed up through Greer and Weippe towards Pierce, then turned off onto French Mountain Road and set our sights on the North Fork of the Clearwater River. And we drove…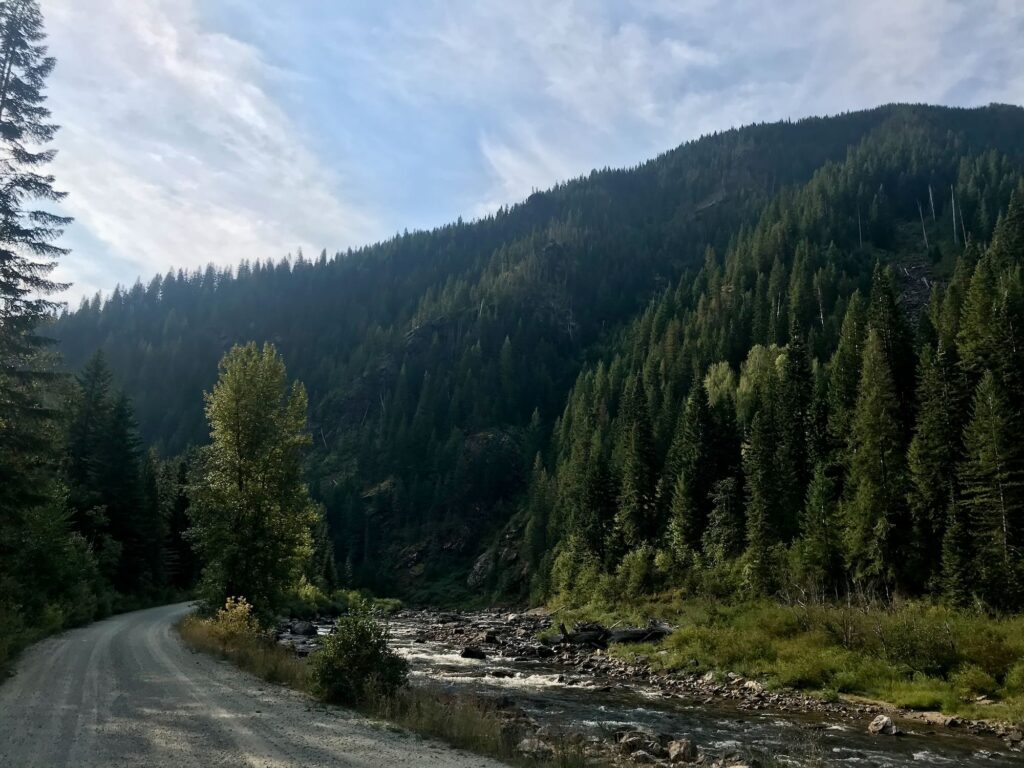 We drove until the campers and RVs all disappeared. We drove until we didn't recognize the names of the trails or the look of the road. We drove…right into a cluster of campers parked at the Kelly Creek trailhead.
Apparently, Kelly Creek is a hop, skip, and a jump from Superior, Montana - a mere hour and a half through the mountains along Forest Road 255. Really easy driving, they say. Much of it is even paved. Oh yeah, my deep woods getaway happens to be a favorite fishing spot for anglers who like to get off the "crowded" North Fork. It's also easier access for visitors driving in from Washington. They can take I-90 to Superior and then just drop right in on the North Fork area.
I had to laugh at myself, trying so hard to get away from it all only to end up in a right popular place. It wasn't crowded, though, and I didn't have to go far down the trail to understand why it was so popular.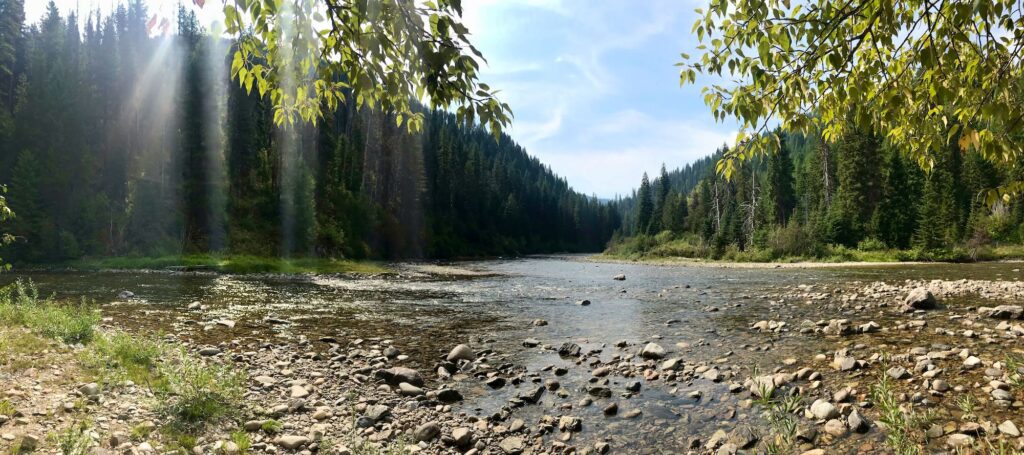 Kelly Creek Trail follows the river, but not down next to it. Rather, you walk up above the river with spur trails leading down to the water. Cayuse Creek intersects Kelly Creek from the south about four miles in, and this is the popular camping and fishing destination for most visitors. This was as far out as I met anyone, a fisherman on my way out and a few people on my way back in.
Other than that, I was completely alone and I could feel it.
Much like the Selway River Trail, the Kelly Creek Trail is moderately level. While there are some ascents that will get you breathing heavy, for the most part, the trail is pretty easy going. At least up until Hanson Meadows. After that, the trail starts climbing the hillsides farther away from the river.
The pups and I made decent time (for us), getting on trail at about 10:00 AM and reaching a well-established hunting camp 8 miles in at Bear Creek by 1:30 PM. We stopped and did lunch before continuing on to Hanson Meadows. It was a great spot for a hunting camp. It sits above the flood plane with easy access to Bear Creek, which had a decent flow even this late in the season, and the Bruin Hill trail intersects the Kelly Creek Trail here, too. If I was a settler, this is where I would build my cabin.
Hanson Meadows is only a couple miles farther down trail from Bear Creek, and as you approach you can step off the trail to this overlook high above the valley. The view was like something straight out of The Land Before Time. The mountains opened up around the bright green meadow clothed in tall grasses and dotted with trees. The river glittered in the early afternoon sunlight as it wound its way below me. It was seriously breathtaking. I promised myself I would watch the sunrise from here on my out.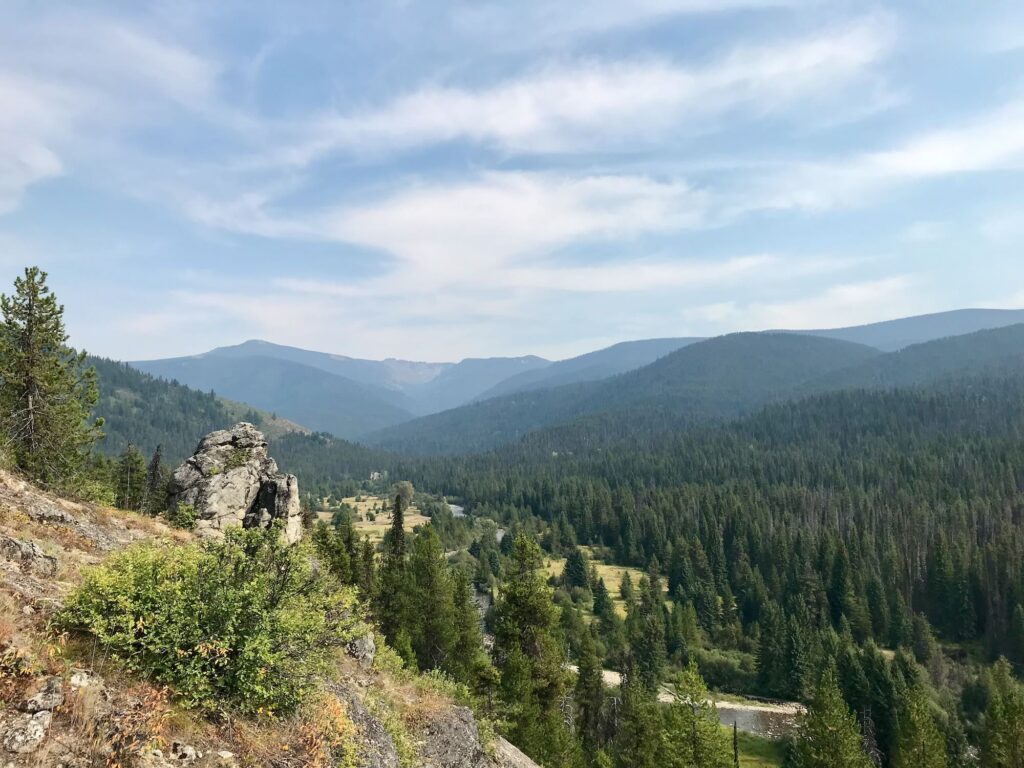 After filling up my phone with photos, we headed down to find a campsite near the water. Watch out for that turnoff onto Rapid Creek Trail #565 that takes you down to Hanson Meadows. We almost missed it. It wanders down to a high water campsite and then out across the meadow and eventually right across the creek. We followed the trail down to the water's edge and settled in where others had been before, a bare spot among the grasses near the river. Sassy wasted no time jumping in the cool water while I set up camp. 
Night found us settled around the fire with full bellies, sore feet, and underprepared for the incoming cold. I had originally packed my bag for a minimalist August hike in the heat of the summer. A set of thermals would have made all the difference on this trip.
On Sunday, we spent the morning journaling and resting, then set out for a little day hike to explore farther along the trail. Our jaunt turned into a 4-mile affair out to a bridge that crosses the Middle Fork of Kelly Creek. I left my phone in camp because the battery had been vampired by the night cold, so, unfortunately, I don't have any pictures of that section of the trail. 
Naturally, the river narrows as you go, but the flow stays good. I could see bright red Kokanee swimming about in the pools and below the bridge. The trail follows a south-facing slope, so the trees are not dense or big. Instead, they sway in the wind and offer impressive views of the surrounding mountains.
Truly, it was nourishment to my soul to bathe in a river once again, to sit beneath the stars, and to cook my meal over a fire. Like the waters that streamed by, I find my flow in the mountains.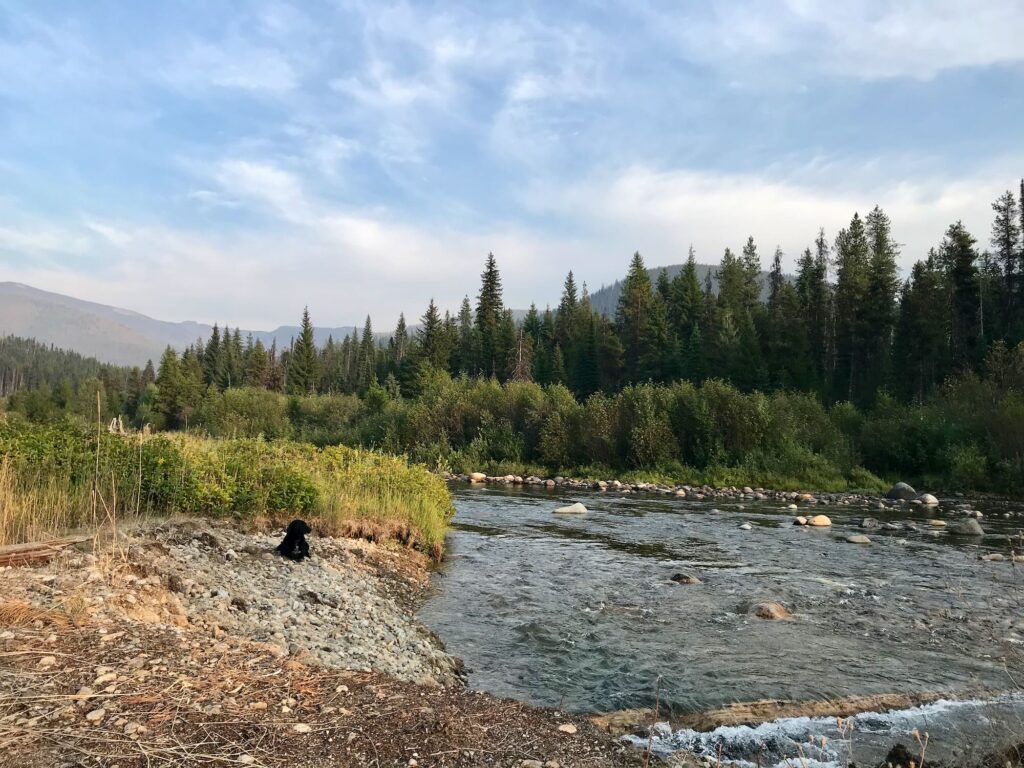 We gave sunrise at the overlook our best shot but were thwarted by low clouds. Still, it was a wonderful view to take in while sipping my morning coffee.
We hiked the whole 10.5 miles through to the trailhead in one stretch on our way out. I meant to stop at Cayuse Creek for lunch but got distracted talking with the family that was getting ready to leave, too. Then the rains came in and turned to hail, convincing me to simply press on.
Sometimes, I wish there was a better way to end a hike other than just getting into my vehicle and driving off. Some way to hold onto everything I experienced out there, but maybe that's like trying to grasp the wind or dam up the river because you want to hold onto its flow.
I cranked up some Springsteen Magic and began the long drive home.