Elevation

Low: 5,100 ft
High: 5,600 ft

Distance: 8.3 mile loop
Difficulty: Easy to moderate
Best Seasons: Year-Round
Maps
Fees:
Directions: Fish Creek is about 8 miles south of Grangeville on Grangeville Salmon Rd. From Main Street, take Mt Idaho Rd south (on the east end of town), but when it turns left to go around the Sunset Drive-In Theatre, continue straight onto Grangeville Salmon Rd (Forest Road 221). Fish Creek is just past the Snowhaven Ski Area.
Notes: As you pull in, snowmobile parking loops to the right and trail parking loops to the left. You'll need the Park N' Ski Pass to park by teh pavillion, but that helps pay for the grooming and plowing and keeps the snowmobile parking area clear for, well, snowmobiles.
Sunday, January 19th was a beautiful day to be snowshoeing at Fish Creek. The warm sun lit up blue skies and shimmered like white fire on the pristine snow. It melted snow into diamonds that drifted down from laden tree branches. And it bathed the distant mountains with an allure that could only be savored today.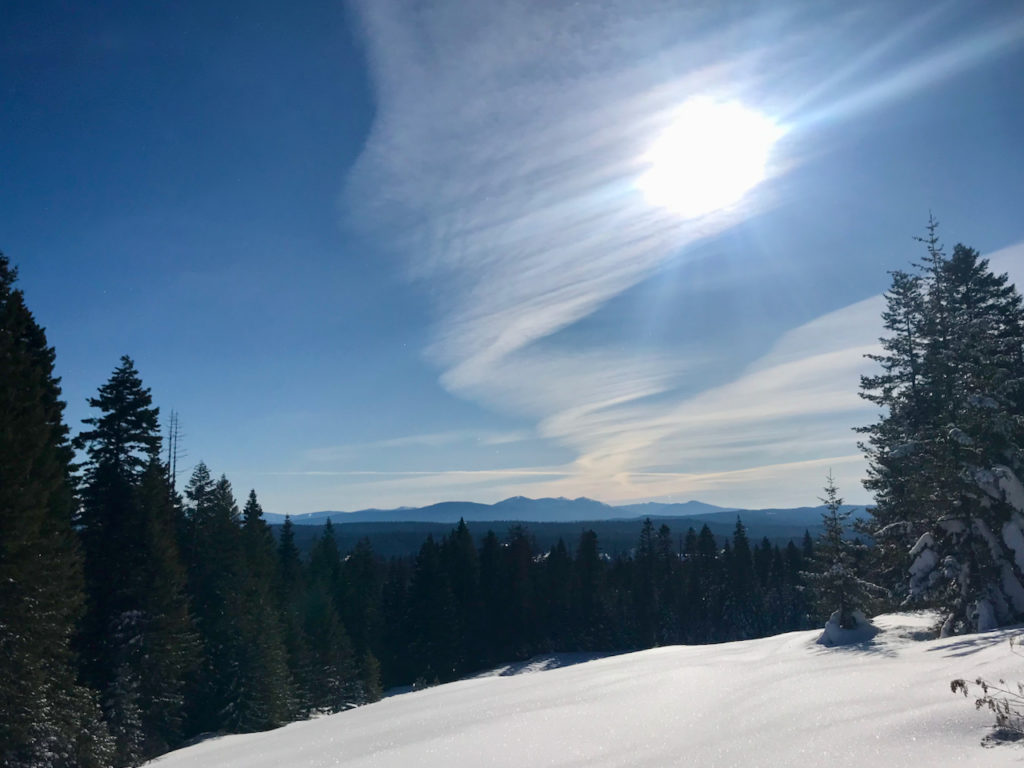 We made quick work of the groomed trail, making it from the parking lot to the Boundary Trail in about an hour and a half. We stayed on the south side of the loop so that we could hit the cabin on our way back to the trailhead, just in time for a warm lunch. Sassy, my lab, assured me that we had plenty of time to explore the un-groomed Boundary Trail; after all, what are snowshoes for if not for trudging through miles of snow 3-feet deep? It's hard to argue with Sassy when she's in a lucid moment, so off we went.
Within the first few steps, I knew that the game had changed significantly. It was like we had just stepped off the civilized groomed trail and into the untamed wild. We'd stepped out of the wardrobe and into Narnia. It was even more splendidly beautiful to be immersed in the snowy woods on a sunny day, but boy was our work cut out for us.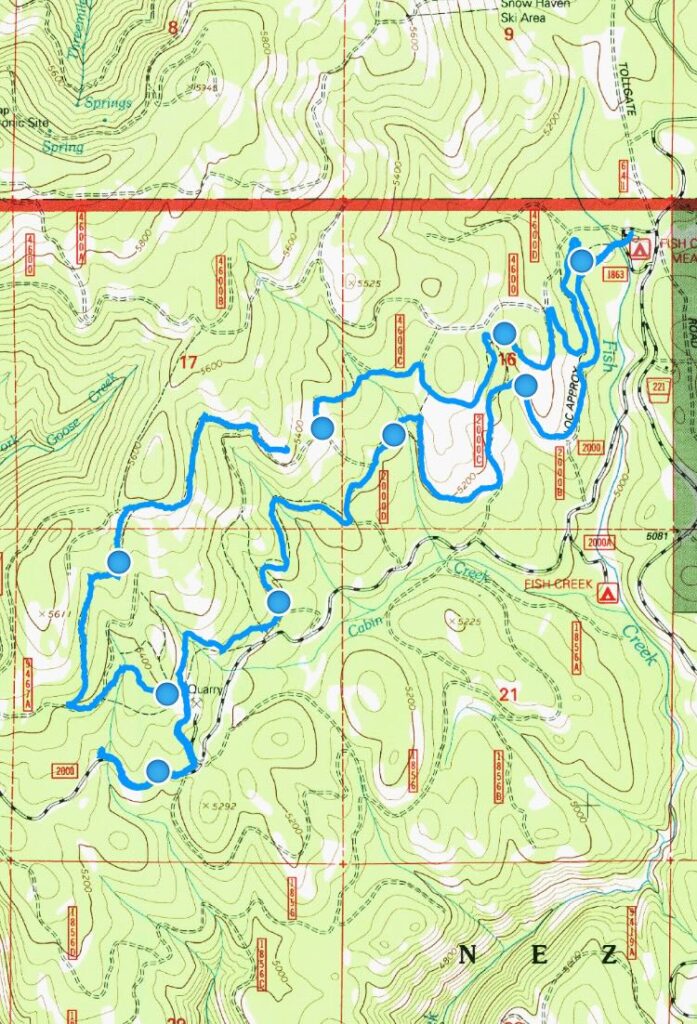 The Boundary Trail works its way up through the trees, cuts through a small clearing, and then crosses a much bigger one, on the far side of which Boundary Cutoff splits away from the Boundary Trail. Gaia Maps tells me that this larger clearing is an old quarry.
The trail map that used to be posted on a tree here is long gone, so when the pups and I pressed on to follow the Boundary Trail, we walked down through the quarry and out onto the snowmobile track. That put us right in the way of the Grangeville Sno-Drifters Snowmobile Fun Run. Dodging snowmobiles and trying to reconcile the trail map with my Gaia tracker wasn't working out, and wandering off into the snow-packed forest without a clear trail wasn't an option, so we turned around and hiked back to the old quarry.
After reconciling my Gaia Track with the Park N' Ski map linked above, I see that what we thought was the Boundary Cutoff Loop was, in fact, the Boundary Trail. The Boundary Cutoff splits from the Boundary Trail at the old quarry, heading almost straight north. It's the old quarry road that continues on down to the snowmobile track.
Now I know why there weren't any more blue diamonds marking the trail.
It's kind of funny how, once you get off track with your map, it can be hard to reconcile your location again. You know you're on the trail, you just don't quite know where on the trail you are. I thought we were coming up on the cabin at least three times. And that does something to your head which does something to your feet. After a while, I was struggling to walk more than 20 feet before having to stop and rest my legs. Sassy even got off the heels of my snowshoes to plod out in front of me and make sure I was ok. Once I got moving again, she happily jumped back into following my tracks.
The trail became a long, narrow stretch between tall trees, opening up once or twice on clearings that gave glimpses of the snow-capped mountains in the distance. The cabin was such a welcome sight when we finally stumbled up to its door. We met some new friends from the Forest Service who were resting from their first-time adventure at cross-country skiing. We built a fire in the wood stove, and I cooked up my lunch. Hot drinks were in order, too.
After our new friends had left and the sun was dipping behind the trees, the pups and I decided it was high time to get back on the trail. We made quick work of the groomed trail on the way back to the Mountaineer, only an hour later than originally planned, but that hour put us into the dark and I knew we'd have people worrying after us. Sure enough, the wife was already calling in the search party by the time I could get a text off to her to let her know we were all right and headed home.
Knowing that you've got people watching your back even when they can't be on trail with you is a feeling as warm as any campfire…or cabin wood stove.