An inmate stepped into my office and quietly said, "So, I hear you're a bit of an outdoorsman. A hiker?"
He had my attention. "Yeah," I said. "I run The Clearwater Trekkers hiking group locally. Why do you ask?"
"Are you familiar with the White Cloud mountains in southern Idaho?"
"I haven't been able to hike them yet, but I definitely know about them"
"If you get the chance to get down there, you gotta check out Walker Lake."
As I turned to Google Walker Lake in the White Cloud Mountains, he went on to tell me about how he used to hike all around that area, and how he can't wait until he's free to climb another mountain.
I spun my screen to show him a pristine photograph of Walker Lake reflecting the mountain above it like a looking glass. "Is this it?"
"Oh yeah. There she is." He said wistfully.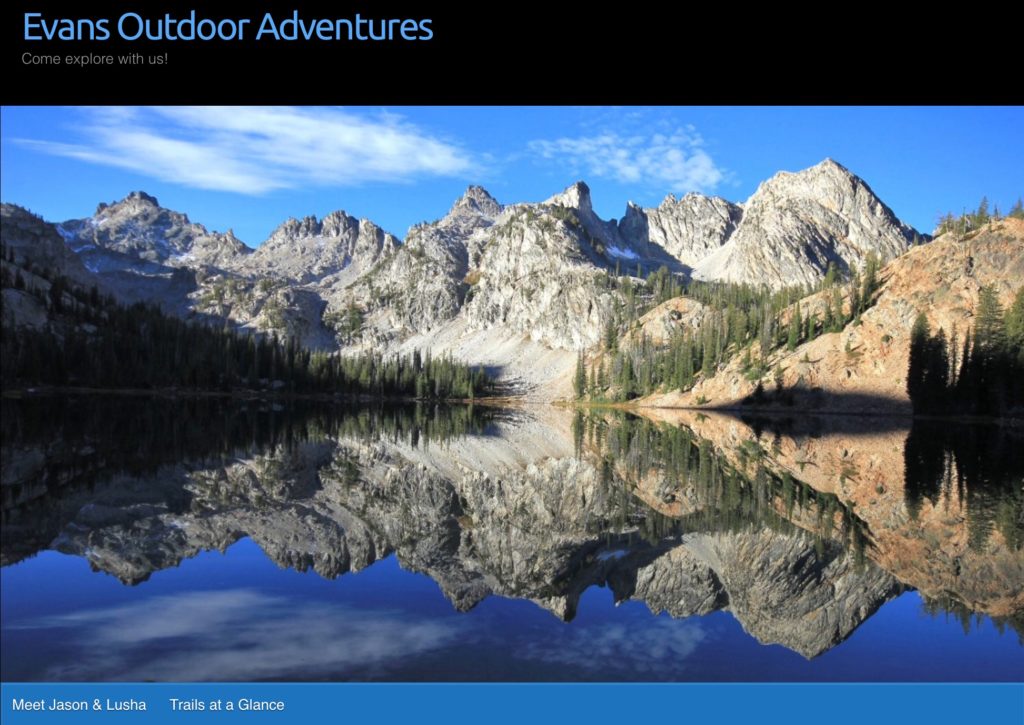 A link next to the picture took me to www.evansoutdooradventures.com, where I found Jason and Lusha blogging about their adventures hiking all over Washington, Oregon, and Idaho. Their posts are informative and full of stunning photos.
One of their adventures happened to be a trip down the Selway River Trail back in April of 2016. It was really helpful to see relatively current info on the trail we were planning on tackling next, so I shared the article on our group Facebook page. Of course, that inspired me to reach out to Jason and Lusha and tell them the story of how an inmate's simple question led me to their helpful blog. In return, Jason and Lusha joined The Clearwater Trekkers! Hopefully, we will have the chance to share the trail with them in the future.
Unfortunately, the only responses I was getting for our next hike were from those who couldn't make it, but then Beth saw Jason and Lusha's article on Facebook which inspired her to join The Clearwater Trekkers and come on the hike! All from one little comment in a prison chapel office.
The best laid plans…
The plan was to meet up at the Kamiah Riverfront Park on Saturday and caravan to the Race Creek Campground. We'd claim a site, then hit the Selway River Trail for an easy day hike, returning to camp for the night. Amanda wasn't going to be able to make it on the hike this time, but she was going to meet us at camp.
Sunday morning we would head back down the Selway Road to O'Hara Creek, which we would follow for about four miles to the O'Hara Creek trailhead. We heard it was a fairly easy, two mile trail that crossed the creek a couple of times, so it sounded like a nice Sunday morning hike to finish off the weekend.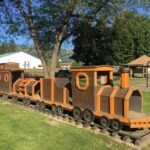 I had a few minutes at the Kamiah Riverfront Park before Beth showed up. It's a pretty neat set up with a jungle gym for the kids to play on and even a wooden train for the little ones. The park features an amphitheater stage, access to the river, and a nature trail to explore. It's a good meet up spot, too, with some of the earliest Clearwater Forest access roads just across the bridge.
Getting there is half the fun!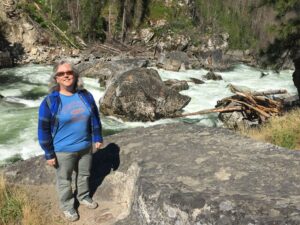 After a quick introduction, Beth and I got underway, and it was smooth sailing all the way to the river confluence at Lowell. That's when I first pulled over to take a picture. I was worried that I would confuse Beth, or frustrate her with the delay, but she was quick to assure me that she loved to stop for pictures along the way, too, and that I should absolutely pull over for anything I wanted to stop and see!
Well, I took her up on that, and pretty soon we were pausing for pictures of mudslides, beautiful river islands, the Selway Falls, and views of the river from a bridge. I actually began to worry that we wouldn't get to the trailhead with much time left for any hiking!
The trail starts where the road ends
We finally reached the Race Creek Campground at the end of the Selway Road. The Forest Service site said the campground was nineteen miles from Lowell, but it's actually about 20 miles out. Literally at the end of the road.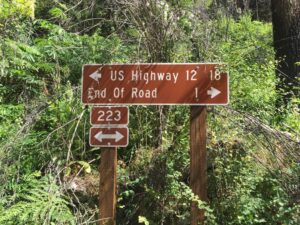 Race Creek Campground offers three sites and a vault toilet, you know, one of those elaborate outhouses that have five rolls of partially used toilet paper and no hand sanitizer. The whole thing is laid out on the hillside with two parking areas, one below the bathroom and the other up next to it.There's alsoa couple of places to tether your horses.
We drove around the loop looking for a campsite so I could park and reserve it for when Amanda showed up with the kids later in the day. The first site I found was up on the hillside right next to Race Creek and offered some shade. As we unloaded and got ready to hit the trail, I looked around for the other sites. The second one is located between the upper and middle roads, right in the middle of the whole grounds. The final one took me a minute to find because it's below the main road across from the lower parking area. Some steps lead down to a nice grassy area that sits up on the bank above the river.
Hitting the trail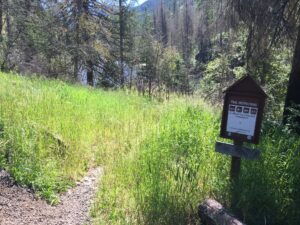 The Selway River Trailhead is at the edge of the campground straight across from the lower parking area. There is a sign indicating the trailhead, but the tall grass makes it easy to overlook.
The trail itself is fairly level and easy going. Sometimes the dense grass and vegetation made using my poles inefficient, but more than made up for it with the colorful beauty of blooming flowers. Signs of the 2015 forest fire are still prevalent, and we had fun discussing our theories about how certain trees were overtaken by the flames.
Beth is a retired Forest Service agent, and proved to be a wealth of knowledge about everything we were looking at. She taught me that the needles will fall off the tree about a year after a fire, and the bark will fall off after about five years. So that gives you a window of time to see when the fire may have occurred.
I love learning stuff like that, so I started picking her brain about everything. And that opened the door to a wonderful time of sharing and learning from each other. We enjoyed the smooth rhythm of the trail, explored white sandy beaches and little hidden areas while getting to know each other.
Along the way we encountered a man who was packing the trail with several goats and a couple of dogs. We chatted with some ladies who had been hiking the trail for three days and were finally on their way out. We played in a shallow cave charred black by countless campfires. And we discovered a hidden camping area next to a wide beach being enjoyed by a family.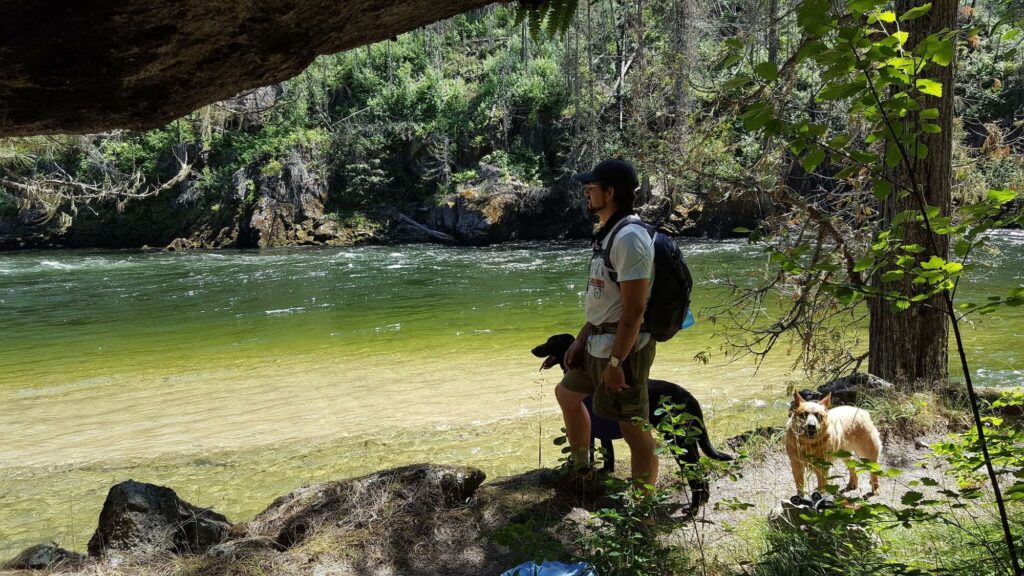 At about five miles in all we wanted to do was keep going, but it was time turn back. we made good time since most of our site seeing was already done. A fisherman who passed us while we were eating lunch mentioned seeing a rattlesnake on the trail, but we were not so "lucky". We neither saw nor heard a single scale.
S'more camping, s'mless O'Hara Creek Trail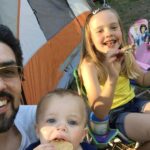 We arrived back at Race Creek Campground to find Amanda and the kids all set up in camp and dinner in the works. I enjoyed an evening playing with the kids in the creek, eating s'mores, and journaling by the fire. The next day we packed it up and headed out for the O'Hara Creek Trail.
It was a pleasant drive up to the trailhead, which sits on a sharp switchback about 4 miles up the road with just enough room for two or three cars. Unfortunately, the trail was covered in fallen trees and debris, and it starts out quite a ways up from O'Hara Creek. Knowing that we would have to climb down the narrow, debris covered trail to cross the creek a couple of times, and then climb back up – all with the kids in tow – we decided to take a pass on this one and headed home.
Our stories are all connected
One little comment about Walker Lake, and a moment to share a mutual passion, tied together the stories of at least eight different people. The course of an entire weekend was changed, and who knows what's yet to come?
The inmate was thrilled to hear how his simple question sparked such a positive experience, connecting The Clearwater Trekkers to Beth and Jason and Lusha. He told me more about his adventures in the White Cloud Mountains, how he used to bag peaks for a hobby and he connected me to some other hiking blogs. While we talked I could tell that he was no longer just an inmate locked in prison. For a few minutes we weren't staff and inmate, we were just two guys sharing the joy of the mountain trail.
Selway River Trail Guide
Since the only one to make it on the Selway River Trail hike was our new member, Beth, we're putting this hike back on the calendar for July 29th. I was a little hesitant about the heat, but our local fisherman assured us that late July would be hot in the sun, cool in the shade, and much better fishing! He also mentioned that the water would be warmer and lower, so there will be more sandbars making it safer for the kids and dogs to play.
So we're headed back! Amanda and I are going to take advantage of the easy trail to try packing in overnight gear and the kids. If you'd like to join us, bring your bathing suite and camping gear if you want to camp out, too. But don't feel like you have to! Feel free to just make a day hike out of it if that's what you prefer.
For those of you who like to be a little more prepared for what you're getting yourself into, I have created a Selway River Trail Guide, which you can download for free when you sign up for our newsletter.
Its's a two page guide that provides details about the trail, suggestions for your gear and grub, quest challenges, resource information, directions, and even a topo map of the trail. It's designed to be printed out, double-sided if you can, and folded into quarters so you can stick it in your pocket and go!
I'd love for you to get your free copy and join us on the trail, or use for your adventure when you can. Then tell us how it worked for you. Was the guide helpful? How did your adventure go? What can we do to improve the guide for you?
Thanks for reading! Thanks for getting involved. See you on the trail!
Reflections