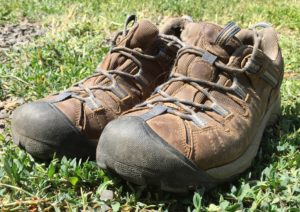 I hiked El Camino in 2014, a 500-mile pilgrimage across northern Spain, wearing some Targhee II Lows made by Keen. I loved those shoes! I'd also purchased a pair of Oboz boots, which I meant to return to the store but absently forgot at home when I embarked. So the Oboz became my new trail shoes after wearing the soles off of the Targhee II's. (500 miles of walking on the inside of your right heel will do that.)
The Oboz proved to be sturdy but stiff boots for field guiding in the Olympic National Park; unfortunately, I melted them while trying to dry them by the fire. The rubber sole around the toe box melted and shrunk, pinching me when I tried to wear them, so I went back to wearing my leather Merrell Reflex boots, which I also happen to love.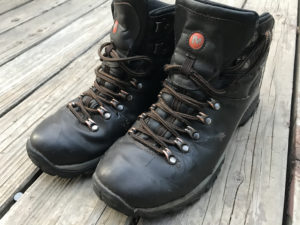 The Merrell Reflexes were actually the first boots I purchased when I decided to get into backpacking as a hobby in 2013. I only bought the Keens because I thought all-leather boots were a bit overkill for the Camino, and I was right. Needless to say, by the Spring of 2019, my Merrell Reflexes were wearing thin. I'd even had them repaired twice by local leather workers. Unfortunately, I don't think Merrell is making these anymore.
So off I went to find the perfect hiking shoe for the spring and summer seasons guiding in the Olympics. My first go to was the Targhee II with fond memories of how they treated me on the Camino, but current reviews were consistently saying that the newer (post-2016) models were being made in China instead of Oregon and were falling apart within the first year. Not the experience I was looking for, so I started shopping around.
And boy did I shop around. The Merrell Moab 2s are currently some of the most popular hiking shoes on the market. Our therapist at Rites of Passage swears by his Danner Mountain 600s, and they are nice fitting boots. Quite light, too. I love the look of the Asolo TPS 520 GV Evo Backpacking Boot but didn't want to get into another set of all-leathers going into summer. I hear nothing but good things about Asolo, though. 
You see where this is going. I had a mountain of shoe boxes on the bench at the Sportsman's Warehouse in Boise, and I was second-guessing myself worse than a love-struck teenager looking for prom shoes. All the while, in the back of my mind I kept thinking about how a couple of my fellow guides simply hike in their Chacos for the warm and wet seasons. 
I have a set of Chacos, some of the classic ones made with the Vibram sole, but when I wore them in the rainy part of last season, the wet straps wore my feet pretty bad. And they're heavy, but it was still nicer to wear them through the rain rather than soggy boots that I'd have to dry out by the fire. So I looked into some trail running shoes, like the Salomon Ultra 3s, but didn't care for the fit.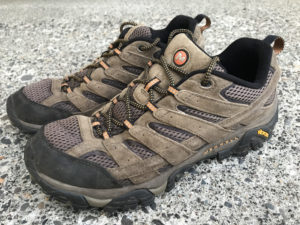 In the end, I went with the Merrell Moab 2 Low Vent, meaning ankle-high and not waterproof. My thinking was that waterproof shoes still get wet anyway (rain runs right down into them) and fire-drying ruins GORE-TEX linings, so hopefully non-waterproof shoes would dry faster and still be sturdy enough on the trail. 
After wearing them for a few shifts I can say that the Moab 2s are good shoes with high arch support. I do like them. They don't dry any faster than GORE-TEX lined shoes, and walking through wet grass is enough to soak your toes, so I lost on that account. To have a quick-drying, trail-worthy shoe, I should have gone with trail runners.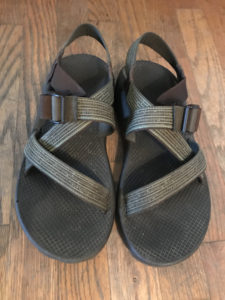 What I found was that I kept tying my Moabs to my backpack and wearing my Chacos when it rained (which seems to be every shift for me. They actually call me, "Rainman.") So, finally, I just left my shoes in the van and wore my Chacos for a week. Done. No more overheating, no more wet shoes, no more drying shoes by the fire, no more carrying boots, and they didn't shred my feet this time. I did have to clean my feet before getting into my tent every night, but that's easy enough. And, I only needed to carry two pairs of socks. One for sleeping in (they never leave the sleeping bag), and one for around camp at night.
I'll take my Moabs when I go on shift, but I just might leave them in the van again. How about you? Do you have a favorite shoe for hiking? How do you handle the rain and wet and drying out while on trail? Anybody else out there living the Chaco Life?