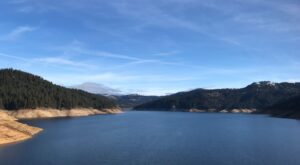 Returning to our roots on the big Eddie Trail in January kind of became an unintentional trend for the Clearwater Trekkers. This year, let's do it right with a New Year's Day hike on one of our favorite local trails. With easy access and free parking, this hike on the Big Eddy Trail is a great way to break up the cabin fever and stretch our legs.
We shouldn't need snowshoes, but recent weather will have made good boots worthwhile. Expect snow and mud on the trail, as well as plenty of ups and downs.
Also, expect good views of the lake. Whether we have blue skies or misty fog, there will be plenty of opportunities to put your camera to work.
We'll meet up in the Big Eddy Marina parking lot near the bathrooms and playground. Kids and dogs are welcome! Dress in layers for the weather, bring a lunch and plenty of water.
See you on the trail! And Happy New Year!