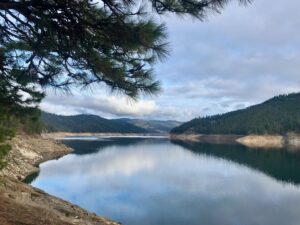 All right! We are back on for our Big Eddy Trail day hike in Orofino on Saturday, January 22nd. We'll meet up at the trailhead parking lot at 10:00 AM. For anyone who hasn't been there before, we can meet at the Orofino City Park at 9:30 AM and carpool to the trailhead.
The weather is looking tolerable between now and then. Accuweather even shows 44 degrees and sunny on the 22nd! (For now.) I don't expect we'll need snowshoes, but good, dry boots will be desirable since we do expect some downed trees and snow to hike through. Hats, gloves, and sunglasses may also help. Dress in layers that can be removed as you warm up but added back on when we stop for lunch.
We'll hike out about 4 miles to a campsite for lunch and then hike back to our vehicles. The trail continues on for another 6 miles to the Dworshak State Park at Freeman Creek, if anyone wants to continue on past our lunch stop. It's even possible to put a car there, thru hike the trail, and then shuttle people back, but you'll have to get an early head start to set that up.
The Big Eddy Trail was our first trail as a club, so making tracks there in January is a nice tradition. I look forward to seeing you on the trail!