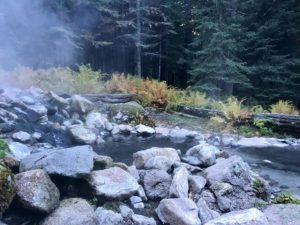 Who's up for a soak in Stanley Hot Springs?
I know I'm ready to get back out on the trail, and I can't think of a better way to enjoy the cooler weather than while soaking in a natural hot spring. Who's with me?
Stanley Hot Springs is about 6 miles out from the Wilderness Gateway Campground on Highway 12. We'll start off at the Wilderness Gateway Trailhead, or Boulder Creek Trail #211. The beginning of the trail is a short, but somewhat steep climb before the trail levels out a bit and the going gets easier. Last time we were out this way was in October of 2018 and the fall colors and misty clouds created quite the atmosphere.
About the time you're ready to sit down for a bite to eat, trail #211 meets up with trail #222, which leads down to Stanley Hot Springs. There is a river crossing we'll have to navigate, but the waters will be low this time of year.
Check out our blog post from 2018, Warming Up at Stanley Hot Springs, to see pictures of the trail, river crossing, and springs. Take note, it was cold when last we went. It is advisable to bring gloves and a warm hat and extra layers. Be prepared for rain, too, just in case.
We'll meet up at the Kooskia weigh station at 8:45 AM for anyone who wants to carpool/caravan to the trailhead. Our goal will be to meet up at the trailhead by 10:00 AM. If you have the time, you might enjoy camping at the Wilderness Gateway Campground the night before.
The pups and I will be staying the night at the hot springs, but day hiking is also an option if you're comfortable with 12 miles in one day. The soak will probably help!