When:
June 15, 2019 @ 8:00 am – 3:00 pm
2019-06-15T08:00:00-07:00
2019-06-15T15:00:00-07:00
Where:
Lochsa River Trail #2

Contact:
Todd Holcomb
208-704-9739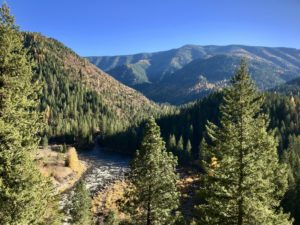 The Lochsa River National Recreation Trail #2 runs for about 16 miles alongside Highway 12 between Cold Springs Creek and Sherman Creek. We'll start on the east end by the Sherman Creek trailhead.
The Clearwater Trekkers have made a couple of passes at this trail in the past, but this is the year we make it all the way to the waterfall! I can feel it in the soles of my feet. The third time's the charm, right?
Let's meet at 8:00 AM in the parking area just outside Kooskia, ID where Highway 12 and Highway 13 meet. As you head east on Highway 12, take a right like you were going into Kooskia, but don't cross the bridge into town. Instead, take an immediate right into the parking area. We can carpool from there.
The Wilderness Gateway Campground is about an hour east from Kooskia on Highway 12 near MM 122, and the trailhead is just past the campground on the left. The Lochsa River Trail #2 shares parking with the Sherman Creek Trailhead #203. The plan is to follow the trail for about 4 or 5 miles, do lunch, and then head back. I anticipate we'll be back at our cars by 2:30 or 3:00 PM.