September 14:  Our last hike of the year, a potential overnight hike to the Eagle Cap Wilderness by Wallowa Lake, Oregon.  Jim Reid will lead a hike along the West Fork of the Wallowa River, and we will meet at the trailhead (map attached) at 9 am on Saturday, September 14.  As shown on the map, the Wallowa Lake Trailhead is where Oregon Hwy 82 paved road ends.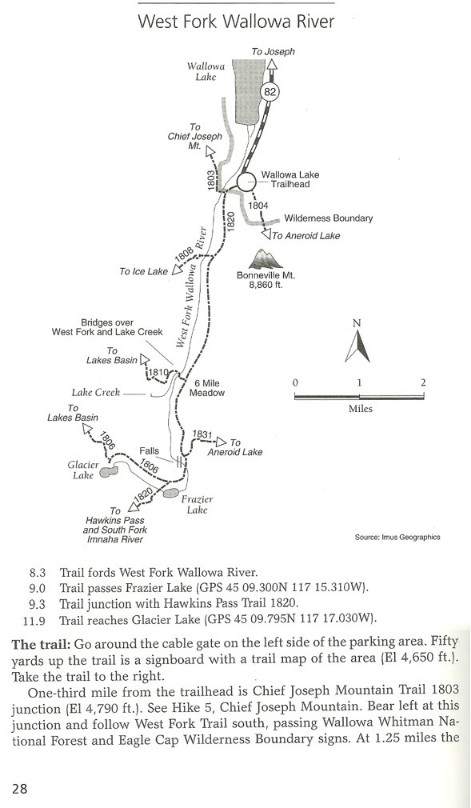 The drive to the trailhead is approximately 2 ½ hours, so there is the option of staying overnight at the campground/RV parks at Wallowa Lake or motels/cabins around the Lake or in Joseph.  Everyone is on their own for making their lodging accommodations.  Some ideas are the Wallowa Lake State Park (website accessed through oregonstateparks.com), Airbnb, and Eagle Cap Chalets in Joseph. If you want to share the costs of a cabin or motel room with others the September 4th Hiking Club meeting would be a good time to bring your ideas and get together with others.
The hike is approximately 12 miles in and out, and considered easy to moderate, with an elevation gain of 1350 feet to Six Mile Meadow and then return.  We'll eat lunch on the trail.
It is not an overnight hike, but staying over the night before and/or after is the 'overnight' we're talking about.  For those who do stay overnight and are interested, we could get together for dinner the night before our hike.
If you're interested in attending this September 14 hike, please be sure to come to the next hiking club meeting, September 4 at 7 pm so we can together iron out arrangements, details, and get an idea of how many will be attending.
Wear sturdy shoes or hiking boots.  Some people find hiking poles are helpful.  Always bring water, lunch, and sunscreen.  We begin by gathering at a meeting point and carpooling from there.  Please also be sure to bring some cash for the driver if you're carpooling with someone else.
NOTE: Any questions or comments regarding these announcements can be posted at:  https://groups.google.com/forum/#!forum/lcvhikers
The history of this group has been added to the Welcome and description on the main page of Google Groups LCVHikers
Other communications may be made through LCVHikers@gmail.com